Amarin Corp (AMRN) has been a trader's delight since late 2010. The stock spiked from $4 to nearly $20 in just 7 months after AMRN presented positive Phase 3 data from their MARINE and ANCHOR trials. AMRN shares cratered back to $6 before staging a sharp turnaround to $15 ahead of the FDA decision on their drug, AMR-101, for treatment of high triglycerides. For traders the culmination will be the FDA's PDUFA on July 26th, 2012. Most will end up exiting their position on FDA approval, which is widely expected among analysts, though the FDA has been known to surprise traders and investors.
The fall in AMRN from $20 to $6 was the result of 2 issues. First, investors likely priced in a buyout from a giant pharmaceutical company such as Pfizer (PFE) or GlaxoSmithKline (GSK). Looking back, there are unconfirmed rumors that AMRN did pass up a bid in the low 20's per share for something even higher. AMRN lost and didn't get the takeout bid it had hoped for. The second leg of the fall came as investors started worrying about gaining patents for AMR-101. The company had multiple patent applications rejected, and investors feared AMRN might never get patents to lock-up exclusivity on their drug until 2028 or later.
Then on March 14th, 2012, investors got wind of an update on the USPTO website that a '598 patent application would get approved. AMRN's stock rallied from $7 to $12.50 in a week. On March 20th, 2012, AMRN confirmed the company received a Notice of Allowance. The key patent investors continue to wait for is the '889 patent application. On June 27th, shares of AMRN spiked higher as the USPTO website updated showing "Reason for Allowance". The patent worries have seemed to subside, but as we approach the PDUFA investors are spooked about the possibly of not receiving NCE for AMR-101.
As stated by other author's previously, the New Chemical Entity (NCE) status granted by the FDA is almost as important as the FDA decision itself. If NCE is granted by the FDA this would allow AMR-101 5 years of exclusivity, and 4 years before a generic could file a paragraph 4 (to challenge an existing drug patent). Without the NCE, AMR-101 would be granted 3 years exclusivity and a generic drug could file a paragraph 4 immediately. The importance of NCE can't be overstated; without NCE a buyout may not be possible.
With the FDA decision looming next Thursday, traders should either be long AMRN or be looking to buy before Thursday at noon. I plan on waiting it out in hopes of a bear raid as we saw in the days leading up to FDA approval in Arena Pharmaceuticals (ARNA) and Vivus (VVUS). Three days before ARNA received FDA approval, shares dropped 35% in 5 minutes. VVUS saw their shares fall 28% in a matter of minutes on the day of FDA decision. Retail investors continue to put in stop loss orders that get triggered and they lose a lot of money in the process, while allowing more sophisticated investors the chance of buying cheap shares.
Assuming FDA approval, which is widely expected, here are my scenarios for trading around AMRN post approval:
Scenario 1) FDA approval with NCE. I would expect shares to open at $21-23. Sell half and hold the rest. NCE would likely lead to an eventual buyout by a large pharmaceutical company.
Scenario 2) FDA approval; without NCE. I would expect shares to open at $18-20. Traders should be selling all shares immediately. I would likely initiate a short position on the open, expecting shares to possibly be down on the day by the close.
Scenario 3) FDA approval, no decision on NCE. I would expect shares to open $19-21. Trader will likely sell all their shares and step to the sidelines. Shares will likely drift lower, but still be up on the day.
If a partnership is announced alongside the FDA approval, expect shares to trade higher than my stated ranges. However, shares will still sell off as investors and traders hoping for an immediate buyout see their hopes dashed by a partnership. Investors and trader should take notice that AMRN will likely fall in the coming days post-FDA approval as most stocks do. After Arena Pharmaceuticals received FDA approval, investors saw their shares fall 31% in just 4 days after the opening trade of $13.50/share. Also, VVUS fell 28% in the 3 days following FDA approval after gapping up above $30/share on the opening trade. As soon as the catalyst ends for a stock, traders leave shares and head to the sidelines. Investors and traders should resist becoming greedy and create an exit plan before FDA approval. Otherwise, investors are asking for headaches.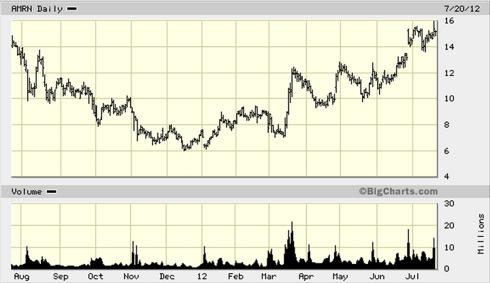 Disclaimer: This article is intended for informational and entertainment use only and should not be construed as professional investment advice, but rather my opinions as a writer only. Always do your own complete due diligence before buying and selling any stock.
Disclosure: I have no positions in any stocks mentioned, but may initiate a long position in AMRN over the next 72 hours.