Philips owns 70% of MedQuist (PINK:MEDQ.PK), a medical transcription company. Philips bought the company at $51; the stock now trades at $7. Philips announced in November 2007 that it was selling its stake, and MEDQ hired its own investment banker. Costa Brava and Newcastle each own more than 5% stakes, both at a cost of roughly $12. Newcastle got BOD representation in December 2007.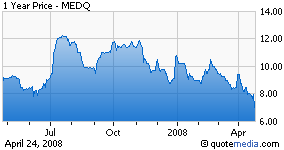 MEDQ has $161M net cash, or $4.25 per share. The company is EBITDA breakeven, if you add back the non-recurring expenses.
At $350M in revenues, MEDQ is the largest player in a $7B industry. The stock trades on the pink sheets due to lack of SEC filings. They finally filed these docs in early 2008 and are now current.
It doesn't much matter where the stock trades now since the company is for sale. This is an interesting spot to own the stock. Philips valued the company at $12 in November 2007. Costa Brava mini-tendered at $12.25. Newcastle owns it at $12.
Disclosure: Author has a long position in MEDQ.PK