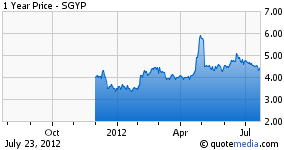 Synergy Pharmaceuticals (SGYP), a company with major catalysts pending and a potential billion dollar product in the pipeline, and Callisto Pharmaceuticals (CLSP.OB) announced on Friday that the two companies have entered into a definitive merger agreement. Callisto had previously held over twenty two million shares of SGYP stock and under the terms of the agreement those shares will be cancelled and Callisto shareholders, in turn, will be granted 0.17 shares of Synergy common stock for each outstanding share of Callisto common stock.
Another key takeaway from Friday's announcement is that the Synergy shares issued to Callisto shareholders would be "locked up" for eighteen months following the completion of the deal, barring a "Change of Control" event, as noted in the press release.
These are key points to remember and the agreement should be viewed as an encouraging turn of events for Synergy shareholders, in my opinion.
Previous to this merger agreement, Callisto had already owned roughly forty percent of Synergy stock. Many large funds and institutions are hesitant to buy into a company when only one entity - in this case Callisto - already owns such a significant portion of that company. The fact that those Synergy shares owned by Callisto will now be cancelled and then reissued and spread evenly throughout the Callisto shareholder base alleviates that hurdle. Once the deal is consummated, the door is open for funds and institutions to start buying in again, which significantly enhances the prospects of growth for shareholders over the short, mid and long terms.
There were quite a few investors out there questioning why there was not more institutional interest in Synergy if the prospects for Plecanatide, currently being developed for the treatment of chronic idiopathic constipation (NYSE:CIC) and constipation-predominant irritable bowel syndrome (IBS-C), were so bright. This merger agreement looks to be a move to answer those concerns.
As outlined on previous occasions, data from a key II/III Plecanatide trial are due to be released later this year. It is widely expected that the results from this trial will be positive, based on previous studies of both Plecanatide and also Linaclotide, a product being developed by Ironwood Pharmaceuticals' (IRWD) that shares origins and the same mechanism of action with Plecanatide.
With that being said, Synergy may hold a distinct advantage with Plecanatide over Ironwood's Linaclotide that positions the company to achieve quick market share, should it make it to market.
During Ironwood's Linaclotide trials, the treatment was successful in alleviating constipation when compared to a placebo, but the kicker is that side effects included cases of extreme diarrhea. Some cases were extreme enough to force 6% of the patients to abandon the trial altogether. No such side effects were noted during Plecanatide trials, according to publicly-released information.
That's a huge benefit for team Synergy.
Ironwood does hold the advantage, however, of potentially making it to market with its product first. The FDA is slated to announce its approval decision for Linaclotide later this year, well before it would be expected that Plecanatide hit market, although that date was already pushed back once. SGYP shares rallied significantly earlier this year when it became known that the FDA decision would be pushed back by three months, giving Synergy an opportunity to play 'catch up.'
Another such delay would again benefit Synergy, but an approval would also play well for both companies, since it would validate the technology that forms the basis of both products. At that point, Linaclotide would be the first to eat up market share, but Plecanatide could quickly negate those gains, when/if it hits market, on the merit of its superior side effect profile.
Synergy, unlike Ironwood who has already signed Forest Laboratories, Inc. (FRX) as a partner and will therefore have to split revenue, is still yet to sign a partner for Plecanatide. That point brings us back to the merger agreement.
As noted in Friday's announcement, the only exception to the eighteen month lockout period for those shares of Synergy that will be issued to Callisto shareholders would be a "Change in Control" event. Although the final language of the deal is still not completed, that could read as "major partnership or buyout," both scenarios that would likely benefit SGYP shareholders. Additionally, given the encouraging prospects for the trial data to be released later this year, it's likely that shares would have experienced a runup into those results, with a further run should they turn out positive. These days in the biotech sector, many of the real moves are materializing after the announcement of late stage results, and not necessarily after an FDA approval decision.
Given the multi-billion dollar scope of the target markets for Plecanatide and the similarities between the two products, there is reason to believe that SGYP will soon look to match valuation with that of the Ironwood market cap, which currently stands at nearly a billion and a half. With institutions now free to buy in without worrying about one entity already controlling nearly half of the company, as was previously the case before the merger was announced, an increased potential for SGYP to move exists.
With large pharmaceutical companies looking for new billion dollar products, chances are that Synergy is going to be looked at, especially if results are positive later this year. Pfizer (PFE) is already one company on the prowl, while GlaxoSmithKline (GSK) has also made news in the merger and acquisition space recently with the pickup of Human Genome Sciences (HGSI). Another scenario would have Synergy potentially licensing or outright selling Plecanatide, an expected big money maker, which would free resources to develop Callisto's pipeline of products that would then belong to the merged company.
Eyes will be on an all-out takeover, though, especially with the "Change of Control" language in the merger agreement and eighteen month lockup period.
Three analysts have recently issued enthusiastic 'Buy' ratings on Synergy, with each posting price targets of well more than double that of where SGYP trades today. Summer Street initiated coverage with a price target of $9, Brean Murray's rating was accompanied by a price tag of $13, and just a couple of weeks ago Roth Capital threw its own prediction into the mix with a target of $12.
The time may be now for SGYP to start matching those estimates.
Disclosure: I am long SGYP.