Health Management Associates (NYSE:HMA), which operates 57 non-urban hospitals, is looking to reduce its debt and increase its value over the next two years by doing more joint ventures with tax-exempt hospital systems and physician-owned clinics, selling off hospitals that don't fit and improving the clinical quality of its services.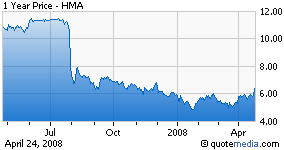 HMA reported earnings per share from continuing operations soared 135.7% while net income per share rose 103.7%. HMA has 243.2 million shares outstanding, up 0.9% from 241.7 million a year ago. Net revenue rose 4.1% to $1.15 billion.
HMA's news release said:
For continuing operations at hospitals owned and operated by HMA for one year or more, referred to as same hospital continuing operations, net revenue increased 3.1%, admissions increased 0.4%, adjusted admissions increased 1.2%, emergency room visits increased 6.3%, and surgeries decreased 0.8%, all compared to the prior year's first quarter.

Net revenue per adjusted admission from same hospital continuing operations increased 1.8%, or 5.1% on a pro forma basis after adjusting for the impact of the Company's transition to new discount and charity care policies in 2007 and lower uninsured patient volume in 2008.

Same hospital EBITDA from continuing operations for the quarter was $202.1 million, which represented a margin of 17.8%.

Provision for doubtful accounts, or bad debt expense, was $129.0 million, or 11.2% of net revenue, for the quarter compared to $118.8 million, or 10.7% of net revenue for the same quarter a year ago and $132.7 million, or 12.3% of net revenue, for the fourth quarter ended December 31, 2007.

Since February 2007, HMA has given a 60% discount to uninsured patients for non-elective services. Uninsured discounts for the quarter were $153.4 million compared to $112.1 million for the same quarter a year ago, and charity/indigent care write-offs for the quarter were $18.1 million, compared to $20.4 million for the same period a year ago. The sum of uninsured discounts, charity/indigent write-offs, and bad debt expense, as a percent of the sum of net revenue, uninsured discounts and charity/indigent write-offs, was 22.7% for the first quarter, compared to 20.3% for the same quarter a year ago and 23.9% for the fourth quarter ended December 31, 2007.
During a conference call with securities analysts, Robert E. Farnham, chief financial officer and senior vice president, said:
Uninsured patient volumes and increasing bad debt expense continue to be an industry issue affecting operating returns, but for the first time in many quarters, uninsured patient volumes declined for the first quarter compared to the same period a year ago. Continuing same hospital uninsured admissions for the first quarter totaled approximately 6.3% of total admissions, which is down 30 basis points from the same quarter a year ago. Bad debt expense for the first quarter was $1.29 million or 11.2% of net revenue compared to 118.8 million or 10.7% of net revenue for the same period last year and 12.3% sequentially for the quarter ended December 31, 2007.
The company told analysts that in the quarter the number of uninsured patients fell by 250 to about 4,950 this year from about 5,200 last year. Of emergency room patients, 22.4% were uninsured, compared with a high of 25.7% last year. As for concerns about HMA need to raise capital by August to pay down its debt, Farnham told analysts:
Based on current and predicted market conditions, it looks likely that holders of our 4 3/8% convertible bonds will put those bonds to us at par on August 1, 2008. Our intention continues to be to pay down a significant portion of the $575 million bond issue, using as sources of cash, cash on hand, free cash flow, availability under our $500 million line of credit and proceeds from asset sales and joint venture transactions. The remainder of the outstanding convertible bonds could then be addressed by either an exchange of the old convert for a new convert with some of the existing holders or, and this is more likely, the issuance of a new convertible, the proceeds of which will be used to retire the existing issue in the open market in advance of the put date.
Asked to comment about hospitals' capital spending, Whitman said that large, strong hospitals are doing fine and probably will continue to spend on new plants and equipment, but some smaller hospitals are facing problems getting financing.
Morningstar.com says the stock, which is trading at $6.45, has an estimated fair value of $7 and gives it three stars. Jeffrey Stafford, the M* analyst, doesn't have a lot of hope for HMA or its peers for the next five years. Other hospital operators include Community Health Systems (NYSE:CYH), LifePoint Hospitals (NASDAQ:LPNT), Universal Health Services (NYSE:UHS) and Tenet Healthcare (NYSE:THC). Although HMA's daily and weekly charts look strong, its point and figure chart is still bearish.
Full disclosure: I don't own HMA or any hospital operators' stocks.