Gun sales have been growing and are likely to grow further as a result of the unfortunate Colorado shooting, which has reignited the gun control debate. Unfortunately, the terrible shooting during a midnight screening of 'The Dark Knight Rises', which killed 12 people and wounded 59, has not added any new substance to the debate. The media is full of old arguments on both sides. There is no value to be added by repeating them here.
Gun Sales
Gun sales have been on the rise. The data in the chart from the Bureau of Alcohol, Tobacco, Firearms and Explosives (ATF) shows the number of guns manufactured for sale into commerce in 2007.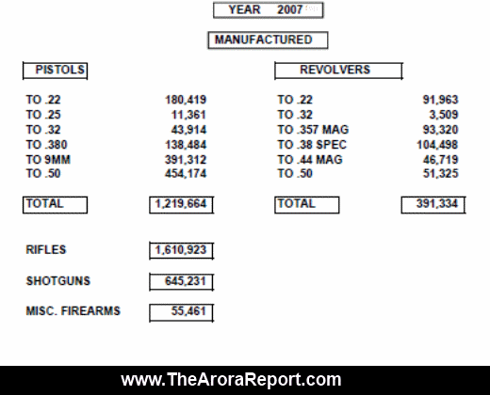 Compare the number of guns manufactured in 2007 with the number of guns manufactured for sale into commerce in 2011. A quick look at the same data for 2011 tells the story of a big increase in the manufacture of guns.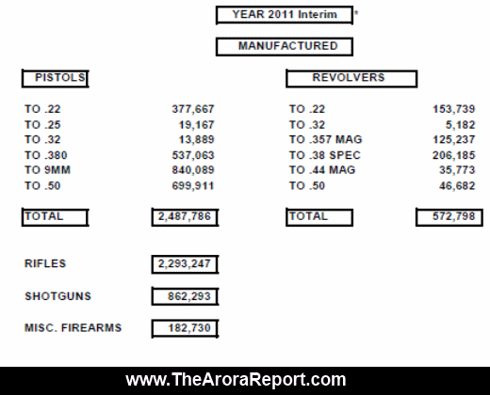 In the 2008 election campaign, Obama was a supporter of more stringent gun controls.
After his election, Obama has remained largely silent on the issue of gun control. Perhaps the silence is a result of the reality of the 2012 election. States like Missouri, Ohio, and Pennsylvania are the swing states. Hunting is a popular pasttime in these states and it may be that Obama does not want to offend gun owners.
As hard as Obama may try, all kinds of rumors ranging from Obama would ban guns to Obama would confiscate guns have continued to gain steam. Such innuendo and conjecture may be responsible for the increase in gun sales during Obama's presidency. In the aftermath of the Colorado shooting, the pro-gun forces are getting more energized and will work harder to defeat Obama.
Gun Manufacturers
Two publicly traded gun manufacturers are Sturm Ruger (NYSE:RGR) and Smith & Wesson (SWHC). The dramatic increase in stock prices of these two gun manufacturers is the result of innuendo related to Obama and gun control. The charts of RGR and SWHC since Obama's election tell the story.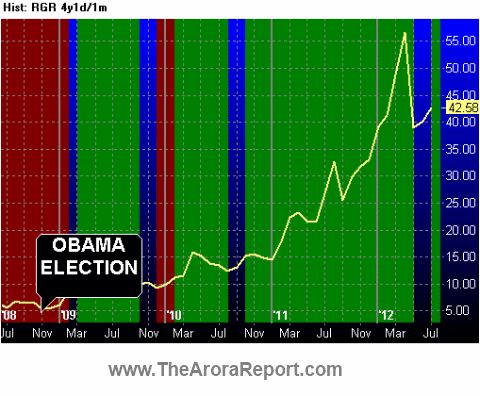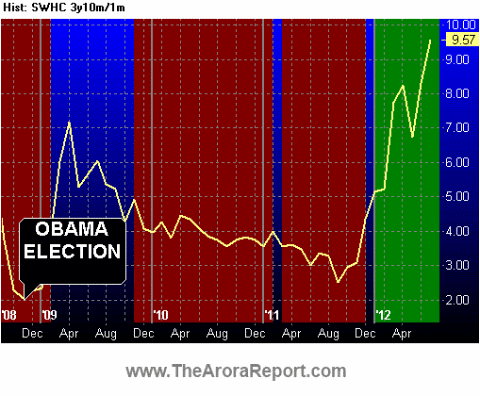 My investment methodology is designed to profit from predicting change before the Wall Street. Gun enthusiasts will simply fear that the probability of Obama working towards stricter gun control if he is elected has dramatically gone up. As perverse as it seems, history will repeat itself and gun sales will go up as a result of the Colorado shooting.
In addition to the macro picture, there are individual dynamics to the stock prices of SWHC and RGR. It is not uncommon for one of these companies to gain market share at the expense of the other. Right now SWHC is doing better than RGR. SWHC seems to be doing a better job of expanding its user base among women. Often the trend of one company doing better than the other quickly reverses and the see-saw cycle of the two companies taking market share from each other continues.
On trailing earnings basis, SWHC seems expensive as trailing P/E is 38.38. Profits of SWHC have dramatically improved as is evidenced by forward P/E for fiscal year ending April 30, 2014 of 12.31. SWHC is also supporting high return on equity of 25.72%.
In contrast to high trailing P/E of SWHC, RGR has a trailing P/E of 17.51. Forward P/E for fiscal year ending December 31, 2013 for RGR is 14.82. RGR is supporting return on equity of 35.35%, much above the return on SWHC. From a technical perspective RGR is oversold.
Based on the macro environment related to guns, both SWHC and RGR are buys.
Astute investors can make a lot of money with low risk in a pair trade on SWHC and RGR where the investor buys one stock and shorts the other.
Another interesting play here is Olin (NYSE:OLN). Olin manufactures ammunition. However, investors need to be cautious because in addition to ammunition for gun enthusiasts and hunters, OLN also makes ammunition for the U.S. Armed Forces and Law Enforcement Agencies. OLN also does big business in specialty chemicals.
OLN is a cheap stock as Price/Sales is only 0.85 and forward P/E based on fiscal year ending December 31, 2013 estimate is 10.12. However, OLN has managed to achieve a paltry return on equity of only 14.92%.
OLN is a buy only if one believes that defense spending will not be drastically cut.
Investors contemplating investing in the stocks of RGR, SWHC and OLN are well advised to use a proven method such as ZYX Change Method to limit their risk and maximize their reward as these stocks can be very volatile.
Disclosure: I have no positions in any stocks mentioned, but may initiate a long position in RGR, SWHC, OLN over the next 72 hours.
Additional disclosure: I may recommend initiating positions in RGR, SWHC, and OLN to subscribers to The Arora Report.