Oil prices set another record on Tuesday, topping $118 per barrel. Crude is now 133% more expensive than it was at the beginning of 2007 and nearly five times as pricey as it was five years ago. Through Tuesday, oil's up 23% this year and 16% this month. The latest move upward sent the PowerShares DB Oil Fund (NYSEARCA:DBO) to record highs on April 18, one day after the ETF hit the top spot of our PowerShares Momentum Tracker rankings last week, moving up from number six in February and March.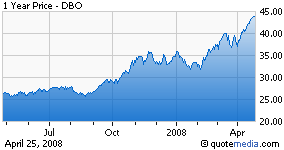 The fund tracks the price of oil by investing directly in oil futures contracts, exchange-traded instruments that promise delivery of oil at a predetermined price on a future date. And while the ETF hasn't been around long enough to enjoy the full extent of oil's run-up, its NAV has climbed 78.8% since its January 2007 inception, including a gain of 16% over the last month.
Buying into DBO now would represent a bet that prices will continue to rise, which remains a distinct possibility. Demand growth from India, China and other developing economies, a prime reason for oil's run-up, is expected to continue.
Oil's also been pushed upward—and made more volatile—by the U.S. economic slowdown, a weak dollar and the Federal Reserve's interest rate cuts, which are expected to continue next week. Those three are interconnected, of course, along with another key cause for the run-up, heavy speculation in oil and other commodities, as investors seek shelter from inflation, a hedge against the falling dollar and the uncertainty of the stock market. In short, oil and other commodities are viewed as one of the few safety nets around.
In the first quarter of 2008, global investment in commodities rose more than 20%, to $400 billion, including $46 billion in ETF assets, up 31% from the end of 2007.
The price spike isn't just "an issue of supply and demand," Joel Fingerman, principal of Oil Analytics, a Chicago energy consulting firm, told BusinessWeek recently. "This is about money flow. It could stop here or at $150."
This week's spike came on the heels of supply concerns in Nigeria, Russia and Scotland. Geopolitical issues can lift prices quickly, whether it's a move by OPEC (or lack thereof), violence in Nigeria, war in the Middle East, mismanagement in oil states such as
Venezuela or Russia, or natural disasters. That said, commodity and oil investment is risky. We're currently in the 22nd oil-price rally (20% or more) in the last 20 years. After each, prices declined by an average of 32% over an average period of about four months according to Cleve Reuckert of TickerSense.
With the economy already struggling, some analysts see a correction in oil prices coming soon, as inflation and recession bite into consumer spending, hurting a wide swath of industries and cutting into demand for oil.
S&P forecasts oil to be at $91 by year end and to settle around $75 over the longer haul, according to businessweek.com. Such a dip would likely cause a 20% drop for DBO over the rest of 2008, with more pain to follow.
Mid-March was the last time oil prices shuddered downward, and DBO went with them, falling 6.5% from March 14 to March 20. That marked the third time since November that the fund's NAV fell 6% or more in less than a month. DBO is not part of our PowerShares Momentum Tracker portfolio, because we gain exposure to oil through the DB Commodity Index Tracking Fund.
DBC invests in futures contracts and other derivatives to track the price of crude, heating oil, aluminum, corn, gold and wheat, with crude accounting for 35% of the portfolio and heating oil another 20%. The four others—all major beneficiaries of the commodity surge in metals and foodstuffs—make up the other 45%, offering a broader slice of the bull run. That diversity likely lowers DBC's risk level in comparison to DBO.
We've held DBC since Nov. 1, 2007, during which time the ETF has gained 27.6%. Over the same time frame, DBO jumped 28.4%. But can that continue? While commodities have been a profitable arena for investors in recent months (and the last five years), long-term history and even recent dips imply that relying too heavily on the asset class to navigate difficult markets isn't necessarily wise.
The flow of money into commodities also raises concerns about performance-chasing, as noted by Morningstar ETF research director Jeffrey Ptak in mid-April. A downward shift in commodity and oil prices could be especially painful for those who climbed into the space late.
The bottom line: While DBO (or DBC, for that matter) might offer some protection in today's stormy seas as a hedge against inflation and other market troubles, the fund is probably best used as a long-term niche holding, designed to diversify a portfolio.