Despite what all the so called experts have said about Apple (NASDAQ:AAPL) having a limited upside potential throughout the years, Apple has always come out on top. It seems like analysts will always find a reason to bet against a company, even if it's the best of its breed. Investors who have purchased Research In Motion (RIMM), Nokia (NYSE:NOK), or even Microsoft (NASDAQ:MSFT) are probably kicking themselves on that decision because none of those companies have even performed close to Apple.
Apple has been so great because they've always been one step ahead of the game. They make a touch phone (iPhone), then the rest of the technology world will put out touch phones that mimic Apple's. Then they put out a tablet device (iPad), and the rest of the technology world creates different tablet devices. Why would an investor ever settle for anything other than the best? Just go out and buy the best of breed, rather than messing around with other technology companies that are just trying to mimic the top dog.
Apple is currently trading at around 14 times earnings, however analysts predict that Apple will have an average price target of $740 and a long-term growth rate of 18%. Even on a more conservative scale I would bet that Apple would still hit a target price of about $670 because at its current value it's labeled fair to undervalued. With more great products on the horizon such as iPhone 5, a smaller version of the iPad, and new retina technology that could potentially lead to AppleTV who's to say Apple won't find ways to continue to elevate its already astonishing revenue of over $142 billion annually.
The reason why I'm bullish in the long-term on Apple is because when companies such as Microsoft, Cisco (NASDAQ:CSCO), and Intel (NASDAQ:INTC) got to a high price, like Apple currently is now, they owned huge proportions of their markets. Microsoft owned 90% of the PC market, Cisco owned 70% of the networking market, and Intel owned 80% of the PC market as well. However, Apple only owns around 5% of the current PC market and 9% of the mobile phone market. Unlike those other three companies who had pretty much reached their caps, Apple has a significant amount of room to grow. The upside here can be kind of scary when you look at it and maybe clarify why some believe this stock could even surpass $1000 per share.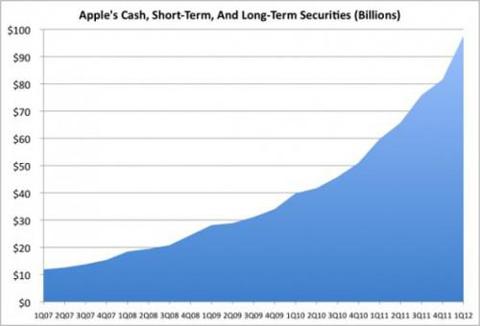 I also believe Apple's power is held within its cash reserves. When you look at Apple's cash reserves they have about $100 billion total. They have stated that they will invest $45 billion of their reserves over the next three years on a quarterly dividend for investors and a share buyback program. It is nice to see Apple beginning to see the importance of taking care of their shareholders. The company has already paid out one dividend, and will continue doing so, contributing $2.65 a share per quarter. The share buyback program enhances company value as well because it counteracts any dilution that would be taking place from employee stock purchasing programs.
| | |
| --- | --- |
| Market Cap (intraday)5: | 564.73B |
| Enterprise Value (Jul 18, 2012)3: | 538.99B |
| Trailing P/E (ttm, intraday): | 14.72 |
| Forward P/E (fye Sep 24, 2013)1: | 11.11 |
| PEG Ratio (5 yr expected)1: | 0.59 |
| Price/Sales (NYSE:TTM): | 3.99 |
| Price/Book (mrq): | 5.54 |
| Enterprise Value/Revenue 3: | 3.79 |
| Enterprise Value/EBITDA 6: | 10.12 |
Fiscal Year
Fiscal Year Ends:
Sep 23
Most Recent Quarter (mrq):
Mar 31, 2012
Profitability
Profit Margin :
27.13%
Operating Margin :
35.69%
Management Effectiveness
Return on Assets :
25.84%
Return on Equity :
47.10%
Income Statement
Revenue :
142.36B
Revenue Per Share :
153.11
Qtrly Revenue Growth (yoy):
58.90%
Gross Profit :
43.82B
EBITDA 6:
53.27B
Net Income Avl to Common :
38.62B
Diluted EPS :
41.04
Qtrly Earnings Growth (yoy):
94.10%
Balance Sheet
Total Cash (mrq):
28.54B
Total Cash Per Share (mrq):
30.52
Total Debt (mrq):
0.00
Total Debt/Equity (mrq):
N/A
Current Ratio (mrq):
1.58
Book Value Per Share (mrq):
109.63
Cash Flow Statement
Operating Cash Flow :
53.07B
Levered Free Cash Flow :
30.50B
The only uncertainty I have involving Apple is whether or not the company can continue to generate the same quality products without its mastermind Steve Jobs. As of now though, Apple has proven it is still a force to be reckoned with even without its late CEO.
Keep an eye on the upcoming earnings report on July 24th, but I believe Apple will not disappoint on its expected quarter 3 earnings of $10.40 per share. I would buy Apple on any dip or negativity and hold for the long-term. Remember, don't settle for second place, go out and buy the best of breed.
Disclosure: I have no positions in any stocks mentioned, and no plans to initiate any positions within the next 72 hours.