The AUDUSD reached our near-term upside target at 1.0425 on Thursday, July 19th and stalled out heading into week's end. The Aussie vaulted nearly 200 pips from Tuesday thru Thursday on little news from Downunder. Similarly U.S. stock indices, which the Aussie has such a tight correlation to, had a 3-day bull run over the same period which actually occurred in the face of continued bad economic data out of the U.S. and around the globe. U.S. retail sales continued to fall in June, coming in at -0.5 while U.S. manufacturing stayed on the downslope with Philly Fed manufacturing dropping a sizable -12.9 last month. We continue to point to Australia's advantages, i.e.: AAA credit rating, great demographics, and currency yield as the reason why institutions and sovereign funds favor buying dips. The market has rallied nicely following the big spring dip, but at these levels however, against a continued slowing global back-drop, we need to question adding above 104.25. Not as appealing as 1.01, or better yet 1.00. Unless we see a couple of daily closes above 1.0425 we would advise shorter-term traders to wait for a pull back into the low 1.02's before considering the long side again. And even if that were to occur, the calendar may be working against us, particularly our intraday trend trade trading, and swing trading strategies. Last year aside, August generally means slow markets, which is best left to mean reversion and counter-trend traders.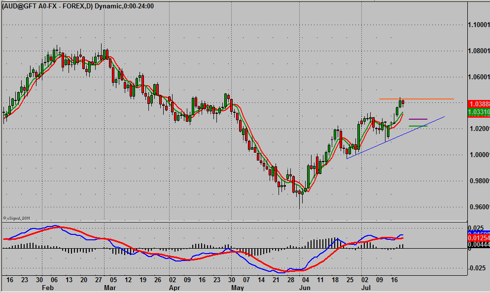 Figure 1. Aussie Daily Chart
It seems so long ago when, despite troubles in Europe's peripheries, Germany was still putting up decent numbers; no longer. The German ZEW economic sentiment came in midweek at a frighteningly weak -22.3. The Euro is acting like a big fish after a long fight. It's finally stopped jumping and fighting and looks about ready to be landed on our price target of 1.19. On the Daily chart in Figure 2 we can see the ATR in the bottom panel of the chart dropping off indicating a downshift in volatility and a smoothing of the current trend. The Euro over the last year has taught us much about trading - at its core trading is about taking modest risks by selling rallies in down-trends, or buying dips in uptrends. And it's never the size of the move that hurts you; it's the size of your position. Price corrections will always occur and they are opportunities for astute traders to add to a position. They are also occurrences where emotional traders get stopped out - trade smaller and you will find you get stopped out less.
While all the bad news is well known, it's still being magnified on a daily basis by the press and on the blogosphere, yet the Euro is now spitting our smaller corrective rallies indicating current shorts are in it for the duration. Even as headlines are touting a Spanish bailout above a picture of a smiling Angela Merkel the market just isn't buying it anymore. On a short-term basis it's been a tough market to swing and day-trade because the corrections are so small. It's actually taken a back-seat to USDCAD on our screens.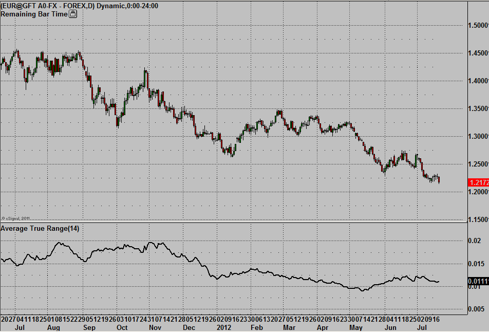 Figure 2. Daily Euro Chart
USDCAD is back in our sights given it traded down into our buy target zone between 1.01 and 1.00 this week. In a perfect world it will dip one more time toward 1.0060 and give us a double bottom on the 4-hour chart. Like everywhere on the planet Canada is putting out disappointing growth numbers, though still less disappointing then the U.S. figures which given the relative nature of market movement means a strong Loonie. We see that strength - weakness in USDCAD - as being temporary with the market in for a bit of U.S. Dollar strength in sympathy with weaker stock indices following the current double top pattern, which we see as an indication that the upside party in stocks is finally yielding to all the bad news. (I grudgingly closed out a long stock index positions in my IRA today) If we are right about a correction in U.S. stock indices then a rally in the Greenback will dutifully follow, which means back to focusing on buying dips in USDCAD. We like the 2011 high just north of 1.06 for an intermediate upside target.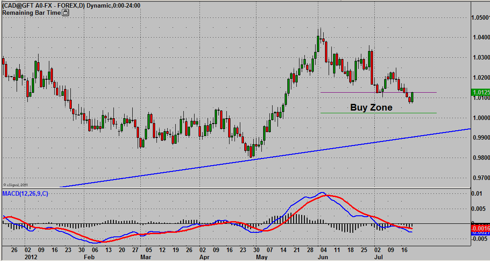 Figure 3. Daily USDCAD Chart
Disclaimer: Trading involves risk of loss and is not suitable for all investors.
Disclosure: I have no positions in any stocks mentioned, and no plans to initiate any positions within the next 72 hours.