Catalyst Pharmaceuticals (NASDAQ:CPRX) is a pharmaceutical company focused on the de­vel­opment and marketing of pre­scrip­tion drugs to fight against addictions, manage pain, and treat diseases of the central nervous system such as epilepsy. Catalyst is de­vel­op­ing vigabatrin, des­ig­nated CPP-109 by Catalyst for the treatment of addiction to cocaine, meth­am­phet­a­mine, and other addictive sub­stances. Catalyst is also de­vel­op­ing a more potent form of vigabatrin (des­ig­nated CPP-115 by Catalyst) to combat drug addiction - including opiate addiction in managing pain - and to treat central nervous system indications such as epilepsy.
The U.S. Food and Drug Administration has recognized that cocaine addiction is a "serious, life-threatening condition for which there is no cur­rent drug treatment," and the National Institute on Drug Abuse (NIDA) has stated that finding a pharmacological treatment for cocaine addiction is their number one research priority. Because of the high social and financial cost of ad­dic­tion, Catalyst's mission to develop a treat­ment for drug addiction could prove beneficial not only to addicts, but to investors and to society at large.
Previous studies in established animal models of addiction, involving both rats and primates, have shown that vigabatrin interrupts the neural mechanisms essential for addiction. In preclinical studies, vigabatrin prevented the characteristic drug-seeking behavior of addicted animals.
Three human trials of vigabatrin have been completed in Mexico with patients addicted to cocaine or meth­am­phet­a­mine, including a U.S. Phase II 103-patient, double-blind, placebo-controlled trial completed in 2007. Data from these three trials provide clinical evidence of vigabatrin's potential as a safe and ef­fec­tive treatment for patients with these addictions.
Most of the research on vigabatrin to treat addiction has emerged from work performed at Brookhaven National Laboratory (Brookhaven). Brookhaven holds various patents relating to its research findings.
Catalyst has obtained from Brookhaven an exclusive worldwide license for nine patents in the United States for all rights to use or sell vigabatrin for the treatment of addiction to cocaine, meth­am­phet­a­mine, prescription pain medications, heroine, nicotine, and other addictive drugs. Catalyst's license includes rights to Brookhaven's foreign patents or patents pending in more than 30 countries.
In addition, Catalyst has obtained rights to a novel class of GABA-AT inhibitors discovered by re­search­ers at North­west­ern Uni­ver­si­ty, which Catalyst is developing under the name CPP-115. In in vitro studies, CPP-115 has proved to be 200 times more potent than CPP-109; it may also have a better side effects profile. The com­po­si­tion of matter patents for CPP-115 will ensure exclusivity well beyond the expected for CPP-109. CPP-115 not only extends Catalyst's addiction franchise, but also allows the company to expand into areas like infantile spasms, epilepsy, and other CNS indications.
I find at least four reasons to buy the stock currently:
CPP-109 Phase II(b) Clinical Trial for the Treatment of Cocaine Addiction
Catalyst Pharmaceutical has recently announced that it expects to report top-line results from its CPP-109 (vigabatrin) Phase II(b) trial around the end of September 2012 versus the previous guidance of early in the first quarter of 2013. This advancement on the presentation of results suggests that possible data will be very positive. In the following graph the estimates of potential consumers of CPP-109 in U.S. are shown.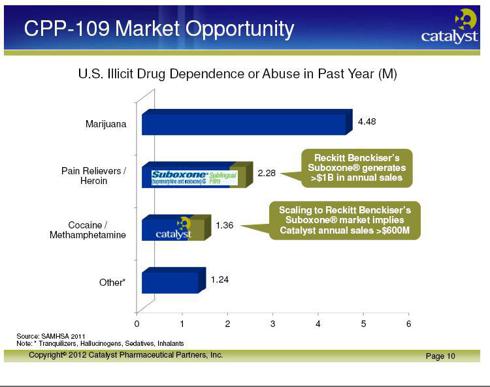 (Source)
Catalyst Pipeline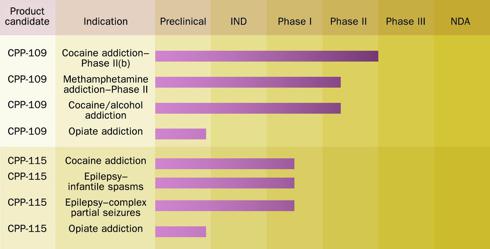 (Source)
The estimated sales of CPP-109 are over 600MM of dollars. The capitalization of Catalyst is only 23.5 MM dollars.
Insiders are buying 529,600 shares in 2012
The following is a summary of the latest transactions:
(Source)
Analyst price target $3.
CPRX Analyst Stocks Recommendations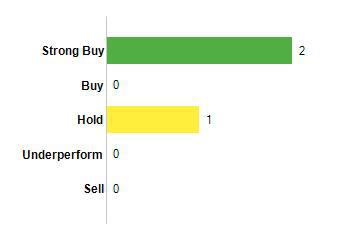 (Source)
Strong Co-Sponsors
Department of Veterans Affairs and National Institute of Drug Abuse in the United States have funded the studies of CPP-109 with $11MM. These organizations have monitored of all the progress on the case studies.
Conclusion:
Catalyst pharmaceutical is a company tremendously undervalued. It has a capitalization of $24MM and has a cash flow of $11MM without debts. It has several major studies in course and CPP-109 can provide it with an income of $600MM annually. This enterprise should have a minimum capitalization of $100MM or $4 per share.
The shares of Catalyst Pharmaceutical will surely go to the range of $2.5 - $3 before September. I might take a strong speculative position in the stock this week.
Disclosure: I have no positions in any stocks mentioned, and no plans to initiate any positions within the next 72 hours.