Last quarter, I wrote an article asking readers to pick the next stock I buy with the earnings I made from SA. I used the following criteria in the stock screener tool to give me a list of stocks.
Dividend yield greater than 7%
Within 10% of the 52 week low
Paid dividends at least 36 months
Many people commented that this strategy is like trying to catch a falling knife. After three months, let's review if this was the truth. From the screen, I found these 5 stocks as the "top picks".
After the vote, Eagle Rock Energy Partners was the winner. Let's look below at a chart to see the performance over the last three months.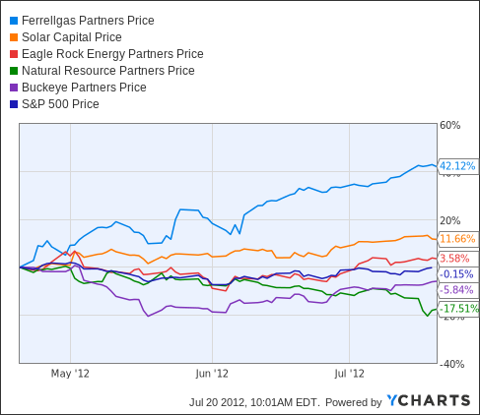 When compared to the S&P 500 (which is basically flat), we have two winners, two losers and one flat stock - which is EROC, the pick that was chosen for me. I also collected a quarterly dividend during this time, which has made my return slightly above the market. Let's take a look at the winners, and possible reasons why they took off the way they did.
Ferrellgas Partners is up nearly 42% over the last three months. On June 8th they announced an earnings surprise of 5 cents, but actually missed revenue numbers. However, since that point the stock has risen from $16 a share to over $20. There is no other news that I believe would rally this stock, minus investors wanting to collect the cool 2 dollar a share dividend.
Solar Capital Ltd is up nearly 12% over the last three months. Solar Capital is still yielding over 10% and was upgraded by the street on July 2nd, though the stock showed positive momentum prior to the upgrade, with a strong 1st quarter earnings report. Earnings will be reported on July 31st, which will be the next opportunity in my opinion to see movement with this stock.
I now want to focus on the stock that was the biggest loser during the last quarter - Natural Resource Partners LP. I believe the biggest negative for NRP is their stronghold in coal, and coal currently isn't the popular fuel here in the United States. However, NRP announced their quarterly distribution on July 19th, once again, 55 cents and they also expect their cash reserves to continue to increase. I believe that NRP might be a "black diamond" in the rough.
Now let's discuss the criteria for the second quarter:
I have decided to create a screen with a few more rules. These are the ones I have chosen:
Forward P/E less than 10
Market cap of large cap and bigger
Dividend yield of at least 2.5%
At least 4 quarters of non-negative earnings
This screen netted me 60 results. I then sorted through these 60 and I removed any stocks that showed a decrease in EPS growth for the current year or the next fiscal year, and that narrowed the list down to 17 contenders. Caterpillar (NYSE:CAT) was one of these 17, but since I am planning a long position in them anyways, I will eliminate them from this article. Here is the following list of stocks from the screener:
| | |
| --- | --- |
| (NYSE:NEM) | Newmont Mining Corp |
| (NASDAQ:INTC) | Intel Corporation |
| (NYSE:PRU) | Prudential Financial Inc |
| (NYSE:MET) | Metlife Inc |
| (NYSE:AFL) | AFLAC Incorporated |
| (NYSE:ETN) | Eaton Corporation |
| (NYSE:BK) | The Bank of New York Mellon Corporation |
| (NYSE:CM) | Canadian Imperial Bank of Commerce (USA) |
| (NYSE:BMO) | Bank of Montreal |
| (NYSE:AMP) | Ameriprise Financial, Inc. |
| (NYSE:WFC) | Wells Fargo & Company |
| (NYSE:MBT) | Mobile TeleSystems OJSC (ADR) |
| (NYSE:ESV) | ENSCO PLC |
| (NYSE:RIG) | Transocean LTD |
| (NASDAQ:STX) | Seagate Technology PLC |
| (NYSE:JCI) | Johnson Controls, Inc. |
One obvious choice from this list to consider is Intel Corp. Intel barely made the screen with a forward P/E of 9.97. The price has come down some from the high we saw in early May of over 29 a share, now to the 25.50 range. Chip sales have also been a little sluggish, as users wait for Windows 8 to be launched. Intel may be a good value currently.
Prudential Financial Inc (PRU) is projecting earnings of $7.76 for 2013, which would equate to a forward P/E of under 6. Prudential earnings have been at or above $6.59 for the past three years. Prudential is managing nearly a trillion dollars in assets for its customers and I believe there will be a continued stream of strong income for them. Prudential also yields a 3% dividend, though a negative about this dividend is that it is a yearly dividend, paid in November and is a variable amount.
Eaton Corp (ETN) just reported record earnings for the second quarter. However, they are tempered by stating poor exchange rates and lower than expected end market growth. However, projections for 2013 show Eaton with a P/E of around 8, and more than likely another dividend increase, which currently is 38 cents a quarter, just under a 4% yield.
Ensco PLC (ESV) is the second largest offshore drilling company. Ensco also boasts the highest operating margins in the industry, with a contract revenue backlog of 10 billion dollars. With offshore drilling coming back up to speed, Ensco may be a bit undervalued. With 2013 earnings projected to be $6.96 a share, Ensco has a forward P/E of 7.3.
Johnson Controls Inc (JCI) is an interesting case, as it blends the way I was trying to pick a stock last quarter, with how I am trying to pick one this quarter. Earnings for 2013 are projected at $3.13 a share, for a forward P/E of 7.8. Johnson Controls is also within a dollar of their 52 week low, with a dramatic fall after reporting lower than expected earnings last week. I believe this is a chance to buy Johnson Controls on the cheap.
Conclusion: So I was intrigued by this experiment so I definitely wanted to try this again. It is now up to you readers, you have one week to comment on which of these stocks I should buy and why, or maybe which stocks I should avoid. I will add up the votes and state my purchase in the comments section.
Disclosure: I have no positions in any stocks mentioned, but may initiate a long position in INTC, PRU, ETN, ESV, JCI, CAT over the next 72 hours.
Additional disclosure: I will buy one of these 5 stocks after your vote. I have sold my position in EROC.