We previously published our investment research report series recommending State Street Corporation (NYSE:STT). We were pleased to see that the company was able to show progress in reducing its cost base and believe that once the market sees less volatility, then the company will begin to enjoy top line growth. We also believe that the company is simply too cheap when we consider its valuation metrics:
STT's PE of 11X trailing earnings and 10.6X estimated 2012 EPS
STT's PE based on FY 2013 EPS is 9.1X
STT is trading at a 1% discount to book in spite of its strong ability to generate cash
We would have strongly preferred to see top line revenue growth on a linked quarter and year-over-year basis, however due to the challenging macroeconomic environment; we noticed that other firms have seen revenue come in flat or lower than expectations. We can take comfort in the fact that while State Street's year-over-year revenue declined by 2.7%, at least it didn't see the 6% year-over-year decline that Bank of New York Mellon (BK) had.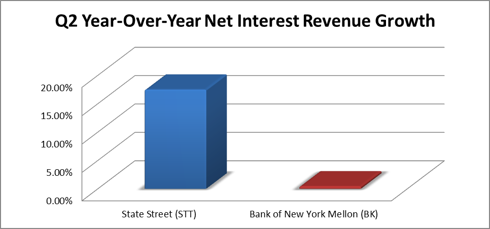 Source: Company Press Releases
State Street announced its $1.8B share repurchase program at the end of Q1 2012 after it passed the Federal Reserve Stress Tests. It spent $480M on gross share repurchases and reissued $121M of shares for employee stock benefit programs for a net share repurchase of $359M. This enabled STT to reduce its shares outstanding by nearly 8.6M in Q2 2012. We were concerned when the management said that the buyback could be interrupted for acquisitions. We think that helped contribute to the 6.36% decline in the price on July 17th. We believe that the most important thing on State Street's agenda should be to complete this buyback, especially because its stock price is so low.
We were intrigued by State Street's acquisition of Goldman Sachs's (GS) alternative asset servicing business, which was proposed last month and officially announced July 17th. The deal is expected to close at the end of 2012. While the $550M cash price tag and the fact that it won't be accretive until 2014 make us pause, we can see the benefits of acquiring this business. State Street already services $877B in alternative assets and this will exceed $1T once the deal closes.
We see potential cost synergies as well as potential for firming up pricing due to asset servicing consolidation. We noticed that SS&C (SSNC) had purchased GlobeOp Financial Services, which also focused on alternative asset servicing. SSNC paid £572M for GlobeOp, which serviced $173B. State Street paid $550M for Goldman Sachs Administration Services, which serviced over $200B. Moreover, SSNC has to issue new debt to fund its acquisition whereas State Street could and should simply cash in $550M of its low-yielding cash and other liquid investment securities in order to fund this deal.
State Street does not need to issue new debt nor does it need to suspend the share repurchase program in order to finance this deal. State Street's annual net interest income opportunity cost of $6.27M by cashing in assets would be more than offset by nearly $13M in dividends it wouldn't have to pay plus it would reduce shares by 2.80% based on July 18th intraday price of $41.05 as of when this report was being prepared. We also modeled out a scenario in which even if the stock increased to by 22% to $50 per share between now and when the deal closed, maintaining the repurchase would still provide a 2% boost per share to the shareholders. If we had used a 0% Net Interest Margin and assumed that STT would merely redeem cash on hand instead of an average of its interest earning assets, our model would have generated a nearly $66M Shareholder Value Added boost on top of the $531M we already modeled out for the scenario. We acknowledge that there can be regulatory restrictions that could potentially make STT have to reduce its share repurchase requirement, however based on our analysis, there are no objectively justifiable reasons for regulators to require STT to reduce share repurchases to accommodate the GSAS acquisition.
Click to enlarge

Sources: Saibus Research Estimates and Company Press Releases
In conclusion, we still maintain our buy rating and $54.63 Fair Intrinsic Target Value on State Street Corporation. We believe that while the company will see headwinds to performance in 2012, it will begin to see the benefits of its corporate transition efforts as well as increased top line growth. At the same time, we believe that management needs to redouble its efforts to maintain and expand its market share through organic growth efforts, which is why we were glad that State Street did not purchase any of Deutsche Bank's asset management operations. We noted that State Street has restored its dividend to pre-crisis levels and repurchased $1B in new share buybacks since last year's second quarter net of share issuance.
We believe that if State Street's management wants to reestablish its credibility with the investment community, it will complete the repurchase program authorized in March and repurchase $1.32B shares between now and March 31st, 2013. If State Street's management will complete the repurchase program, increase the dividend by at least 20% or more next year and refrain from talking about acquisitions, let alone engaging in acquisition deals, it should help generate value for State Street's shareholders and enable the company's PE to take steps towards the Target Multiple of 13.5-14 times earnings that Nelson Peltz and our firm target.
Disclosure: I am long STT.
Additional disclosure: Saibus Research has not received compensation directly or indirectly for expressing the recommendation in this report. Under no circumstances must this report be considered an offer to buy, sell, subscribe for or trade securities or other instruments.