Baidu (BIDU) reported Q2 results last night.
Key highlights:
Revenue: $858.8 million, + 60% y/y, vs. consensus $853 million
EPS: $1.24 per share, vs. consensus $1.12 per share
Q3 guide: $983 - $1 billion, at the midpoint of which represents $52% y/y growth
What I liked:
Better than expected result
Strong customer growth
Local map initiative
Better Than Expected Result
Revenue of $858.8 million beat the consensus of $853 million by 0.7%. EPS of $1.24 per share also beat the consensus of $1.12 per share. The midpoint of Q3 guidance was in line with consensus estimate.
Strong Customer Growth
Active online customers grew 18.1% to 352K during the quarter, the third quarter of sequential accelerated growth, driven by strong momentum in SME customer acquisition in lower tier markets.
Click to enlarge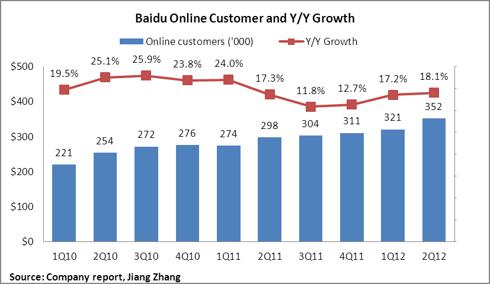 In Q2, Baidu rolled out its annual search marketing campaign, featuring 200 events in 190 cities across China. The company partnered with local government in 14 regions to encourage SME to embrace online marketing and offered new SME-friendly services. For example, Baidu introduced a free new tool that helps SMEs to transform their websites into mobile-friendly format in as little as 10 minutes.
As large accounts cut back on their spending, Baidu will increasingly depend on SME to drive revenue growth.
Local Map To Drive LBS
Baidu is pushing its location-based-services (LBS) that centers around Baidu map, which has a new GPS navigation function with upgraded real-time traffic, increased accuracy and user friendly format. Heading forward the company looks to build a database with more comprehensive local information by partnering with app providers. LBS services that focus on local information will be critical for Baidu's mobile growth as increasing number of users look for local content such as deals, promotions, services and events that are within their proximity.
However, investors should note that Baidu's map data is provided by a company called NavInfo, which is a direct competitor of AutoNavi (AMAP). In my view, AMAP is a better choice because it:
Has a more comprehensive map content than NavInfo
Is the leader in mobile navigation and mobile map market
Is picked by Apple to be China's map content provider for iOS6
That said, I would like to see Baidu to partner with AutoNavi to deliver superior map and LBS services to its users. For a closer look at AutoNavi, please see my June 26th initiation titled "AMAP: Undervalued Digital Map Leader."
What concerned me:
Rising TAC cost
Decelerating revenue growth
Weak revenue per online customer
Rising TAC Cost
Baidu's rising traffic acquisition cost grew 71.6% y/y and 35.7% q/q.
Click to enlarge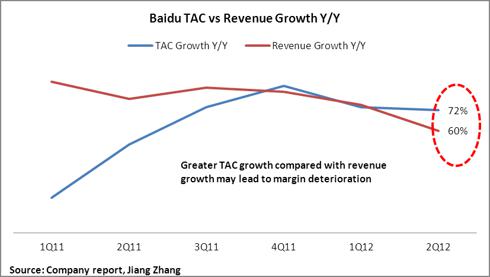 As I mentioned in my note titled "Baidu Q2 Earnings Preview," rising TAC is a major concern because it is growing faster than revenue, which may lead to margin deterioration.
Click to enlarge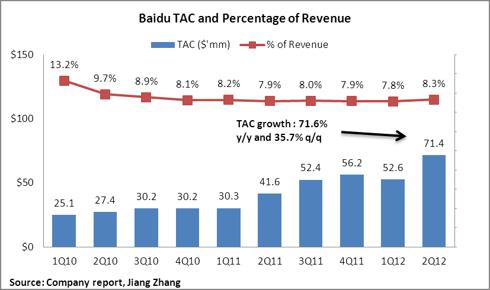 Decelerating Revenue Growth
Baidu's growth in China's online search market is approaching a saturation point. Without a sound strategy in mobile search, investors could continue to see decelerating revenue growth going forward.
Click to enlarge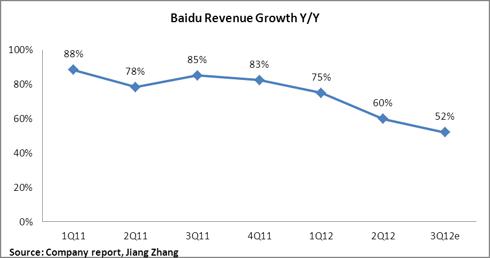 Weakness In Revenue Per Online Customer
Despite accelerating customer growth, Baidu's revenue per online customer showed considerable deceleration over the quarter, +35% y/y compared with +49% in Q1 and 62% in 4Q11. The deceleration highlights the macro headwind Baidu is facing. During the quarter, the top five advertising clients are from medical, education, machinery, travel, and franchising.
Click to enlarge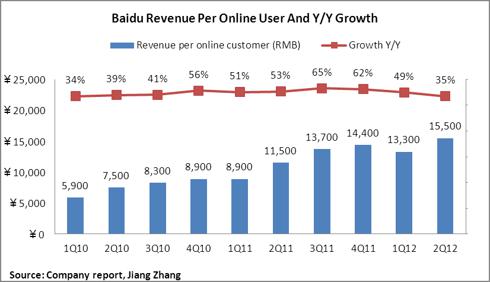 Disclosure: I have no positions in any stocks mentioned, and no plans to initiate any positions within the next 72 hours.