Halliburton Company (HAL) reported second quarter earnings before the bell on Monday, July 23rd of $0.80 per share, in line with results from the same period a year ago and 5 cents ahead of analysts reduced estimates. Revenue for the quarter rose 22% to $7.23 billion, over the second quarter of 2011. Revenues benefited from double digit growth in international regions; while income was hurt by pressure on North American margins from rising costs and decreasing pricing in pricing in production enhancement services. The move of equipment from natural gas to oil basins continued in the quarter, with the rig count in natural gas basins reaching a 12 year low. The company believes this move of equipment and the pressure of higher guar gum prices to begin to subside as it enters 2013.
With Halliburton's move higher on this earnings release, the stock trades at about 10 times estimates for fiscal year 2012 full year EPS of $3.19 per share. Estimates for the full year have come down significantly over the past 90 days as Halliburton has faced higher costs, and weak natural gas prices have reduced demand for oil field services. However, revenue remains very strong and analysts are forecasting full year revenue gains of 13.7%. The company is delivering strong growth and as it works through excess guar gum inventories and prices fall North American margins should begin to improve.
The stock responded strongly to earnings, outperforming in a down market, rising as much as 2.5% in trading today. Looking at the chart, I believe Halliburton has moved above resistance at $30 per share and that this level will provide support going forward. Recently the $30 price level has been important for this stock, and moves below this level have quickly reversed and the stock has moved higher. On the high side resistance could first come into play around $35 per share, with more significant resistance near $38.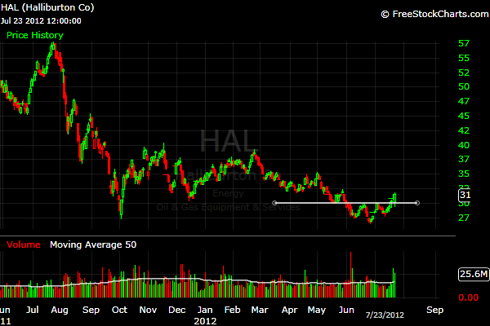 I believe that higher natural gas prices will begin to slow the move away from the dry gas basins. Additionally, oil prices at this time appear to have more room to the upside than the downside. Those two trends should improve the outlook for all oil service companies including Halliburton. I continue to believe that Halliburton is one the most undervalued companies out there and has the potential to be a rewarding investment over the next two or three years.
Data sourced from: Company filings, and Yahoo!Finance. Chart from: Freestockcharts.com
Disclosure: I have no positions in any stocks mentioned, and no plans to initiate any positions within the next 72 hours.