Starbucks Corporation (NASDAQ:SBUX) has been in an uptrend since the market bottom of 2009. It has expanded its business in China dramatically. It has added new products to its US (and other) businesses with good effect. However, it is still in the restaurant/retail business.
In fact, it is in the high end of that business with its exorbitant prices on coffee and its other offerings. A $3-$4 latte every day is something you just don't need when you have to trim expenses due to a slowing economy. You could have a high-end coffee at home for far less than $1. Of course, some might argue that you can also buy Starbucks home brew coffee. Starbucks packaged coffees (excluding K-cups) are 35% of the business.
However, the reality is that even these are often several times the cost of an equivalent coffee sold in your grocery store or at Wal-Mart (NYSE:WMT). Even other high end coffees are often half as much as Starbucks' coffee. For example, Seattle's Best French Roast Ground Coffee (12oz.) sells for $6 at WalMart. Starbucks French Roast Ground Coffee (12 oz.) sells for $9. I doubt there is any noticeable difference in taste. Non-premium brands are even cheaper, and again there is likely no difference in taste. Starbucks brand loyalty could easily be a casualty to economics.
Starbucks is still primarily a US company with 500 new stores supposed to open in the US this year. However, its growth is increasingly driven by areas outside the US. Starbucks has plans to open 400 new stores in China and/or the Asian Pacific. It plans to open 100 new stores in the EMEA (mostly Europe).
With all of the trouble in Europe these days, this last plan has to be in jeopardy; or if it is not, it seems unlikely to provide the growth the company originally envisioned. With increasing austerity and increasing unemployment, high-end coffee is likely not going to be a huge success. Rather, profits will be thin or hard to come by.
Many of the EU countries are already in recession, many more will likely follow the first ones. The French (43.6), German (43.3), and EU (44.1) preliminary manufacturing PMIs were all misses this morning. All are showing significant contraction. These indicate the lack of health of the European economies more than any other factor.
China is still expanding with a Q2 2012 GDP growth rate of 7.6%. However, this is a significant slowdown from the 8.1% GDP growth of Q1 2012. Plus, some analysts think the Chinese GDP growth from Q2 2012 was significantly lower than that officially stated. If so, the situation is even bleaker. Today, the Chinese HSBC flash PMI for July 2012 came in at only 49.5. This is higher than recent readings, but it is still contraction.
You also have to take into account that China is heavily dependent on its export markets. With both the EU and the US slowing, it would seem that China has to slow further. This will mean tighter Chinese belts. It will mean slimmer margins for businesses in China. Recent results from Nike Inc. (NYSE:NKE), YUM! Brands, Inc. (NYSE:YUM), and McDonald's (NYSE:MCD) bear this out. Labor costs have been rising in China. This by itself should cut into margins.
YUM cited both rising labor and rising food costs as reasons for its underperformance in China in Q2 2012. It is hard to imagine that these same factors will not lead to slimmer margins in Chinese Starbucks, especially in the bakery products area. World grain prices have risen 25% this year. Vegetables and milk are also up dramatically. One source cites Chinese urban household wage incomes up 13% year over year in 1H 2012 and Chinese migrant worker wage incomes up 14.9% year over year in 1H 2012. The consequently slimmer margins will mean less EPS growth for Starbucks. They might even lead to fewer store openings there in 2012.
One cannot be too sure how Starbucks will do versus analysts' current Q2 forecast. Analysts' EPS estimates have been falling slightly. However, it would seem likely that the guidance will be a disappointment. If you add the much higher-than-expected capital expenditures this year, the margins almost have to get hurt badly. Specifically, Starbucks is building a new manufacturing facility in Augusta, Georgia, which is scheduled to begin operations in 2014. Starbucks is also doing myriad store renovations. Together, these expenses are expected to come to approximately $900 million in 2012. With Starbucks FY2012 revenue estimate currently at $13.38B, the above-mentioned nearly $1B in expenses are not insignificant.
Further Starbucks' stock price history in the last recession was poor to say the least. The five-year chart below illustrates this better than any words can.
Click to enlarge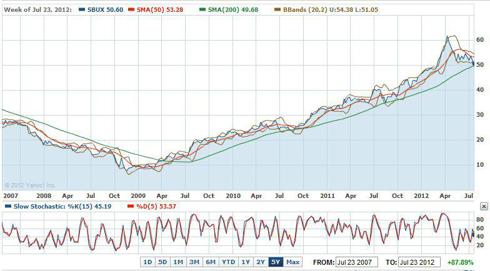 The chart shows that SBUX fell to a low of $7.83 on Nov. 17, 2008. This was from a near-term high of approximately $28 in 2007. That is over a 70% fall. With its current price of $50.60, a comparable fall would be to near $14 per share. Since there is significant support at $18-$20, one might posit that it would have a hard time going through that support.
Still it would seem that SBUX is in for a significant fall. SBUX trades at a premium multiple of 29.25. Stocks with such multiples tend to fall rapidly when their growth does not live up to expectations. From the data presented above, it is hard to see how it can. Big brokerage analysts are often loathe to cut estimates too much too quickly. They are often dependent on the data they get from the company for their forecasts, and they do not like to antagonize those who supply the data. However, they will make adjustments once what they think is likely becomes a reality (or the forward guidance does). SBUX reports on Thursday July 26, 2012 after the market closes.
The two-year chart of SBUX shows consolidation possibly leading into a down move.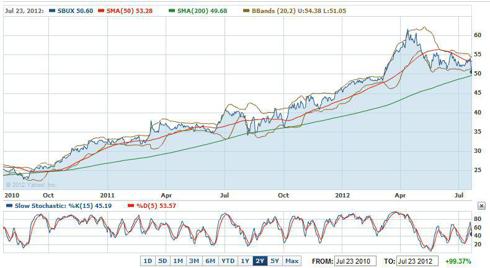 The slow stochastic sub chart shows that SBUX is neither overbought nor oversold. The main chart shows SBUX price line seems about to break through its 200-day SMA. Given the recent history of NKE, MCD, and YUM, this seems very likely. It is nice to believe that uptrend stocks can just keep chugging along, but the reasons presented above for weakness seem inescapable. The chart shows there is good support at approximately the $40 level. You should be able to short SBUX to this level with relative safety. If you own the stock, you should sell it. You can likely buy it back at a much reduced price at a later date.
The media is now talking about a bailout for Spain leading to a bailout for Italy. Such an eventuality will undoubtedly move the markets lower. Even the speculation of such events means we are sure to see many painful things happen in Europe near term. SBUX will fall with Europe. If events are severe enough, we could see SBUX fall to the $20 level. The Troika is back in Greece this week for inspection. That is never a good thing.
Some of the fundamental fiscal data is from Yahoo Finance.
Disclosure: I have no positions in any stocks mentioned, but may initiate a short position in SBUX over the next 72 hours.