By Brendan Gilmartin
Overview
Caterpillar (CAT) is scheduled to report 2Q 2012 earnings before the opening bell on Wednesday, July 25. The results are typically released at 7:30 a.m. EST with a conference call slated for 11:00 a.m. Caterpillar shares have come under pressure in recent months amid concerns over the outlook for the global economy, particularly China. Keep an eye on the index futures at the time of the release given the magnitude of these results.

Outliers & Strategy
The Street is looking for Caterpillar to deliver EPS of $2.28 (range is $2.06 to $2.41) on revenue of $17.11 bln, up 20.2% from the year-ago period (Source: Yahoo! Finance). Look for Caterpillar to possibly provide an updated forecast for 2012:
Earnings Per Share Guidance (FY2012). Caterpillar previously indicated profit per share is now expected to be about $9.50 - at the middle of the sales and revenues outlook range. The consensus is $9.54. After raising its guidance several weeks ago, Caterpillar may alter its outlook after a recent revenue warning from Cummins Inc. (CMI).
Revenues Guidance (FY2012): Back in April, Caterpillar said the outlook for 2012 revenues is expected to be in a range of $68 bln to $72 bln. The consensus is toward the high end of the range at $69.52 bln.
Sympathy Plays: Cummins Inc., Komatsu, Deere & Co. (DE), Joy Global (JOY).
Caterpillar shares dropped more than 3.5% on Tuesday, July 10 after Cummins, the maker of industrial engines and components lowered its 2Q 2012 revenue guidance, based on softer demand in Brazil, China and India, along with the strength in the U.S. Dollar - factors that are also expected to weigh on Caterpillar.
Recent News
07/18: Jefferies downgraded Caterpillar from Buy to Hold and cut the price target from $130 to $85, according to a post on StreetInsider. The report cited weakness in construction markets outside the U.S., forex headwinds, and slower mining activity. The firm also reduced EPS estimates for FY2012, FY2013, and FY2014 by $0.50 per year.
07/13: Credit Suisse reduced its price target on Caterpillar from $138 to $120, according to Benzinga.com, and cut the FY2012 EPS estimate from $9.80 to $9.50. The report cited slower U.S. growth and pullback in emerging markets.
06/13: Caterpillar raised the quarterly cash dividend by $0.06 to $0.52 per share of common stock. The yield is now 2.55%.
Technical Review
Caterpillar shares are off more than 20% over the past year and nearly 9% YTD, en route the lowest level since early October, 2011. Should earnings and guidance disappoint, look for support near the recent lows around $80, with downside risk to $75.00. Resistance is at the 20-Day SMA near $82.50, followed by $87.50. (Chart courtesy of StockCharts.com)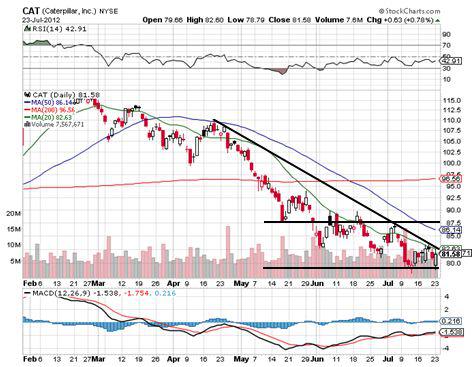 Summary
Caterpillar recently succumbed to a 10-month low amid concerns over slower growth in the U.S., weakness in key international construction markets, and the advance in the Dollar, hurting overseas profits. Shares are also being hurt by weakness from rivals, while engine maker Cummins recently warned that softer demand in Brazil, China, and India is hurting sales. Following the recent pullback, Caterpillar is trading at just 10.3x earnings, a discount to the 5-year average of 19.2x and less than 1x sales, implying much of the weakness is priced in. The focus will therefore center on the FY2012 outlook.
Disclosure: I have no positions in any stocks mentioned, and no plans to initiate any positions within the next 72 hours.
Disclaimer: By using this report, you acknowledge that Selerity, Inc. is in no way liable for losses or gains arising out of commentary, analysis, and or data in this report. Your investment decisions and recommendations are made entirely at your discretion. Selerity does not own securities in companies that they write about, is not an investment adviser, and the content contained herein is not an endorsement to buy or sell any securities. No content published as part of this report constitutes a recommendation that any particular investment, security, portfolio of securities, transaction or investment strategy is suitable for any specific person.