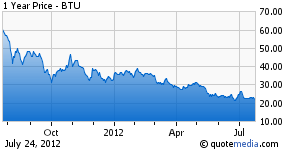 The investment thesis on Peabody Energy (BTU) continues to be that it's the best house on a pretty scary street - a street that increasingly looking like Elm Street for long-suffering investors. If there's good news in the company's second quarter results, it's that the Street seems to still be washing out expectations despite some signs of improvement in the U.S. coal business. While this remains an interesting asset-driven company for the long term, the coal sector has shown in spades that the answer to the question of how much worse things can get is "a lot worse".
Some Bright Spots In Q2, But Mostly Unhappy News
All in all, this wasn't a banner quarter for Peabody. Reported revenue did improve 1% from last year, but fell about 2% sequentially as tons sold declined about 1% and 7% over those respective time periods. The U.S. was a relative bright spot (revenue up 4%), as a 10% revenue per ton increase showed a little more pricing power than expected, particularly for coal sourced from Western operating regions.
Australia was more problematic. While Peabody posted a large increase (year on year) in tons sold, pricing was weak (rev/ton down 19%) and costs were up 10% due to a variety of factors including stripping costs and production issues at mines operated by contractors. All in all, reported operating profit dropped 42% from last year (and about 21% from the first quarter), with adjusted EBITDA down 24% and 12%, respectively.
Weirdness In The Foreign Markets
Conditions in the overseas coal markets are looking a little strange these days. Indian coal imports continue to rise at a double-digit clip, with stockpiles at relatively low levels. In China, though, coal imports have been soaring (up 70% year on year for the first four months of 2012), but now Chinese utilities have record inventories (about 30 days' worth) and there's concern in the Chinese newspapers about safety issues tied to utilities stockpiling more coal than the storage facilities were designed to hold.
The Patriot Situation
The bankruptcy of Patriot Coal has clearly jolted investors and led to a reassessment of risk across the sector. As the company that spun out Patriot, some of that concern has centered on Peabody's obligations. At this point, it would seem hard to establish any significant liability for Peabody - the split was five years ago and while Peabody was clearly disposing of less-appealing assets, it was a good-faith transaction. Consequently, it looks like Peabody's liability is likely limited to about $150 million in Black Lung-related costs.
The whole Patriot mess does bring some other issues to light. While many, myself included, have tied Patriot's failure to EPA rules and OSHA regulations that have made life difficult for Appalachian coal companies, that's not the only issue. Because Patriot was built around legacy properties that had been in operation for a long time, the company had huge pension issues. Patriot is (or was) responsible for a retired workforce that was more than five times larger than its current employee roster, and those retired workers were costing about $60,000 a year in pension and health benefits.
That could prove to be a problem for Alpha Natural Resources (ANR) and CONSOL (CNX), as both have fairly large pension and healthcare obligations as well (due in large part to holding operating assets with a long history in Appalachia). Though Arch Coal (ACI) doesn't have quite the same issues (due in part to lower union membership among employees), it did take on a lot of debt to buy into Appalachia near the last peak. By comparison, while Peabody has some union exposure (about one-quarter of employees), the nature of Western coal mining is more favorable from this standpoint (fewer retired workers, and fewer workers overall relative to Appalachian operators).
The Price Dance Between Coal And Gas
I recently found some interesting data in Coal Power that went through the various price parities of coal and natural gas based on location, transportation costs, and so forth. To summarize, Powder River Basin coal (which Peabody has quite a lot of) finds parity near $2.40 to $2.50/MMbtu, Illinois Basin coal finds parity around $4.10 to $4.20/MMbtu, and central App coal finds parity at more than $5 per MMbtu.
With natural gas around $3.10 these days, that tells me that Peabody is in okay shape with its Western operations, but that the outlook for Illinois coal is still not great. By the by, management did announce that they had upped their contract commitments for 2013 to 70-75% of anticipated production (versus 40-50% at the end of Q1), so it's not as though utilities are abandoning coal outright and forever more.
The Bottom Line
It's hard to feel great about Peabody with rising Chinese inventories, sluggish met coal prices, production cost issues in Australia, weak U.S. natural gas prices, and a 25% cut in EBTIDA guidance for the third quarter. Then again, this is what the bad part of the cycle looks like.
I'm not going to say that everything will be okay again in the Appalachian region, as I think environmental regulations and mine operating costs are going to make it very hard for operators to compete with natural gas. Said another way, Penn Virginia Resource Partners (PVR) has long been in the business of leasing Appalachian coal properties, but management has made huge investments to diversify into natural gas - not exactly a great endorsement of long-term App coal fundamentals.
But I think Peabody is different. I think its Illinois Basin, Powder River Basin, and Australian coal assets are basically the right place to be, and I think both domestic utility demand and Asian demand for thermal and met coal will lead an eventual rebound in the shares. While the current price largely presumes a trough valuation, fair value here could still be in the low $30s.
Disclosure: I have no positions in any stocks mentioned, and no plans to initiate any positions within the next 72 hours.