Analysts spend a lot more time trying to understand Apple (NASDAQ:AAPL) the stock, rather than Apple the company. With Apple reporting its quarterly earnings after the markets close today, opinions (as well as blood pressure readings) will be all over the map. In this article, I will attempt to take a more dispassionate look at the growth of Apple vs. its competitors, its operating costs, unit sales, revenue stream and cash hoard. I will focus on Apple the company, using data derived from the quarterly reports of Apple and six of its major competitors, in order to gain a broader perspective of Apple's prospects for growth in the near to mid term.
A Note On Data: Apple adopted the FASVB's amended accounting principles on a retrospective basis during the first quarter of 2010. The new accounting principles significantly change how Apple accounts for certain items, particularly sales of the iPhone. I have adjusted the chart values accordingly. Also note that the iPod was released in Q1/02 but Apple declared unit sales and revenues beginning with Q4/02. The first three quarters are therefore based on reconstructed values.
(click images to enlarge)

Reining In Operating Costs. Apple is making slow but steady progress on operating costs as a percentage of revenue.

Disruptive Technology. Unit sales, broken down by quarter. The spikes indicate new product releases.

Passing The Torch. Introducing a new successful line of products just as other products start to fade is an Apple tradition. Notice what happens in 2010 as the iPhone overtakes the iPod as Apple's most popular product. Correlation or causation? I'm leaning towards the latter.
Apple intends to retire the Desktop form factor beginning in 2012.

Up, Up, And Away. With the proliferation of the iPhone, Apple's increase in revenues begins to resemble the view of Mount Everest from the south. Microsoft's (NASDAQ:MSFT) revenues remain surprisingly resilient.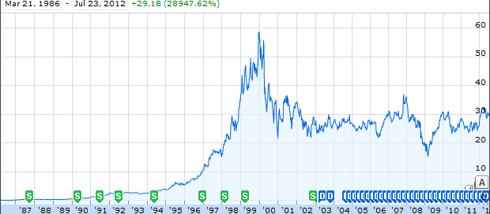 Déjà Vu. Apple's growth is the spitting image of Microsoft's 1996-1997, suggesting that the bull market for AAPL may have steam left in it. (MSFT didn't top out until December 1999.) Bill Gates handed over control of Microsoft to Steve Ballmer on January 13, 2000. The dot-com bubble burst in March.

Leader Of The Pack. Apple's arc of domination going into Christmas.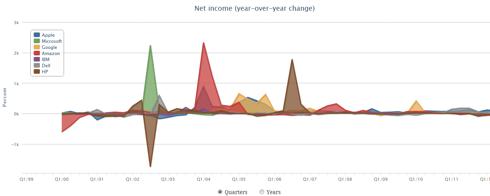 Apple Runs A Tight Ship. Net income tends to become fixed over time, but Apple's net income is so rock solid it's frightening. Apple dictates its own earnings, despite the introduction of five different product lines, bubbles, recessions, and a stock market crash. That indicates a total absence of pressure on pricing. Microsoft Redux.

The Treasure Trove. Apple is hoarding cash, for reasons unknown. Apple's cost of equity capital is roughly 9.9%, which is extremely wasteful. It's return on equity capital is probably around 0.5%.

Disclosure: I have no positions in any stocks mentioned, and no plans to initiate any positions within the next 72 hours.