On Friday, Southern Copper Corporation (PCU) released its 1Q08 results, and they came in very much in line. Production was lower due to the Cananea strike in Mexico (still rumbling on) but price rises in copper pushed up profits. Rather than repeat the numerical bones, here's the Reuters report that has all of the necessary figures.
The Cananea situation is a good example of the difference in management quality in Mexico and Peru. In Peru, the management/worker relationship isn't amazingly warm and cuddly, but at least one side listens to the other. But Mexican management is stuck in the 1970s, when techniques to improve productivity were zero carrots and hundreds of sticks. The latest move is to threaten to close the mine completely if the workers don't go back, one of the better examples of cutting your nose to spite your face so far this year.
Despite this managerial idiocy, PCU is still a great stock to have in the portfolio. I've recommended it since late 2004 and the reason is in this chart: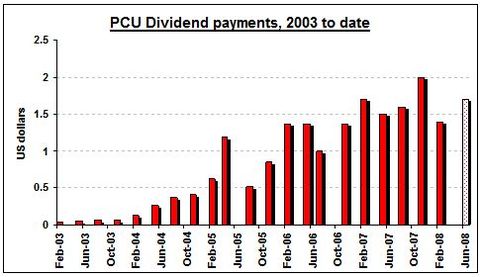 If you understand the cash cow relationship between PCU and its parent company Grupo Mexico [GMEXICOB.MX], you understand why the dividend policy is so generous. In the chart period (2003 to date), PCU has paid out U$19.64 in dividends. And if you'd bought the stock in January 2003, you would have paid U$15 for the stock.....that's what's called a good deal. Since then the stock has been a star performer, and here's the long term stock performance (no apologies for posting my favorite chart again).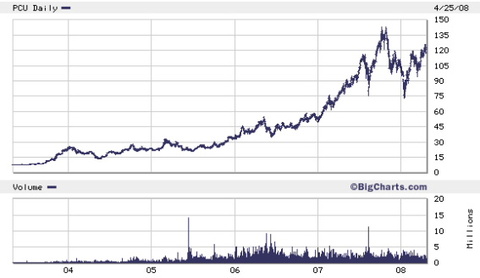 All very impressive. So while copper (and other metals prices) remain high, so will the dividends. And so will the stock price. And this is demonstrated by the U$1.70 dividend that PCU will pay in June 2008 (that's the pink bar on the dividend chart), all through a period of industrial unrest. There's plenty of upside available once the stupidity at Cananea ends.
PCU is an example of the best kind of investment advice; simple, logical and with a great track record. You buy a good stock and you hold it. Boring, but it works. And hey...I know it's boring, and I also know playing the market and trading things is great fun. So I make sure a part of the portfolio is always liquid and ready to play the game. But the major part of the portfolio is long term and anchored with the good, solid stuff like PCU bought at U$25, physical silver bought at U$6.97 and physical gold bought at U$451.
Finally, just in case you're wondering about what copper is going to do going forward, here's the link to my thoughts on the subject. Basically, the day you stop connecting the USA with commodities demand will be the day you become a better investor.
Disclosure: Author has a long position in PCU