Skyworks Solutions (NASDAQ:SWKS) will continue to grow in mobile. Last week's earnings confirm this with the company 2Q revenue increasing 6.7% sequentially to $389M and non-GAAP earnings per share increasing $0.03 sequentially to $0.45, both beating prior guidance. The mid point of guidance for the 3rd quarter revenue is up 7.3% and non-GAAP earnings per share guidance is for $0.50 to $0.51 per share.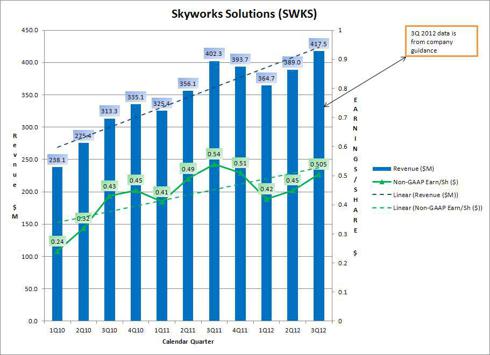 During last week's earnings conference call management cited the first 3 reasons Skyworks is growing:
First, new vertical market opportunities. The opportunity for Skyworks is quickly expanding. It's well known that broadband connectivity is proliferating across a growing array of previously unconnected consumer electronics. What's more, the need for high-performance analog solutions is expanding into brand-new markets like medical, automotive, military and industrial.

Second, the rising RF content per device. This is driven by a dramatic increase in the number of LTE-enabled devices and a major smartphone upgrade cycle just beginning in the emerging markets. Average RF dollar content per device continues to move higher. This creates a rising tide for the foreseeable future and translates into TAM growth rate significantly above unit growth. This is playing out real time today across major development platforms on which we're engaged.

And third, expanding our product portfolio between -- beyond traditional served markets. Through a combination of internal developments and targeted acquisitions, we have added an incremental $2 to $3 of addressable content per device to our core RF TAM. Today, we're seeing tremendous traction by cross-selling these new products throughout our existing customer base. It's worth noting that none of these products were in our portfolio just 18 months ago.
To the above 3 reasons, I would add a fourth. Skyworks Solutions' gross margin is consistently higher than its two main competitors, TriQuint Semiconductor (TQNT) and RF Micro Devices (RFMD).

Note: Skyworks manufactures 80% of its wafers and does 90% of its assembly and test in-house.
and Fifth - Design Momentum. Skyworks has two chips in the Samsung (OTC:SSNLF) Galaxy S3 and 4 chips in the Apple (NASDAQ:AAPL) new iPad.
Financial Metrics
Skyworks has a forward PE(fye Sep 30, 2013) of 13.3 and cash of $327.9M or $1.76/share and no debt.
Conclusion
Skyworks' top line revenue growth of over the last 10 quarters of 63% has been impressive along with a non-GAAP earnings growth from $0.24/share in Q1 2010 to $0.45/share in Q2 2012.
Skyworks is clearly positioned to grow as the growth in mobile continues. If inclined to buy, I recommend not buying your full position all at once due to our annual summer market volatility.
Disclosure: I have no positions in any stocks mentioned, but may initiate a long position in SWKS over the next 72 hours.