By Brendan Gilmartin
Overview
Amazon.com (AMZN) is scheduled to report 2Q 2012 earnings after the closing bell on Thursday, July 26. Results are typically released between 4:01 and 4:10 p.m. EST. A conference call will follow at 5:00 p.m. EST.

Outliers & Strategy
Amazon provided the following guidance for the 2Q 2012 period back in its April earnings release:
Net sales are expected to be between $11.9 billion and $13.3 billion, or to grow between 20% and 34% compared with second quarter 2011. The current consensus is $12.9 billion. (Source: Yahoo! Finance!). Revenue is a critical measure for Amazon and often dictates the after-hours trading action, given the wide breadth of analyst and company estimates.
Operating income (loss) is expected to be between $(260) million and $40 million, or between 229% decline and 80% decline compared with second quarter 2011.
Forward guidance is a critical measure for Amazon and usually impacts the ensuing trading activity. Current estimates (3Q 2012):
While much of the attention centers on Amazon's retail operations, an overlooked part of its business are the hosted web services & cloud-computing segments that are contributing meaningful revenue.
Amazon is expected to earn $0.02 per share (range is -$0.23 to $0.22), down from $0.41 in the prior year. (Source: Yahoo! Finance)
Recent News
07/24: Amazon shares declined after shipping giant UPS (UPS) posted weaker than expected earnings and cut its FY2012 outlook.
07/23: Goldman Sachs reiterated a Buy rating on Amazon, but lowered the price target from $295 to $280, according to a post on Benzinga.com, due in part to lower 2013 revenue forecasts.
07/18: Rival eBay (EBAY) shares jumped to 6-year highs after posting stronger than expected 2Q earnings and a conservative outlook. The company indicated strength was attributable in part to "eBay Marketplaces' best performance in years."
07/11: BMO Capital initiated coverage on Amazon with a Market Perform rating and a $260 price target, according to Barron's Online. The firm expects "robust" revenue growth to offset compressed profit margins resulting from investments in expansion.
Technical Review
Amazon is among the better-performing names in the S&P 500, rising 30.6% YTD. Since the previous 1Q 2012 earnings release in April, however, the shares have struggled to overcome the $230-level, having failed on several attempts. That will be a key resistance area to watch following the results on Thursday. Should earnings and guidance surprise to the upside, there is upside to the 52-week high of $246.71 established last October. Conversely, support is near the 50-Day SMA at $220, with downside risk to $215 and $210. (Chart courtesy of StockCharts.com)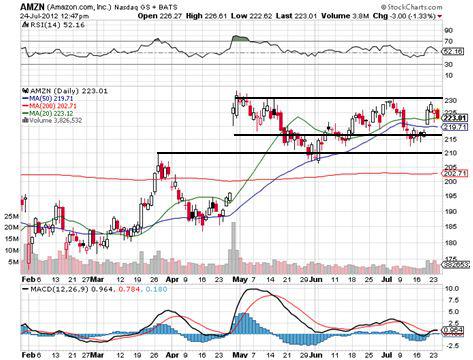 Summary
Amazon shares are holding up well in advance of the 2Q 2012 earnings release after the close on Thursday. The company is benefiting from growing revenues, a recently upbeat report from eBay, benefits of additional distribution centers, expansion of its hosted web services, and cost-conscious consumers seeking more competitive prices in light of the weaker market backdrop. Caveats include margin compression in light of its investment in distribution, a weak earnings report from UPS due to lower shipping rates, valuation, competition for the Kindle e-Reader, and speculation that states and the federal government are considering taxes on goods purchased over the Internet.
Disclosure: I have no positions in any stocks mentioned, and no plans to initiate any positions within the next 72 hours.
Disclaimer: By using this report, you acknowledge that Selerity, Inc. is in no way liable for losses or gains arising out of commentary, analysis, and or data in this report. Your investment decisions and recommendations are made entirely at your discretion. Selerity does not own securities in companies that they write about, is not an investment adviser, and the content contained herein is not an endorsement to buy or sell any securities. No content published as part of this report constitutes a recommendation that any particular investment, security, portfolio of securities, transaction or investment strategy is suitable for any specific person.