In order to appreciate the recent explosion of business opportunities related to private education in China, we need to understand the cultural realities that have played a contributing role. Some of these factors include the traditional Chinese family structure with its emphasis on education, China's one child policy and China's explosive economic growth during the past twenty years. Additionally, with the rising growth of its middle class (currently at fifty-two plus million and projected to grow to over ninety-eight million people by 2015), one is far from surprised to see an education market currently valued at over $240 billion dollars and estimated to grow by 15% a year. Deloitte predicts that by 2015, the private education sector will have reached a market size nearing or in excess of $102 Billion.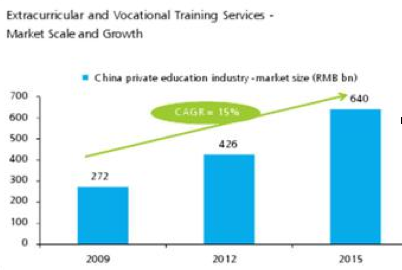 Various sectors that are of particular importance to banker dealers will be the pre-school education space, the after-school tutoring, professional training spaces, and private universities. According to the Hangzhou Institute of Education, as of March 2010, more than 300 private entities received over $20 billion in venture capital funding. Likewise, there are quite a few US publicly traded companies (see below) offering educational services and programs. Investors however, have not yet given the listed Chinese educational companies the recognition they deserve, as is reflected in their current stock prices. Why? Considering that past earnings multiples were somewhat low in this industry, a spate of recent buyouts indicates that they may be inching upwards - a good sign for investors.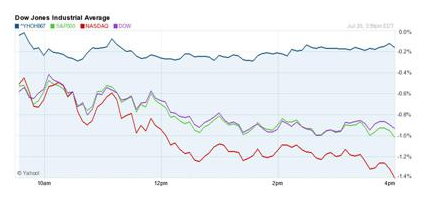 What is it that has attracted such investments? According to Tseng Kwong Yu, managing director of Baring Private Equity Asia, private education in China is prepaid, which secures their cash flow. This is a clear advantage point for investors, as it can outweigh downsides. Also noteworthy is the fact that some of those businesses have reported gross profits as high as 40% to 50%.
With a Chinese middle class whose average income base is $10,000 per year, and where household spending on education as a percentage of disposable income is at 8.6%, China's young parents by and large have become increasingly inclined to spend generously on each stage of their children's education.
A quick glance of some of the publicly listed companies: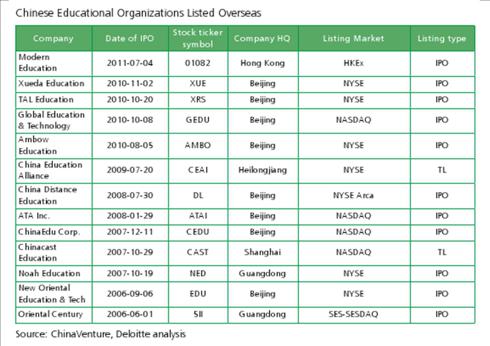 TAL Education Group (NYSE:XRX) provides K-12 after-school tutoring services (online, personal and small classes). Their tutoring services cover the core academic subjects in school curricula including math, English, Chinese, physics, chemistry, and biology. TAL currently operates 109 centers.
Noah Education Holdings Ltd. (NYSE:NED) operates and manages private kindergartens, and private primary and secondary schools; engages in the research, development, and distribution of educational software contents; sells English training materials to kindergartens, franchisees, and developing franchised-schools; and offers after-class tutoring services.
Noah also provides English language training for children aged 3 through and 12 through its 600 franchised training centers, 15 of which are directly owned. The company offers its services under the Wentai Education and Little New Star brands.
ChinaCast Education Corporation. (OTCPK:CAST) is a post-secondary education and e-learning services provider in China. The Company provides post-secondary degree and diploma programs through its three fully accredited universities which offer four year and three year, bachelor's degree and diploma programs in business, finance, economics, law, IT, engineering, hospitality and tourism management, advertising, language studies, art and music. The Company also provides e-learning services to post-secondary institutions, K-12 schools, government agencies and corporate enterprises via its nationwide satellite broad-band network. These services include interactive distance learning applications, multimedia education content delivery and vocational training courses.
China Education International Inc (CEII), is an OTC stock that is worth mentioning. Its 10k filings and numbers reveal a unique business model that may place the Company in enviable position in the future. On its face, similar to some of the other companies mentioned herein, CEII operates a national brand in K-1-12 private schools that offer students, specialized international programs, ESL programs, and programs offered by their exclusive strategic partner American Education Center.
What differentiates this company, however, is its low risk and high upside. Their "acquisition methodology" is through long term management contracts which provide CEII with 90% of the profits derived from each school or educational organization. Each school or organization acquired by CEII is for shares with little or no cash. Shares issued are based on the profits of a particular school or organization. Their purchase or management contracts do not include the land or buildings, which continue to be owned by the original owner, thereby obviating any unexpected costs or events to reduce the profits of the educational operations.
Xueda Education Group (NYSE:XUE) is a provider of tutoring services for primary and secondary school students in China with a focus on offering personalized tutoring services. Xueda has organically built an extensive tutoring service network comprised of 273 learning centers throughout China.
ATA Inc. (NASDAQ:ATAI) is a provider of computer-based testing services in China. It offers comprehensive services for the creation and delivery of computer-based tests utilizing its nation-wide test delivery platform, and proprietary testing technologies.
Ambow Education Holding Ltd. (NYSEMKT:AMBO) is a provider of supplemental educational and career enhancement services in China. They utilize both offline and online delivery models powered by their proprietary learning technologies. They provide services and products throughout China via a multi-channel delivery network of regional service hubs and directly operated K-12 schools, tutoring centers, independent colleges and career enhancement or training centers and distributors.
China Distance Education Holdings Limited (NYSE:DL) is a provider of online education in China focusing on professional education.
CIBT Education Group Inc. (MBA) is a provider of education programs and training services to students through its campuses located mainly in Canada and China. Through these colleges, CIBT Group offers Western and Chinese accredited degrees and diplomas.
Considering the firm government support behind education, the Chinese education industry will, undoubtedly, have the greatest growth potential in the world over the next 10 years allowing for a significant ROI for those who invested early. It's worth a look.
Disclosure: I have no positions in any stocks mentioned, and no plans to initiate any positions within the next 72 hours.