In a previous article, I argued that natural gas still has a long drop until the bottom is reached due to the market experiencing an incredible influx supply from shale gas. In this article, I seek to expand this research and present more compelling evidence that the supply and availability of natural gas is vastly outpacing the steady increase in demand.
As I previously stated, within the past few years, an unimaginable quantity of natural gas has been found both in the United States and around the globe. This gas has been the result of shale "plays," or locations in which natural gas has been found in quantity locked beneath shale formations in the earth. As time progresses, the quantity of potential reserves has been exponentially expanding and within the past few years, the United States has gradually become a net exporter of energy. To numerically substantiate these claims, the EIA assessed that the United States currently has technically recoverable reserves to last for the next 92 years. This number represents natural gas that we presently know about and can recover using known technologies. However if we continue to expand hydraulic fracturing capabilities and continue the discovery of new sources of gas, this supply could continue to grow.
Typically, we investors broadly examine fundamentals rather than scrutinizing the details upon which our fundamental analysis is based. For example, equity investors know that they can gain price exposure to natural gas by investing in the natural gas ETF (NYSEARCA:UNG). Seldom however do we actually investigate what the physical investment represents. The UNG ETF represents an investment that attempts to match prices at the Henry Hub delivery point in Louisiana. The Henry Hub delivery point is the most traded natural gas point, and nearly all other pricing locations trade off of a "basis," or differential to Henry Hub. The physical location of Henry Hub is special in that it is directly near some of the largest shale plays in the United States. The below map is provided by the EIA (pdf) and it shows the location of Henry Hub in relation to these shale plays.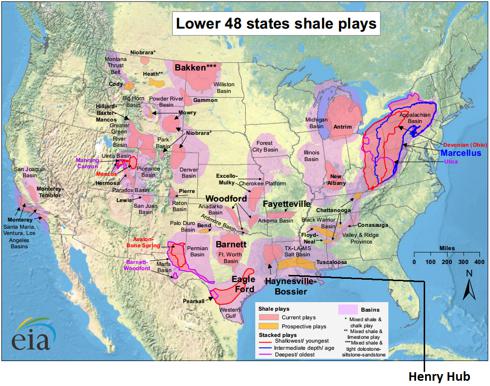 Since Henry Hub is so close, several of these higher volume shale plays, supply discovery and expansions directly impact the pricing point. The UNG ETF attempts to match this pricing point, so any activity in this producing region drives a key portion of the fundamental price of UNG. This said, the burgeoning natural gas activity possesses high potential of continuing the downward trend in Henry Hub pricing.
The largest source of demand for natural gas is electric power generation. This accounts for roughly 30% of the total demand for this commodity within the United Sates. This statistic can be misleading however since each state and each region has a unique generation mix, or combination of fuel types used in power generation to meet system demand. Since each state has a unique generation mix, it makes sense that an analyst study the generation mix most relevant to UNG and that would be Texas. Below is a chart showing the fuel types used to power Texas.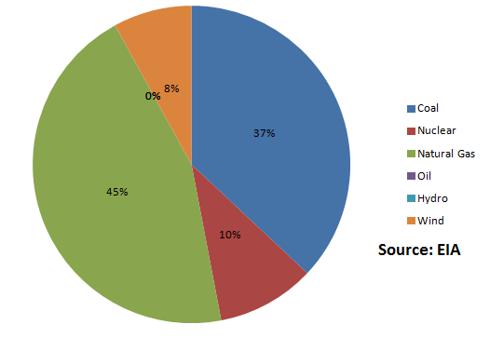 At peak load during the summer, Texas requires around 60,000 MWs, of which around 27,000 MWs of that comes from natural gas. Assuming an average heat rate of around 8 MMBTU / MWH, these plants use about 3.46 BCF of gas per day during peak load. This figure sounds large considering that it is over $10,000,000 in natural gas (at $3.00 / MMBTU) used in a single day in Texas alone, but in order to rectify it, we must compare it to the current amount of shale gas in the region. Within Texas, one play alone, the Bossier contains around 66 TCF, or enough to power this largest source of regional demand for 52 years.
With these shale plays located across the majority of the major population centers in the United States, it is very evident that natural gas exists in rich quantities that can more than meet our demand for the fossil fuel. Going into the future, even with growing demand for the fuel source, it is obvious that such a massive supply glut will more than likely suppress prices for years to come. One of the strongest counter-arguments for this reasoning is that eventually we will liquefy natural gas and transport it to regions around the world to arbitrage higher prices. If one were to simply think this through, however he or she would quickly realize that this course of action will not be taken. What politician would follow through with a course of action that removes a vital commodity from the United States while other nations threaten our access to other energy commodities? Political risk is such that the party that favors protectionism rather than market capitalism will prosper in the near term. As political tensions ease and the United States becomes more energy independent, this course of action may be taken, however the user should take note that shale gas is a global phenomenon.
With such an overwhelming quantity of plentiful and inexpensive natural gas, I do not see prices rising for several years. Therefore, I maintain my long-term short bias on any form of natural gas until the supply and demand balance has shifted.
Disclosure: I have no positions in any stocks mentioned, and no plans to initiate any positions within the next 72 hours.