During times of financial crisis and uncertainty, there are always those individuals who predict an impending Armageddon where society as we know it is laid to waste. Viewing your television or listening to the radio, you are constantly bombarded with such concepts and ideas. For those who do prescribe to this line of thinking, a common saying is to invest in gold and guns as all other asset classes will be worthless. A scary thought to say the least, but this does give rise to an interesting question as to which investment would be more profitable while we all wait for the future. If the apocalyptic theme is so prevalent in society, then it should have some merit within the equities that represent these sectors. Armed with this idea, let's explore a quirky view of the guns versus gold theme and see which investment is the best thus far.
Gold - SPDR Gold Shares (GLD)
Investing in gold is a very well known concept that has been taking place for thousands of years. Gold has many facets and people that invest in gold will do so for a variety of reasons. For this article, we will focus on the buying of gold as being a method to store wealth while fiat currencies fail. The easiest way to track the price of gold will be to use SPDR Gold Shares. GLD shares are listed on the New York Stock Exchange and can be bought and sold throughout the trading day via an ordinary brokerage account. GLD is the world's largest gold ETF and the second-largest of all ETFs. The shares of GLD track the spot price of gold because they are supposedly backed by physical gold bullion held in a vault in London.
Now let me say that I fully understand that people investing in gold for a global collapse are not buying GLD. They are buying and holding onto physical gold. We are using GLD as a simple benchmark to track the price volatility as events play out around the world. People looking to profit from the apocalyptic theme have had an interesting ride over last two years. Take a look at the chart below for a visual.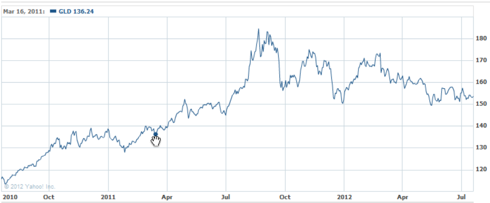 For the last two years the price of gold has done well. In 2010 GLD started the year off with a price of $110 per share. There were peaks and valleys along the way, but today the price hovers around $153 per share. That makes for a good 39% return over the last 2.5 years.
For the investor looking to cash in on the apocalyptic theme, there are some things to consider. Notice the price spike in August 2011? As fear takes hold and financial credit problems loom, gold prices will run. Obviously this was the best time to sell as this was the high water mark for gold. Now consider the time frames after the $180 spike. Gold has been on a downtrend and has finally stabilized around the $150 resistance mark. This is an interesting observation. Has the credit crisis in Europe and the U.S. been solved? Have all the debt issues and global conflicts been put to bed? The answer is no, but we still see gold pull back.
To answer the question fully could take a roomful of experts and volumes of books. In simplest terms, one reason for the pull back could be that the price spike drew in the traders, fear mongers, and price chasers. Gold could have been trading on pure volatility and the fundamentals behind the story were thrown out the window at that point. Eventually that feeding frenzy dies off, and when it does so does the price. Also remember that gold is priced in U.S. dollars. So when there is a run out of other currencies into the safety of the U.S. dollar, it will have a negative impact on the price. In the end it really does not matter why the price has faded recently as this article is going to see if the gun market can win the shootout with a gold investment.
Guns
Unlike GLD, when trying to look at investments in guns we find no exchange traded fund that will compare. When it comes down to it, we find that most modern gun manufactures do not have stock that trades on the exchanges. That being the case, let's focus on two of the top companies that get a majority of their revenues from gun manufacturing and sales. Then the big test will be how well they stack up to gold over the same time frame.
Ruger - (RGR)
To understand the gun market, we first turn our attention to Sturm, Ruger & Company. RGR is one of the most pure plays in the gun and firearms sector. RGR engages in the design, manufacture, and sale of firearms in the United States. It offers a wide variety of firearms from single-shot, auto loading, bolt-action, and sporting rifles. It also is involved in shotguns, rim fire auto loading and center fire auto loading pistols, and single-action and double-action revolvers. RGR also manufactures and sells accessories and replacement parts for its firearms.
Besides actual guns, RGR also provides investment castings made from steel alloys directly or through manufacturers' representatives. The company sells its firearm products through independent wholesale distributors to the commercial sporting market under the Ruger name. Approximately 99% of the Company's total sales for the three months ended March 31, 2012 were firearms sales, and approximately 1% was investment castings sales. Export sales represent approximately 5% of total sales.
Let's first begin by looking at a chart for RGR which is for the same time frame as the GLD chart presented above.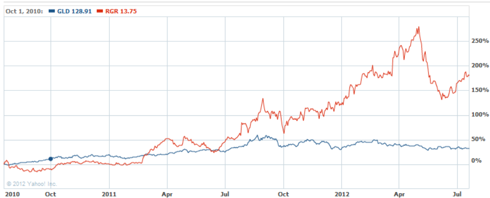 It seems that RGR has done rather well over the last two years returning close to 200%. A deeper look shows that the company has even had a meaningful increase in its dividend along the way. Currently that dividend has gone past the 3% mark and looks to be stable for the time being.
So the question is what is driving this stock to lofty heights? The answer to this question was rather easy to find. According to RGR, retailer demand for products in the first quarter of 2012 was very strong and exceeded expectations by quite a bit. During the distributor shows, retailers ordered many more guns than in the prior years' shows and distributors responded by placing very large orders with RGR. By mid-March, RGR had received orders for more guns than the total of all firearms shipped in 2011. As a result RGR was forced to temporarily suspend any new orders.
When asked what is driving the demand for firearms, RGR stated that they believed the strong first quarter demand was due to macro factors affecting the entire industry (political and economic drivers of demand). They also stated that they had introduced some new and innovative products that also helped fuel demand. These new products represented $40.8 million, or 37%, of firearm sales in the first quarter of 2012. Firearms net sales were $110.8 million for the three months ended March 31, 2012. This represents an increase of $36.4 million or 48.8% from firearms net sales of $74.4 million in the comparable prior year period. Firearms shipments increased 51.9% for the three months ended March 31, 2012 from the comparable prior year period.
In late May of 2012, RGR starting to accept new orders again. The business processes has returned to normal, but demand is still strong. So far RGR has been a real winner and has beaten gold in investment returns. Let's turn our attention to another company to make sure this is not an isolated phenomenon.
Smith & Wesson Holding Corporation (SWHC)
As many have guessed, if we are going to look at the gun industry then we must also consider SWHC. This company provides products and services for safety, security, protection, and sports in the United States and internationally. The company offers firearms, handguns, sporting rifles, hunting rifles, black powder firearms, handcuffs, and firearm-related products and accessories. Now SWHC is not as pure a play on guns as RGR. This is due to the fact that SWHC operates a turnkey perimeter security solutions unit. This part of the company is dedicated to selling products that protect and control access to key military, government, and corporate facilities.
First let's look at the two year chart for SWHC compared to GLD.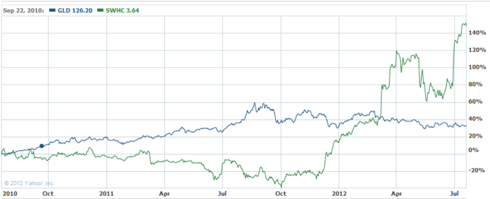 As shown by the chart, Smith & Wesson Holding Corporation has had similar results as RGR. Over the last two years the stock has returned over 140%. Needless to say, buried in the details of their financial statements were some interesting facts.
In late June 2012 SWHC announced record financial results for the fourth quarter and fiscal year ended April 30, 2012. Net sales from continuing operations for the fourth quarter were a record $129.8 million, up 27.7% from the fourth quarter last year. The increase was driven by strong sales of SWHC's tactical M&P pistol and rifles lines. Once again it was the demand for guns that was driving the company and the stock price. Net sales from continuing operations for the full fiscal year were a record $412.0 million. When compared to the $342.2 million for the prior fiscal year, it calculates into an increase of 20.4%.
Once again, it seems that the demand for guns is helping the industry run past investments in gold. This is shown when James Debney, Smith & Wesson Holding Corporation President and Chief Executive Officer stated that their objective in fiscal 2012 was to streamline the company and focus on a position as a leading, pure-play firearm company. Seems the turnkey perimeter security solutions unit cannot keep up with firearms side of the house.
For the first quarter of fiscal 2013 SWHC expects net sales to be between $125.0 million and $130.0 million. This would be year-over-year growth from continuing operations of over 36.0%. For the full year SWHC is anticipating net sales from continuing operations to be between $485.0 million and $505.0 million. That would calculate into year-over-year growth from continuing operations of over 17.0%.
It seems that SWHC and RGR are experiencing the same trend. Investments in either would have well outpaced gold. For those wanting to dig deeper, let's turn our attention to another aspect of the gun world in the form of ammunition manufactures.
Olin Corp. (OLN) and Alliant Techsystems Inc. (ATK)
As big as RGR and SWHC are, they do not represent the gun market as a whole. The problem is that other well-known manufactures like Glock and Sig Sauer are out of reach for most investors. That being the case, let's turn our attention to the ammunition manufactures to see if they are experiencing similar trends. Two of the top companies in this arena are Olin Corp. and Alliant Techsystems Inc. The issue here is that the ammunition wings of these companies do not exist in a vacuum. They are a part of bigger entities that are involved in different aspects of manufacturing other than firearms.
OLN is our first example. OLN engages in the manufacture and sale of chlor alkali products in the United States and internationally. The company operates in two segments, Chlor Alkali Products and Winchester. The Chlor Alkali Products segment manufactures and sells chlorine and caustic soda, hydrochloric acid, hydrogen, bleach products, and potassium hydroxide. The Winchester segment produces and distributes gauges and calibers of shotgun shells, rim fire and center fire ammunition for pistols and rifles, reloading components, and industrial cartridges.
Obviously we will be concentrating on the Winchester side of the house. Winchester sales were $147.5 million for the three months ended March 31, 2012 compared to $136.6 million for the three months ended March 31, 2011. This was an increase of $10.9 million, or 8%. A deeper look shows that sales of ammunition to domestic commercial customers were higher by $10.3. This means that the majority of the increase was due to the demand from the domestic commercial customers and not the international or military customers. Also the relocation of the center fire operations to Oxford, MS could impact the company's supplies as well.
Alliant Techsystems Inc.
Alliant Techsystems is our other ammunition supplier that plays a role in this market. ATK engages in the provision of aerospace, defense, and commercial products to the U.S. government, allied nations, and prime contractors. The company also supplies ammunition and related accessories to law enforcement agencies and commercial customers. ATK's major revenue component is related to large weapons systems sold to governments, and not the ammunition sales to commercial market. The security and sporting side of the house generated 22% of ATK's external sales in fiscal 2012. This includes the development and production of ammunition and accessories sold to sporting public, law enforcement, U.S. Government, and international markets. Within this arena come well-known brands like RCBS, Weaver Optics, Alliant Powder, and Speer.
Unfortunately ATK commercial sporting goods sales are not broken out like what is found in OLN's reports. For ATK, they group their sporting goods sales under a section called the Security and Sporting. Needless to say, this makes it harder to isolate the demand for the sporting side alone. The good news is that beginning in fiscal 2013, ATK will commence operations in a new three-group structure. As a result of this realignment, they will create a Sporting Group that will consist of the current accessories and commercial ammunition businesses.
Until that time let's look at their financial statements and SEC filings to get a clue on how demand might be shaping up. In the charts below we see that the Security and Sporting division is actually making some gains as opposed to the others.


What this boils down to is another clue to show that demand for guns and accessories seems to be increasing.
Finally, comes ATK's latest acquisition in Blackhawk. On April 9, 2010 the company acquired Blackhawk Industries for a purchase price of $172,251. Blackhawk is a manufacturer of high quality tactical gear. This small acquisition is interesting for a big entity like ATK. This could be yet another sign of the expected increase in demand for firearms and related products.
In conclusion, it is easy to see that guns are clearly beating gold as an investment over the last two years. The question is if this trend will continue. As the markets continue in their volatility and uncertainty remains on the political and economic front, it will be quite a race to the finish.
Disclosure: I have no positions in any stocks mentioned, and no plans to initiate any positions within the next 72 hours.