Watson Pharmaceuticals Inc. (WPI) is set to unveil its second quarter 2012 results on July 26, 2012 before the start of trading. The Zacks Consensus Estimate for the quarter is $1.38 per share, representing a year-over-year increase of 36.6%.
First Quarter Highlights
Watson Pharma's first quarter 2012 earnings (excluding special items) of $1.64 per share surpassed the Zacks Consensus Estimate by 4 cents and the year-ago earnings by 75 cents. Double-digit revenue growth helped boost earnings.
Revenues for the reported quarter came in at $1.52 billion, beating the Zacks Consensus Estimate of $1.48 billion and significantly above the year-ago revenues of $876.5 million. All segments contributed to the quarterly revenue growth.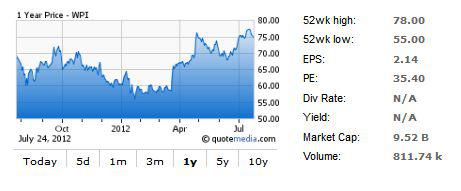 Agreement of Estimate Revisions
Of the 20 analysts following the stock, three analysts trimmed their second quarter 2012 earnings estimates, with a sole upward movement. Over the last 7 days, two analysts revised their estimates, one in either direction. Over the last 30 days, three analysts trimmed fiscal 2012 estimates with a sole upward movement. The last 7 days saw two analysts slashing their earnings estimates, while one moved in the opposite direction.
Magnitude of Estimate Revisions
The second quarter fiscal 2012 estimates have gone down by a penny in last 30 days to $1.38 per share. The Zacks Consensus Estimate for 2012 increased by a penny over the last 30 days. The Zacks Consensus Estimate for 2012 currently stands at $5.75 per share, which is towards the higher end of the earnings guidance range of $5.55 to $5.80 per share provided by the company. Both second quarter and fiscal 2012 estimates remained stationary in the last 7 days.
Earnings Surprise
Watson Pharma has surpassed earnings estimates in all of the last four quarters. The company recorded a maximum positive surprise of 3.81% in the third quarter of 2011. On average, the earnings surprise was 2.11%.
Recommendation
We currently have a Neutral recommendation on Watson Pharma, which carries a Zacks #2 Rank (short-term Buy rating). Watson continues to pursue acquisitions to drive growth. We are positive on the upcoming Actavis acquisition, which should be immediately accretive to earnings.