AUDUSD
All the bad economic data over the past couple of weeks is finally catching up with financial markets. The corrective sell-off that started last Friday in AUDUSD, and in the U.S. stock market, continued into mid-week uninterrupted, with the Aussie sliding 200 pips from last week's highs, and barely hanging onto the 1.02 handle as of this writing. Markets are a bit like plants, in that they can take lack of watering - no good news -- for a modest stretch and still hold their growth curve, but eventually they will succumb to the environment, i.e.: bad news. The beauty of trading versus investing is just that; we can go both long and short, "and for that", to quote comedian Daniel Tosh, "we thank you". And as investors of course we have to recognize when to go to the sidelines, and while that doesn't necessarily mean in the face of current bad data, it must take top consideration in the face of impending bad data and a bearish seasonal for global stock indices. The impending bad news is we are going into the U.S. Presidential election cycle, and the storm of dirty laundry it will produce. Combine that with the tax cuts set to expire at year's end, and regardless how the election turns out there are going to be a lot of ups and downs between now and then, at a time when memories are still fresh from last August's brutal sell-off following the politics as usual in Washington. Regardless of my worries on that front, I'm reminded that the secondary patterns in asset class markets including the Aussie, and S&P 500, are bearish, and a test of primary pattern support , which would be expected following the secondary pattern reasserting itself last Friday -- is a long ways off. In other words the June through mid-July rally may just have been a correction, albeit in-line with the primary pattern, meaning AUDUSD is currently looking over a somewhat large cliff - see Figure 1. Said cliff however is the same one the Aussie survived falling off in May ... my call? Two closes below 1.0220 on the 4 hour charts spells a move on 1.00. For all my concern however, I am not a bear, and would look to trade both sides.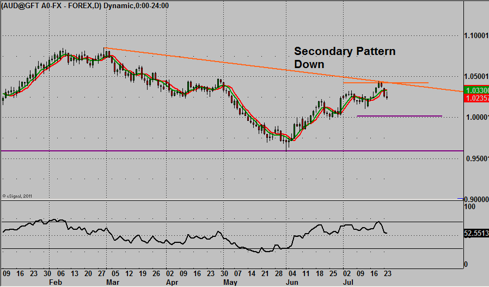 Figure 1. Daily AUDUSD Chart
EURUSD
The EURUSD is an old bear whose claws grow duller by the day. It was a great trading vehicle earlier in the year as it spit our short-covering rallies for us to get on board. Now it can barely throw off short day traders. The European economy is in advanced stages of malaise and taking down competing economies with it, despite the efforts of global central bankers. The situation is close to the proverbial blood in the streets - we have to believe the deluge of bad news is priced into stocks and currencies -- yet even if that is so, the Euro can bump along the bottom for some time to come; particularly given we've just entered the dog days of summer. It makes me tired just writing about it. We need to stick to the plan and that is continue to look for sell set-ups following short-covering rallies. Even if/when the Euro gets to its downside target of 1.1900 there really seems to be no reason to exit long-term shorts - if 1.1900, why not 1.15?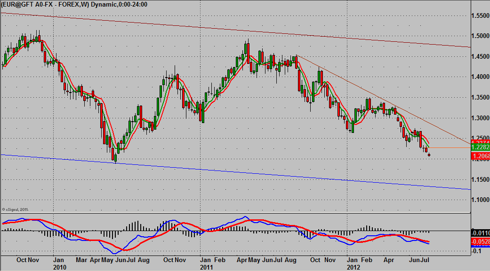 Figure 2. Euro Weekly Chart
USDCAD
With Europe gripped in malaise and America economically coughing and slightly feverish it's easy to paint an "if / then" scenario. "If" the U.S. economy is as bad as its manufacturing numbers are telling us, and U.S. stock indices have turned the corner lower at least on a short-term basis "then" we are looking at U.S. dollar strength headed into the dog days. And that is why we must remain diligent for any price dips to buy in USDCAD, or rallies to sell in Canadian futures. I like the price band between 1.0150 and 1.0125 for potential support, and am hoping for good CAD data to take us there. We actually had that scenario today with a better than expected Canadian core retail sales number, +0.5 vs. 0.1 expected, but the sell-off in cash was short lived with USDCAD finding support just below 1.0160, and quickly rallying back above 1.02, which only fortifies the bull case.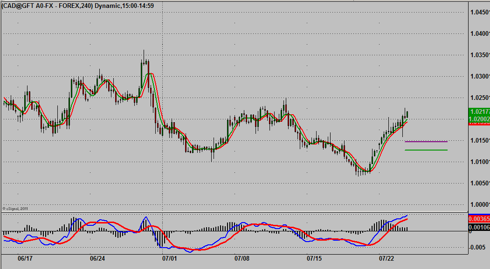 Figure 3. USDCAD 4-hour Chart
Trading involves risk of loss and is not suitable for all investors.
Disclosure: I have no positions in any stocks mentioned, and no plans to initiate any positions within the next 72 hours.