Chemed Corporation (NYSE:CHE) (formerly named Roto-Rooter) still operates that leading provider of plumbing and drain cleaning services as well as VITAS Healthcare, which helps terminally ill patients in their final days. VITAS represented 69.6% and Roto-Rooter 30.4% of revenues in the latest quarter.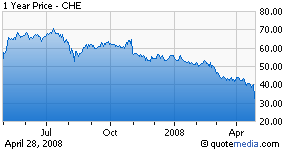 Chemed shares touched near 4-year lows on Friday after they announced basically flat earnings per share for the March quarter and lowered full year 2008 guidance from $3.48 to $3.05 - $3.20. From an all-time high of $71.30 set last July, Chemed shares have sunk by 54% to finish last week at $32.75.
Was that huge drop justified? Even the low-end of the company's new estimate would be a new record for EPS and CHE shares now trade at just < 10.8x that $3.05 already reduced estimate. That's the lowest P/E on these shares in over 16 years.
Check out the numbers for the past five years:

How many companies can you think of that have posted those kind of growth numbers yet trade at under 11x this year's earnings?
Chemed shares sold off sharply from March of 2006 through October that year with the share price plunging from $61.90 to $29.80. Earnings that year ended up in record territory and the shares rebounded by 139% to $71.30 in under a year.
At the 2006 low, CHE shares were trading for 13.8 times that year's final earnings. The shares are even cheaper today on a valuation basis.
Some well respected value-oriented managers held positions in CHE at year-end 2007:
(As of December 31, 2007 Chemed shares were still at $55.88)
Iridian Asset Mgt. owned 7.65%
BAMCO held 6.62%
Barclays Global Inv. had 5.29%
Vanguard Group owned 4.34%
J.P. Morgan Chase held 3.45%
State Street had 2.62%
GAMCO owned 2.56%
What would be a reasonable 12-month target price?
Even 17 times the $3.05 new estimate brings me to $51.85 or plus 58%. Just 2.2 times estimated year-end book value of $18.15 suggests $40.48 or up 23.6%. A lower than typical price/sales of 0.9x projected revenues of $48/share gets me to a goal price of $43.20 or + 31.9% from today's quote.
Is $43 or so achievable? It may actually be way too conservative. Chemed shares have traded between $54.20 and $71.30 at their peaks in each of the last three years. The current share price is lower than the low of $35.40 for all of ultra-turbulent 2007. The exact low was $32 in 2005 when earnings were $1.95 versus last year's $3.04.
It looks to me like last week's sell-off created a nice buying opportunity.
I see 25% - 50% upside with what seems to be low risk. You get two nice industry leading businesses at one low price.
Perhaps owning Chemed shares will make your financial worries go right down the drain.
Disclosure: Author recently bought shares of CHE.