Investors are fond of watching insider sales of stock as a barometer of the likely direction of the stock price going forward. After all, if top executives are selling stock, they must not have much confidence that its price will keep rising.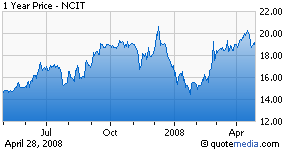 NCI Information Systems Inc. (Nasdaq:NCIT), a Reston, Va.-based IT services company, however, has the opposite problem. NCI, which builds and services information technology systems for the federal government, has been growing steadily. It has even taken government contracts away from much larger competitors, but its stock is trading at a discount to its peers.
Why? The chairman and CEO of NCI, Charles Narang, owns about half the 13.4 million outstanding shares, and he's not selling. Although 44% of the shares are owned by institutions, most big investors are reluctant to trade them. Trading volume is typically in the range of 26,000 shares, often with just a few thousand shares trading per day.
"I've spoken to a number of investors who love the company but say they can't buy it," says analyst Gautam Khanna at Cowen & Co. "If they create a position in NCIT, they'll move the stock price." He believes the stock is 10% to 15% below where it could be otherwise. "I think the stock will keep that discount until that issue is resolved," he adds.
That doesn't mean the stock is not worth buying, though. Khanna rates the stock "outperform," and he's in the majority. Of 10 analysts covering the company, seven rate it a "strong buy," one rates it a "buy," and the other two rate it a "hold," according to Thomson/First Call.

The stock has risen 19% in the last year, closing at $18.74 on April 22. Price targets range from $19 to $27. Its 52-week high was $20.94, reached last December, and its low was $13.32. After a drop late last year, it performed a spectacular recovery, rising 23% in the last three months. The stock closed at $19.18 on Friday. In a March 18 report, Stifel Nicolaus reiterated its "buy" rating with a target price of $27, based on a multiple of 20 times estimated 2009 EPS of $1.37.
NCI was founded in 1989 by Narang. It specializes in engineering, integration services and scientific services to keep the federal government's computer systems reliable and secure. About 80% of its sales are to the Department of Defense. It went public in November 2005.
It has managed to become the prime contractor on several government-wide acquisition contracts and growth has been impressive. For the fourth quarter of 2007, revenues were up 36.7% to $88.2 million. Net income was up just 6%, to $3.3 million, but that was depressed by a higher tax rate and higher stock-compensation expense. EPS of $0.25 beat consensus estimates by a penny. For all of 2007, revenues were up 39.4% to $304.4 million, with net income up 35.8% to $12.6 million,
NCI's gains are the result of hard work and smart bidding, knowing where it is likely to win. Large competitors are focused on the biggest government contracts and may neglect the smaller ones that are a prime target for NCI. "Several $100 million bids could be up at any moment," says Khanna. "NCI keeps stacking up the smaller wins."
Khanna also notes that NCI's risk profile is lower than average right now, because less than 20% of its contracts are up for re-bidding in 2008, and most of those won't be up for bidding until late in the year. As a result, only 5% of its projected 2008 revenues are at risk near term.
The biggest question is a $9 billion Army contract called NETCENTS, up for re-bidding in 2009. NCI's percentage of that contract has been steadily increasing, from a 4% share of the payout in 2005 to over 10% today. Analysts expect NCI to do well in the re-bidding, but concerns from investors could keep the stock depressed until the bidding is over.
But there's also potential for a nice surprise. In an industry that's consolidating, NCI looks like a nice takeover target because of its impressive portfolio as a prime contractor. A larger company would automatically become the prime in those contracts. "It's a hunting license," says Khanna.
Either way, that requires the approval of Narang. Much of his stock has 10 times the voting power of other common shares, giving him about 90% of the voting shares. The good news is that if he does sell the company, it will be at a good premium. NCI has already been approached by several suitors, but analysts believe he has a strong opinion of what the company is worth and will not sell unless someone makes a substantial offer.
Narang, who has made some small acquisitions recently, could also decide to get more ambitious. Significant acquisitions would require him to sell more of his shares to raise the capital, which could make the stock more attractive to institutional investors. Given the company's growth, neither scenario is something investors have to count on to see gains. But if either occurs, the upside potential in NCIT simply gets better.
The company's first-quarter earnings will be released after the close of trading today, April 29.
Disclosure: none