Jim Cramer had a bearish call on Monster Beverage (MNST) in his Lightning Round program on July 23, 2012 citing the high multiple as his main rationale. I tend to agree with his opinion and believe that the stock is likely poised for a substantial correction ahead. In this article, I will run you through the value analysis to support my view on the stock.
My value analysis includes Coca-Cola (KO), Pepsico (PEP), and Dr Pepper (DPS) as Monster Beverage's comparable peers. The stock valuation is determined by equally weighting the values calculated using five different valuation multiples - EV/Sales, EV/EBITDA, P/S, P/E, and EV/FCF.
Monster Beverage has a stellar 1-year performance by returning investors 65.29%. The strong price appreciation is primarily attributable to the company's strong growth potential. Market predicts the revenues, EBITDA, and EPS to rise by a 2-year CAGR of 20.8%, 25.6%, and 28.1%, respectively, over the current and next fiscal years. The numbers are substantially higher than the peer average of just 2.9%, 4.2%, and 8.3% (see comparable analysis table below).
In addition, Monster Beverage also has a superior profitability relative to the peer group. In terms of many margin and investment return metrics, Monster Beverage only marginally underperforms in gross margin, and has a dominant performance across other measures (see comparable analysis table below).
On the liquidity side, Monster Beverage's robust FCF margin of 18.5% is much higher than the peer average of 10.4%. The firm also has no debt and is able to maintain very healthy current and quick ratios, suggesting an extremely healthy balance sheet (see comparable analysis table below).

At $65.44 per share, Monster Beverage trades at a whopping 92.5% premium over the five peer average valuation multiples. Although the firm's financial excellence indeed deserve a premium valuation, such a sizable valuation gap still makes me believe the stock is overvalued.

Assuming a 50% valuation premium over the five peer average multiples, which is more reasonable but remains lofty, Monster Beverage would trade at $51.60, suggesting there is still a solid 21% downside.

The chart below shows that Monster Beverage has recently dropped pass its 30-day moving average, which tends to be a solid price support over the past six months, implying a correction may have already started.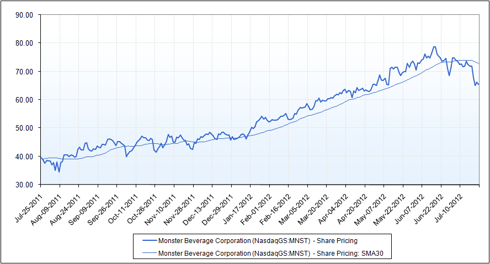 Bottom line, Monster Beverage's lofty valuations offer investors little margin of safety. I do not deny that there remains an upside in the near term. But over the long term, growth will eventually slow down, which could easily trigger a major valuation correction - similar to what happened to Chipotle Mexican Grill (CMG). As such, I recommend avoiding the stock, especially for conservative long-term investors.
Analysis tables are created by author, price chart is sourced from Capital IQ, and all financial data is sourced from Morningstar and Capital IQ.
Disclosure: I have no positions in any stocks mentioned, but may initiate a short position in MNST over the next 72 hours.