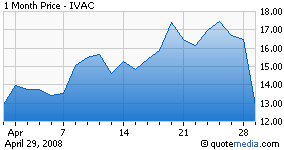 Intevac (NASDAQ:IVAC) shares are sharply lower following the release of Q1 earnings yesterday after the close.
For the quarter, Intevac reported revenue of $33.2 million and profits after a special gain of a penny on a GAAP basis, or 5 cents non-GAAP. The Street was looking for $31.76 million and a loss of two cents a share.
On a post-earnings conference call with the Street, the maker of disk-drive manufacturing equipment said it expects Q2 revenue of $24 million to $27 million, well below the consensus of $30.5 million. The company sees a loss for the quarter of 14-20 cents a share on a GAAP basis, or 10-16 cents non-GAAP, worse than the Street consensus of a loss of 5 cents.
For the full year, the company sees revenue of $120 million to $150 million, with EPS ranging from a loss of 25 cents a share to a profit of 15 cents on a GAAP basis; adding back 17 cents in stock-based compensation expense you get non-GAAP EPS ranging from a loss of 8 cents to a profit of 32 cents. The Street sees $143.9 million and a profit of 9 cents.
Goldman Sachs analyst Hongyu Cai this morning repeated a Sell rating on the stock. "Excluding tax credits, Intevac's March quarter primarily benefited from higher upgrade revenue and its higher margin, which will not be sustainable in Q2 as upgrade sales drop, causing lower revenue and gross margin," he writes. Cai cut his 2008 EPS forecast to a loss of 13 cents from a profit of 9 cents (not counting a tax gain of 13 cents.) For 2009 he goes to 62 cents from 71 cents.