So far using My Mad Method (or "MyMM"), I've compared global telecom companies, pitted toy giants Hasbro (HAS) and Mattel (MAT) against each other, and hosted a free-for-all between the leading providers of consumer goods. Today I'm letting some of the major oil companies from the Western World duke it out to see how they score using MyMM. Here's the lineup:
| | |
| --- | --- |
| Company | Ticker |
| BP plc | (BP) |
| ConocoPhillips | (COP) |
| Chevron Corp | (CVX) |
| Royal Dutch Shell | (RDS-A) |
| Statoil ASA | (STO) |
| ExxonMobil Corp | (XOM) |
If you're unfamiliar with My Mad Method, it is my way of ranking the stocks on my watchlist (often combined with the stocks in my portfolio) against each other to try to help me determine which stock to either add to my portfolio, or to which position in my portfolio I should add more shares. MyMM now uses 17 metrics that are readily available from a variety of financial sights on the Internet to help me evaluate the stocks I'm watching. I can also weight one or more metrics to skew the results in favor of a particular part of my investment philosophy over another.
I've recently added a new metric to MyMM, which is actually a value assigned based on whether or not a stock can be found on David Fish's U.S.DividendChampions.xls spreadsheet as one of the following:
| | |
| --- | --- |
| Champions | 25+ Straight Years of Dividend Increases |
| Contenders | 10-24 Straight Years of Dividend Increases |
| Challengers | 5-9 Straight Years of Dividend Increases |
| Near-Challengers | Companies that have increased their dividends for four years and may join the Challengers listing in the next 12 months. |
| Frozen Angels | Companies that had increased their dividends for a number of years before paying the same amount in back-to-back years (a dividend "freeze"), but have since resumed increases. |
| None of the Above | Companies that don't fit any of the above categories. |
(Note: "Near-Challengers" and "Frozen Angels" can be found on the "Notes" worksheet of Mr. Fish's CCC spreadsheet.)
For this evaluation, I've left all of the metrics evenly balanced and unweighted, and used just my current watchlist of 33 stocks to see how these Oil Titans fared with recent data (presented in order of their ticker symbols from left to right):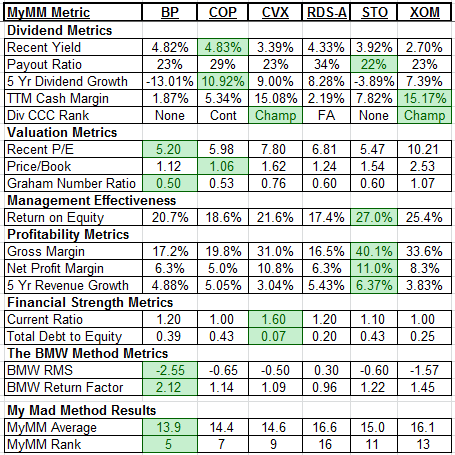 Coming from a total pack of 33 stocks on my watchlist, all of these companies ended up scoring very well. They were up against such dividend stalwarts as AFLAC (AFL) (currently #1 on my watchlist, since I purchased some BHP Biliton (BBL) this week, the former #1), the Walgreen Company (WAG), McDonald's (MCD) and Procter & Gamble (PG), the numerical winner of the last showdown.
Looking at their MyMM Average scores, you can see how close COP, CVX and STO are to each other, and none of them are very far apart from the first through the last. To give you an idea of the range of MyMM Averages for the stocks on my watchlist, #1 AFL scored a 12.0, while last place Waste Management (WM) came in with a 21.0.
BP is the numerical winner, due in no small part to the beating its price (and related scores) has taken since the Gulf of Mexico oil spill a few years back, which more than compensates for the huge decline in its 5 Year Dividend Growth Rate in terms of its overall MyMM Average and Rank. While BP is the numerical winner, none of these companies are too far off from each other in most of the metrics, with a few obvious exceptions.
Here's another look at these six companies, focusing on their recent prices relative to their results over the past year:

Here we see again the big hit that BP has taken to its price as a result of its recent problems. ConocoPhillips recently spun off Phillips 66, which, I believe, accounts for the huge drop in its price, which simply falls off a cliff at the beginning of this past May.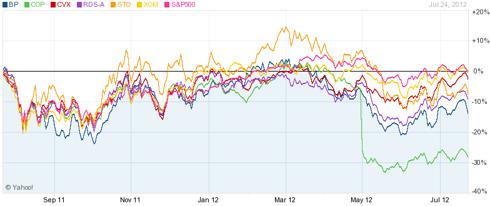 All of these companies have seen their prices drop in the last 12 months, with XOM clearly having the best results in that comparison. However, according to the Delta Ratio Reading, its current price might be "Too High" for some who are looking to pick up this 30-year Dividend Champion at a bargain.
So what does all this information tell me? It tells me that, as a group, these Oil Titans are fairly well matched against each other, and against a larger field of stocks from other industries. If you've got the stomach for it, I think BP is a good bet to recover and excel in the long run, and the returns could be significant. However, my personal favorite is Chevron, as it's a Dividend Champion with a great Payout Ratio, Yield, and 5 Year Dividend Growth Rate. I also like how low its Debt to Equity Ratio is, and how high all of its Profitability Metrics are. It's price is a bit steep for my taste, and I'd like to see it get down closer to its 52 Week Hi-Lo Average before picking any up, if I decide to go that route.
I've actually got pretty good exposure to the energy sector in the form of companies like MV Oil Trust (MVO), Canadian companies Crescent Point Energy Corp (CSCTF.PK) and Freehold Royalties, Ltd. (OTCPK:FRHLF), and Dividend Monster and drilling behemoth SeaDrill, Ltd. (SDRL). Plus, I made some long-awaited purchases this week when the market tanked, so I'm pretty much out of dry powder. I'll keep an eye on CVX, and if I've got the powder and the price is right, I just might pick some up.
The world's thirst for oil isn't going away anytime soon, so really any of these companies would make a fine addition to anyone's portfolio, in my humble opinion.
I hope you liked this illustration of My Mad Method, and, as always, please feel free to leave what Comments you'd like below.
Disclosure: I am long BBL, CSCTF.PK, OTCPK:FRHLF, MVO, SDRL.
Additional disclosure: I am not a professional investment advisor or financial analyst; I'm just a guy who likes to crunch numbers and can make an Excel spreadsheet do pretty much whatever I want it to do, and I'm doing my best to manage my own portfolio. This article is in no way an endorsement of any of the stocks discussed in it, and as always, you need to do your own research and due diligence before you decide to trade any securities or other products.