The U.S. Energy Information Administration (EIA) reported the U.S. natural gas inventories rose by a total of 28 billion cubic feet, at the lower end of an expected increase in the 28 billion to 32 billion cubic foot range.
The EIA reported that U.S. working inventory of natural gas totaled 3.16 trillion cubic feet, about 470 billion cubic feet higher than the five-year average of 2.69 trillion cubic feet. Working gas in storage totaled 2.65 trillion cubic feet for the same period a year ago. U.S. natural gas inventories are about 19% higher than they were a year ago and nearly 18% higher than the 5-year average. Both figures are lower than they were a week ago.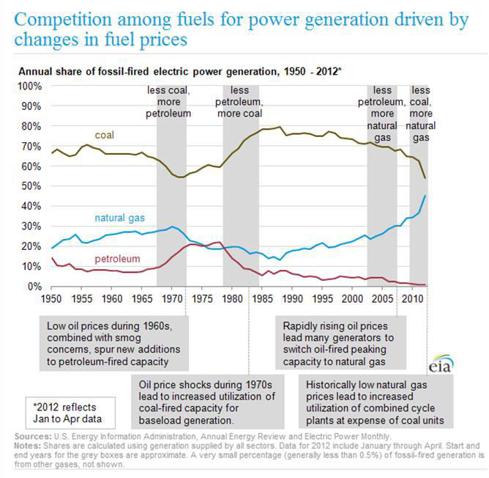 The mix of fuels used to generate electricity has varied over time. Several factors, especially changes in relative fossil fuel prices, have influenced the mix of energy sources used. The 'elasticity of substitution' concept measures how the use of these fuels varies as their relative prices change. As fuel costs and technology change over time, some energy sources become more economical to use than others. Although coal has been the predominant fuel used in power generation in the U.S. over the last 60 years, its share of the fossil fuel mix has varied in response to changes in the cost and availability of competing fuels.
Most recently, a number of factors have led to a continuing electric power industry trend of substituting coal-fired generation with natural gas-fired generation. During the 1990s and 2000s, the cost of natural gas generation decreased with the increased use of efficient combined cycle technology for power generation. Expansion of the natural gas pipeline network decreased uncertainties around natural gas availability. Natural gas production gains from domestic shale gas formations began to rapidly increase starting in 2005. Rising shale natural gas production outpaced natural gas demand growth and contributed to falling natural gas prices, while coal prices rose. Starting in 2009, these trends began to alter the relative economics affecting the dispatch of generators relying on Appalachian coal and natural gas, in the eastern half of the country.
Between 2000 and 2012, natural gas generating capacity grew by 96%. In contrast, additions to coal capacity were relatively minor during that period, and petroleum-fired capacity declined by 12%. This makes natural gas the best energy play.
To play the export of natural gas, Cheniere Energy (NYSEMKT:LNG) announced it expects to receive $3.4 billion in financing for a liquefied-natural-gas export facility. The export facility would have the potential to help ease the country's current glut of natural gas by allowing natural gas producers to ship the fuel overseas. The facility will be located in Louisiana and will allow the company to export 1.1 billion cubic feet a day by the end of 2015. LNG shares are down to $13.77 after issuing 28 million shares sold to the public at $14.05.
Devon Energy (NYSE:DVN) owns natural gas pipelines and treatment facilities in many of their producing areas, making them one of North America's larger processors of natural gas liquids. The company produces about 2.5 billion cubic feet of natural gas each day -- more than 3 percent of all the gas consumed in North America. DVN has sold $10 billion of assets in the Gulf of Mexico, Brazil and Azerbaijan, for after-tax proceeds of $8 billion used to fund onshore drilling, buy back shares, reduce debt and fund acreage acquisitions. DVN is trading at $59 with a 1.5% dividend yield.
To play the natural gas storage angle, look at PAA Natural gas Storage (NYSE:PNG) and Niska Gas Storage Partners (NYSE:NKA). Both of these stocks offer high dividend yields to get paid while storing the glut of natural gas.
PNG has a dividend yield of 7.88%. PNG just increased distributions by 8.4% over the quarterly distribution of $0.9825 per unit ($3.93 per unit on an annualized basis) paid in August 2011 and an increase of approximately 1.9% over the quarterly distribution of $1.045 per unit ($4.18 per unit on an annualized basis) paid in May 2012. As of this distribution, PAA will have increased its quarterly distribution to limited partners in 31 out of the past 33 quarters and consecutively in each of the past 12 quarters.
Niska stores natural gas for a range of customers, including financial institutions, marketers, pipelines, power generators, utilities and producers of natural gas. NKA has a dividend yield of 11.08%. NKA has paid shareholders & 0.35 per share each quarter for the past 7 quarters of dividends.
Disclosure: I have no positions in any stocks mentioned, and no plans to initiate any positions within the next 72 hours.