Growth companies are companies that grow revenue, cash flow, and earnings faster than the economy and generally reinvest their cash to continue to grow rather than pay a dividend. They typically are in technology industries. Google (NASDAQ:GOOG) meets this definition completely.
With the closing of the acquisition of Motorola on May 22nd, Google now has an additional source of revenue.

But it does make it more complex to analyze its growth and earnings. With the Motorola acquisition 2nd quarter revenue increased 14.7% sequentially to $12.21B but backing out of Motorola, revenue increased 3%. It's best to look at Google as having two separate business units. One of course is the traditional search and display advertising business and the other is the Motorola hardware business.
Motorola Operating Unit
For slightly less than half a quarter the Motorola operating unit generated $1.25B with a non-GAAP operating loss of $38M. Clearly Google did not pay $12.5B for current profitability but for the patent portfolio to protect their Android operating system from Apple (NASDAQ:AAPL) lawsuits. After all Motorola invented the cell phone and holds 17,000 patents with 7,500 pending. On the 2nd quarter earnings conference call management did not cover the Motorola hardware unit future plans, but they will be coming for sure. One possible primary focus will be to drive innovation in Android hardware.
Google recently released the new Google Nexus 7 tablet for $199 powered by a Nvidia (NASDAQ:NVDA) Tegra 3 quad core processor with ASUS as its manufacturing partner. Ironically, Microsoft (NASDAQ:MSFT), a company that has historically been content to stay on the software side and leave hardware (except the Xbox 360) to its numerous PC partners felt compelled to announce its own tablet called the Surface for the windows 8 release in October. One powered by a Nvidia quad core processor and Windows 8 RT operating system with Microsoft Office included, and another planned for early 2013 powered by an Intel (NASDAQ:INTC) Ivy Bridge processor with a fully backward compatible Windows 8 operating system.
It looks like a two pronged attack on the Apple iPad - Google from price points below and Microsoft from price points equal to and above. Of course it depends on your view of Apple, but I am sure that sales of these new tablets will be watched closely.
Google Operating Unit
Google's traditional business increased revenue 3% sequentially to $10.96B with operating income increasing to $3.988B from $3.945B in Q1. Paid clicks increased 42% from a year ago, but average cost per click decreased 16% from a year ago and 1% from last quarter.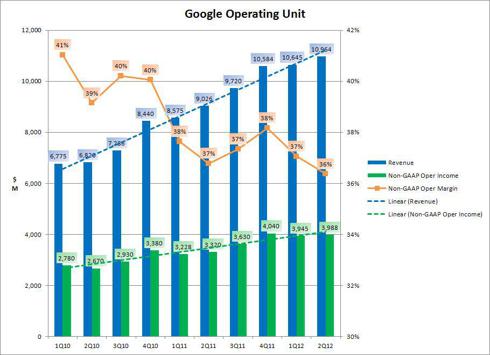 Total acquisition costs or TAC increased $90M from last quarter.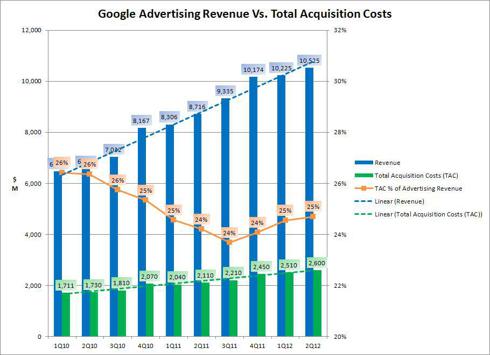 From Google's Q2 earnings release:
The majority of TAC is related to amounts ultimately paid to our Network members, which totaled $2.09 billion in the second quarter of 2012. TAC also includes amounts ultimately paid to certain distribution partners and others who direct traffic to our website, which totaled $507 million in the second quarter of 2012.
Google is not relying solely on its traditional search and display advertising business. Management highlighted enterprise in the 2nd quarter conference call:
Companies, schools, governments worldwide are moving to the could faster than ever. More than 5 million businesses have now gone Google worldwide. The traction amongst large organizations even such as the U.S. Department of Interior, Fairfax Media in Australia, et cetera. I think it's clear, you can't fake a commitment to cloud computing, and we've invested to build and scale a business that has gone to upstart to upper crust.

Thousands of businesses switch to Google apps from our competitors everyday. Recently, we've launch products like Google Drive, Google Maps Coordinate, as well as the ability to edit documents off-line and in a whole range of mobile devices and tablets. That just shows you the pace of innovation that Google is bringing to the business technology.

With over 1 million active applicants of App Engine and the recent launch of Compute Engine, our Cloud Platform that makes Google's infrastructure directly available to developers and businesses.
Conclusion
Google is a company that is not content to stay within the confines of their original search business. With the purchase of Motorola, various other hardware forays like the Google Nexus 7 tablet, Android mobile operating system, YouTube, Chrome, and their continued push into enterprise and cloud software Google will be a technology growth company for years to come.
Disclosure: I have no positions in any stocks mentioned, and no plans to initiate any positions within the next 72 hours.