We are amazed at Microsoft's (NASDAQ:MSFT) mediocre performance as a stock since the dot-com implosion. In December 1999, Microsoft's stock price reached a pre-split high of nearly $120 per share. Microsoft's fiscal year begins on July 1 and ends on June 30 and as such it was in FY 2000 at that time. That price at the time represented a PE of over 70 times earnings. Since then its split adjusted stock price has declined by 50% and even its dividend payments since 2003 have not been enough to forestall a negative total return of 35% on its stock since its December 1999 all-time high. This was achieved in spite of the fact that Microsoft not only avoided the worst of the dot-com implosion, but it grew its adjusted earnings nearly fourfold since the end of its 1999 fiscal year. The company's stock is so cheap on a PE basis, it is trading at 10X adjusted FY 2013 earnings and now pays a $.20 quarterly dividend (2.66% yield).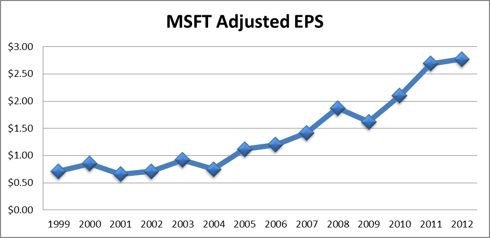 Source: Microsoft 2003-2011 Annual Reports and Q4 2012 Earnings Release.
Microsoft's recent performance has been a mixed bag of success, weakness and ugly, outright failure. Good news has come primarily from its Server and Tools Division and its Microsoft Business Division. Weakness has come from its Windows and Windows Live Division and Entertainment and Devices Division. And outright failure has come from its Online Services business, most notably the $6.2B disasterpiece known as aQuantive.
The Good:
Microsoft Server and Tools grew revenue by 12.55% for Q4 2012 and 12% for the year. Its Product revenue grew by 12% ($431M) due to growth in SQL Server and System Center and represented nearly 76% of the division's attributed growth. Enterprise Services revenue grew by 15% ($137M) due to growth in both Premier product support and consulting services and this represented 24% of the division's attributed growth. Divisional operating income grew by 24% in the fourth quarter and 18% for the year due to the increased revenue and positive operating leverage.
Microsoft Business has been doing better since Stephen Elop left to run Nokia (NYSE:NOK) into the ground. This division grew its revenue by 7.1% in Q4 and 6.6% for the year as a solid 9% growth in business customer revenues more than offset a 4% growth in personal consumer revenues. Divisional operating income grew by 9% for the quarter and 7.2% for the year due to the increased revenues and a slight benefit from positive operating leverage. Microsoft Business acquired Yammer for $1.2B on July 18th and will hopefully benefit from Yammer's enterprise social networking solutions.
The Bad:
Whether you want to use the GAAP-reported results or the Non-GAAP adjusted results, Microsoft Windows and Windows Live's results were pretty bad. On an adjusted basis which took into account Microsoft's Windows 8 upgrade offer, Windows/Windows Live saw a 1% decline in its Q4 and FY 2012 revenue. Q4 adjusted operating income increased by 1% and FY 2012 decreased by 2%. During the quarter Microsoft offered a special Windows Upgrade Offer provides consumers who buy qualifying Windows 7 PCs the option to purchase a downloadable upgrade to Windows 8 Pro for an estimated retail price of $14.99 during the promotion period. Qualifying purchases must be made between June 2, 2012 and January 31, 2013, and offers must be redeemed by February 28, 2013. This offer served to defer the revenue recognition of $540M in cash received for this offer in this quarter into future quarters. Windows 8 will be available in October 2012, including the much ballyhooed Windows Phone that will either make or break Nokia's ability to survive as an independent company. Microsoft also needs Windows Phone 8 to be a success in order for it to reverse its rapid market share decline in smartphone operating systems. We noticed that this downward trend in market share declined when Apple (NASDAQ:AAPL) released its cutting-edge iPhone smartphone device. In addition to worrying about Apple, Microsoft Windows Phone also has to worry about Google's (NASDAQ:GOOG) Android operating system.
Sources: BGR Media Market Share Report and ZDNet Market Share Report
Microsoft's Entertainment and Devices Division grew 20% for the quarter and 8% for the year, primarily due to the $8.5B acquisition of Skype. The division shipped 1.1M Xbox 360 consoles during the quarter compared to 1.7M in the prior year. The Xbox 360 maintained its market share leadership in the video game console market and Xbox LIVE membership increased by more than 15% year-over-year. Microsoft announced in June that Windows Phone 8 would be based on the same core as the Windows 8 PC operating system. MSFT is expecting that Windows 8/Windows Phone 8 will enable it to benefit from the growth of smart mobile devices. We agree with Vitaly Katznelson that he hopes that Microsoft gets all the bugs out of it before the company starts selling that product suite. The division's profits declined by more than 70% due to the acquisition of Skype and increased payments to Nokia to develop the Lumia smartphone product line, in particular Nokia's Lumia 900 phone which is supposed to help Nokia and Microsoft compete against Apple's iPhone.
The Ugly:
Microsoft's Online Services Service is continuing its perpetually profitless tradition. It wrote off its $6.2B acquisition of aQuantive (Microsoft Advertising) in the fourth quarter, which resulted in its loss reaching a new all-time high, or low depending on your perspective. Even without the loss, it would have still racked up another $2B in losses for 2012. It is pretty obvious to the most casual observer that Microsoft ruined aQuantive once it took it over. While Bing saw organic growth in its market share, it came at the expense of Yahoo's (YHOO) search market share. The Bing-Yahoo search partnership is seeing its market share slip on a quarterly and annual basis by 30-100 basis points and has never been able to break the 30% market share mark. Google's market share in search is a comfortable 66% and has never been significantly below that mark.
Source: Microsoft Annual Reports 2008-2012
In conclusion, we see that Microsoft's performance has been a mix of the good, the bad and the downright ugly. However, we have taken notice of its steadily growing dividend and continued ability to generate gargantuan cash flows. The company instituted an annual dividend of $.08 per share in FY 2003 and increased it to $.16 for 2004. At the end of the 2004 fiscal year, it instituted a $.08 quarterly dividend to replace the annual dividends and also paid a $3 per share special dividend. It held the dividend constant until 2006 when it began steadily increasing annually. Based on the level of cash the company generates, and the level of cash and investments on the company's books, the company has no excuse to increase its dividend by less than 25% for FY 2013. We are well acquainted with the offshore cash repatriation tax issue as over 80% of its gross cash and short-term investments are held in foreign subsidiaries in over to defer US corporate profit tax of up to 35%. However, even when we exclude that for purposes of argument, we noticed that the company has $12B of gross domestic cash/short-term investments and $9.8B of equity investments against $12B of bonded debt. We estimate that the company could pay at least $1 per share as a special dividend and have over $3.6B in gross domestic cash remaining. We also noticed there are unconventional ways for Microsoft to access its foreign-held cash and we believe that if investors see greater capital discipline with Microsoft, then it will help to unlock shareholder value and enable the company to be trading at a PE significantly higher than 10X forward earnings. Our upcoming report will explore this in greater detail.
Source: Microsoft's Investor Relations Website
Disclosure: I am long AAPL. Saibus Research has not received compensation directly or indirectly for expressing the recommendation in this report. Under no circumstances must this report be considered an offer to buy, sell, subscribe for or trade securities or other instruments.