Shares of Sprint (NYSE:S) took a hit on Tuesday, falling 18 cents from the intra-day high to close down 3.4% for the day. Shares have now declined $0.28, or 7.5%, from their high of $3.73 reached just last week. The fall comes during a very busy week for Sprint. On Thursday, the company will report its second-quarter earnings. For now, much of the fall seems to be because Clearwire (CLWR), in which Sprint controls a sizable portion, plunged below $1 to a new 52-week low over funding concerns. Add in Apple's (NASDAQ:AAPL) disappointing quarter in terms of iPhone sales, and Sprint may continue to decline over the short term. Let's look at where things stand.
The Big Run:
Sprint has had a huge run lately, as you can see on the right side of the chart below. Sprint has erased most of the past year's losses lately. The stock, which was trading at just $2.25 a few months ago, had surged nearly $1.50 as of last week. That's a rise of 65%, so it seems that profit taking was inevitable.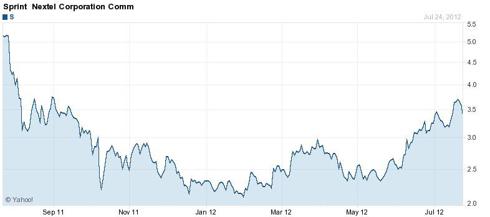 (Source: Yahoo Finance)
The iPhone Dilemma:
We have already heard from Verizon (NYSE:VZ) and AT&T (NYSE:T) in terms of quarterly earnings. The following table shows the activation numbers for each of the three carriers, along with the number of iPhones that Apple announced it sold. For reference purposes, the quarters are calendar quarters (remember Apple uses a different fiscal year).
| | | | | |
| --- | --- | --- | --- | --- |
| iPhones | AAPL | T | VZ | S |
| Q4 | 37.0 | 7.6 | 4.3 | 1.8 |
| Q1 | 35.1 | 4.3 | 3.2 | 1.5 |
| Q2 | 26.0 | 3.7 | 2.7 | ??? |
Now Sprint bulls are hoping that the company is taking away market share from the other two names, and to a point, it is gaining new customers. However, given the pull back of iPhone sales in anticipation of the iPhone 5, I would expect Sprint to post a quarter over quarter decline as well. If I had to guess, I would estimate Sprint will report 1.2-1.3 million iPhone activations on Thursday. If Apple does not release the iPhone 5 until calendar Q4, Sprint might also see a decline in Q3 as well.
The Clearwire Dilemma
As I stated above, Clearwire shares fell below $1 to a new 52-week low. Shares were down 10 cents, or 9.8%, to $0.92, and that was after rallying off the day's low of $0.83.
Sprint is on the hook with Clearwire in two respects. First, Sprint maintains a huge ownership position in Clearwire. Although Sprint is not the majority owner anymore, Sprint still has a few billion dollars invested in Clearwire debt and equity securities. Sprint will be forced to take more losses, which will hurt its net income.
Clearwire fell because analysts believe there is a funding gap, and the company is expected to continue losing money for the indefinite future. The problem for Sprint isn't its financial losses from its investment in Clearwire. It can be easily calculated. The bigger issue is that Sprint relies on Clearwire for spectrum and network capabilities. As Sprint looks to build out its 4G LTE network, it needs Clearwire to be operating normally and fully functioning. If Clearwire goes bankrupt, Sprint's network could be in trouble.
Clearwire is also scheduled to report on Thursday, so we'll see how bad things are there. But with shares under $1 now, something needs to be done. I wouldn't be surprised to see a reverse split soon.
Sprint's Earnings Report
Sprint is scheduled to report Thursday morning. Analysts are currently looking for revenue of $8.73 billion, a 5.1% increase over last year's $8.31 billion in the period. In terms of earnings per share, analysts are forecasting a 40 cent loss, compared with a 28 cent loss in the prior period.
Lately, Sprint has beaten analyst estimates, only because estimates are so low. Just a few months ago, analysts were expecting about a 35 cent loss in the period. Now that number is up to 40 cents. Sprint has beaten by 12 cents twice in the past three quarters, and by 2 cents in the other quarter.
I would not be surprised to see Sprint report a loss in the 30 to 35 cent range. While that would be a beat in terms of analyst expectations, it would be a larger loss than the prior-year period.
Sprint has lost $12.5 billion dollars in the past 17 quarters. The company will probably lose another $5 to $10 billion dollars before it returns to profitability. At this point, the company probably will not be profitable until 2014 at the absolute earliest, while 2015 or 2016 look like a more realistic time frame.
Conclusion
Sprint has seen its shares rally hard over the past couple of months, so a little profit taking was probably in order. However, there are a number of issues at the moment. Clearwire's troubles appear to be growing, and iPhone numbers for the quarter were definitely weak. Sprint will report another huge quarterly loss on Thursday.
My recommendation has been that Sprint is a good long-term short candidate, and I continue that stance today. Until this company can improve its situation regarding losses, and get the Clearwire situation fixed, there remains a ton of downside possible in these shares. I would look for shares to continue downward if Thursday's report is bad. However, I would also be ready to short the name if we head back to the $3.75 to $4.00 level for now.
Disclosure: I have no positions in any stocks mentioned, but may initiate a long position in AAPL over the next 72 hours.