When Weekly Jobless Claims were reported dramatically improved two weeks ago, we sifted through the data and found the gremlins responsible for the anomalous result. There were two, consisting of (1) the impact of a weird midweek falling of Independence Day and (2) the lack of seasonal shutdowns at America's manufacturing giants like Ford (NYSE:F) and GM (NYSE:GM). Last week's data offered a correction to more normal layoff figures, with the flow of weekly jobless claims rising 34,000, to 386K in the week ending July 14. Investors seemed to have numbed to the filings flow at this level, but I'm suggesting that just a slight increase in this weekly number could very well shock stocks soon. Thus, as strange as it may sound, I think selling stocks on Wednesday afternoons in the weeks ahead could prove prescient and fruitful for day-traders betting on a Thursday morning jobless claims driven breakdown.
We've been here before, in the 386K jobless claims range, as evidenced by the four-week moving average, which sits today at 375,500. This number would of course be higher if not for the recently understated result. So, if we've been here before, why would a slight increase in jobless claims raise alarm on Wall Street?
First of all, you should know that changes in jobless claims and inverse moves in the S&P 500 Index are correlated. You can see it in this chart produced by Macrotrends.org.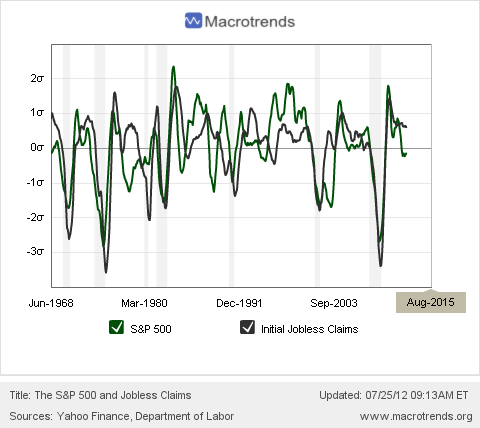 It shows that since 1968, the two data points draw trend lines that mirror one another. When claims rise, the S&P 500 Index falls, and so the SPDR S&P 500 (NYSEARCA:SPY), SPDR Dow Jones Industrial Average (NYSEARCA:DIA) and PowerShares QQQ (NASDAQ:QQQ) should fall. By visual assessment, the movement of the S&P 500 Index seems to follow activity in the economic data point. It's funny, since stocks are a leading indicator and employment is a lagging one. Over the short-term though, important increases in unemployment will trigger stock market expressions of concern.
Based on the data, stocks should act over time, but I'm saying stocks will very likely react immediately to just a small increase in weekly jobless claims (we were 16K short of 400K last week). It's because of the psychological impact of a move toward or over 400K, as the media will likely amplify the news. And I think we are almost there, due to new economic deterioration. Just last week, we saw retail sales decline, consumer confidence deteriorate, layoffs increase and housing sales decline. Recession signals are flashing red as leading economic indicators deteriorate.
So, which stocks will move most? Well, just about the entire market should move, so you might use the ProShares Short Dow 30 (NYSEARCA:DOG), ProShares Short S&P 500 (NYSEARCA:SH) and the ProShares Short QQQ (NYSEARCA:PSQ) to avoid company specific noise. Or better yet, use the "Ultra" versions of these index ETFs which seek to amplify anticipated market moves, like the ProShares UltraShort S&P 500 (NYSEARCA:SDS), ProShares UltraShort Dow30 (NYSEARCA:DXD) and ProShares UltraShort QQQ (NYSEARCA:QID).
High beta shares, which are super sensitive to economic cycles, should be expected to exaggerate market moves. Names like United States Steel (NYSE:X) and Cheniere Energy (NYSEMKT:LNG) for instance, with beta coefficients of 2.39 and 3.19, respectively, are examples of two. Energy equipment and service providers carry higher betas also, like Schlumberger (NYSE:SLB) and Halliburton (NYSE:HAL). Semiconductor equipment companies like Kulicke & Soffa (NASDAQ:KLIC) and industrials like Caterpillar (NYSE:CAT) are also high beta names that could exaggerate market movement. Take note though that company specific news or industry drivers could affect the trade, like CAT's EPS result today.
I see a change in the trend of the weekly jobless claims data as they appear to be edging higher after skimming bottom not long ago. We've also seen the monthly flow of job creation drop through the second quarter, averaging 75K per month in Q2. Employment services firms like Monster Worldwide (NYSE:MWW), Robert Half (NYSE:RHI) and Korn Ferry (NYSE:KFY) are confirming Labor Department data showing increases in temporary employment, which I believe to be a negative indicator due to the slowing nature of the economy. Last week, the Conference Board's Leading Economic Indicators declined 0.3%. So, claims above 400K should be just around the corner. Take heed, because stocks will be at higher risk on Thursday mornings as a result.
Disclosure: I have no positions in any stocks mentioned, and no plans to initiate any positions within the next 72 hours.