Going into this quarter, there was a growing sense among investors that the global economy was weakening, the U.S. economy was weakening, and that earnings for the second quarter and guidance for the third quarter would be lumpy, as best. Expected to be especially prone to these effects were cyclical sectors such as industrials and techs.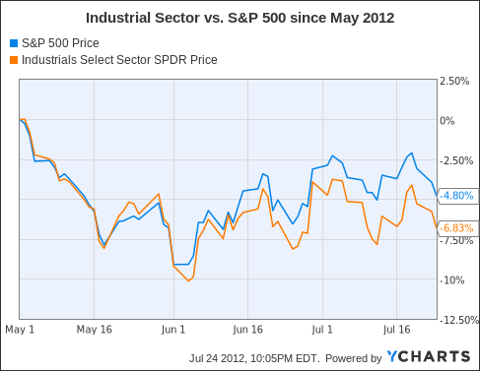 So far, reports have largely vindicated the market. Sure, there have been cases in which the market's pessimism was overdone, but in many cases the market's post-earnings reactions have fallen in line with the negative pre-earnings sentiment. Amidst the noise, a few cyclical companies have kept calm and carried on, rewarding shareholders with strong results and receiving commensurate credit from a relieved market.
Two top industrial stocks and competitors exemplified the phenomenon of beating lowered expectations, though they did it in different fashion. On the one hand, Honeywell (HON) kept calm, continued its strong results, and not only beat earnings estimates and did OK on revenues (a slight miss, but within prior guidance range), but also raised guidance for the year on the low end. On the other hand, Eaton (ETN) squeezed out a similar earnings beat/slight revenue miss, but actually lowered its guidance 3.5%. Both reports were received enthusiastically - Honeywell marched in step with the sector as a whole, while Eaton had been overly discounted and has recovered lost territory so far this week.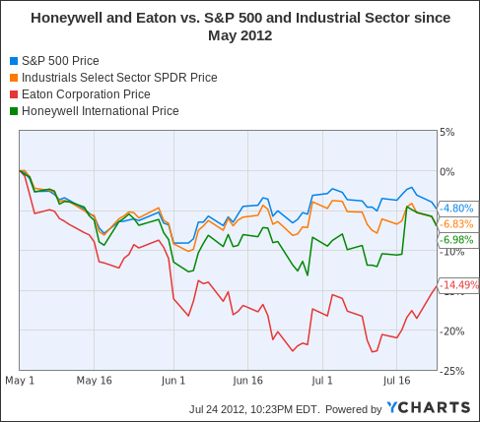 Considering the similar responses the two companies received and the similar nature of their respective businesses, and yet the differing natures of the reports and the stocks' performance over the past quarter, it again seems a prescient time to review the two companies and decide if one is a better investment than the other. I've looked at this duo from both sides of the equation in the past quarter, finding Honeywell's consistent performance appealing but Eaton's valuation and potential similarly attractive. Has this quarter changed the picture for either of the two companies? Let's see.
Honeywell's 2Q: A Little Strut, A Little Swagger, But All Results
Honeywell CEO Dave Cote has become something of the man about town recently. He appeared on CNBC's Closing Bell to exhort Congress to solve the pending fiscal cliff, read off his company's results with a tone that was "almost cocky", and then showed up on Jim Cramer's show to boast of Honeywell's seed planting initiatives and confidence despite the possibility of a zero-growth environment in Europe for the next five years. But as 1930s baseball Hall of Famer Dizzy Dean said, "It ain't braggin' if you can back it up." For at least the six quarters that I've followed the company, Honeywell has hit or beat earnings estimates and its own guidance (TDAmeritrade's data suggests this streak dates to 2009 at least) every time. This consistency is laudable and worthy of a premium in the shaky hyper-cyclical climate we've seen since 2011 started.
Specifically, Honeywell reported EPS of $1.14 compared to a consensus estimate of $1.12 and its own guidance of $1.09-1.13 in EPS. The company had revenues of $9.435B, within its guidance of $9.4-9.6B but lower than the estimate of $9.56-9.58B analysts had. As a result of two quarters of strong earnings, Honeywell raised the lower end of its earnings guidance range from $4.35 to $4.40, while keeping the top end the same at $4.55 (consensus is $4.51) while lowering revenue guidance from a midpoint of $38.3B to one of $38.1B. Third quarter guidance is for $1.10-1.15 EPS and $9.4-9.6B revenue compared to analyst expectations of $1.15 EPS and $9.54B revenue.
Beneath the headline numbers, Honeywell saw strength in Aerospace (8% sales growth and 25% earnings growth compared to year-prior quarter) and Performance Material Technologies (10% sales growth and 25% earnings growth), while Automated Control Solutions were slow (2% sales growth and 6% earnings growth) and Transportation Systems underperformed. The company was more conservative in guidance about the specific segments, warning that Aerospace growth should moderate as restocking ends in aftermarkets, while PMT faces tougher comparisons in the back half of the year. The company as such expects the same trends in the third quarter, with strong but moderating growth in PMT and Aerospace, slow growth in ACS, and continued decline in transportation systems.
The tenor of the Q&A portion of the earnings conference call was rather confident. Cote expressed confidence in China, saying, "overall, we expect that China's going to continue to do well, and that we'll do well within that macroeconomic framework that they're developing." He also stated that currency issues would not significantly affect Honeywell's earnings even if the Euro drops to $1.10. And despite his concern over the fiscal cliff, Cote stated that the company was fully prepared for the event: "The good thing about our situation is…none of our businesses are solely focused on defense generally. It's (the) same products, same services just going into the different sales channel, which gives us a lot more flexibility than others might have." That might be a bit of whistling in the dark, but at this point Cote and Honeywell have earned the benefit of the doubt, and management sounded very excited overall about the company's position.
In response to this continued strong quarter, Honeywell popped 6.67%, taking much of the market with it. That rise has been trimmed in the overall negative trend of the Friday-Monday-Tuesday run, but Honeywell still sits above all of its key moving averages and 4% above its pre-earnings level. A strong quarter merited a positive response, and Honeywell keeps chugging along.
Eaton's 2Q: Put The Emergency Hammers Away
Eaton's stock had been one of the major underperformers in the stock market since early May. The transformational acquisition of Cooper Industries PLC (CBE) was acting as a lodestone on the stock price rather than a booster rocket, and the macro concerns added to the weight round the company's neck.
Eaton proved those doubts exaggerated by reporting a similarly strong quarter, though with weaker guidance than Honeywell. The company reported operating EPS of $1.15 compared to $1.11 analyst estimates and guidance of $1.05-1.15. The earnings beat was slightly fluky, helped by a tax rate change that outweighed negative currency effects by $.06/share. Revenues came in at $4.1B, under the $4.28B estimate. The company reported 80 basis points improvement in segment operating margin. Eaton then lowered its guidance for the year's operating EPS from $4.30-4.70 to $4.20-4.50, compared to $4.42 consensus estimates. Due to Irish takeover rules regarding the Cooper acquisition, the company did not issue specific Q3 guidance.
Eaton's strength came in the Electrical Americas segment, which accounted for about 25% of total revenues and was up 10% in revenues and 32% in earnings over the year-prior quarter, both numbers records for the company. CEO Sandy Cutler reported on the conference call that, "We're seeing really broad strength within the residential and nonresidential construction segments," the former a new strength for the company. This strength is especially seen as promising because this is where a large chunk of Cooper's business falls, meaning Eaton is doubling up on a strong area.
On the other hand, Electrical Rest of World was a weak area, losing 13% of revenues and 29% of earnings, with endmarket slowdowns and negative currency effects hurting the numbers. Hydraulics were up on acquisitions to a new record level, with Cutler reporting that, "China was still operating at very strong levels." Aerospace was also up for Eaton significantly, and automotive and truck segments were weak, especially in Europe and Latin America, though the Asia and North America were strong (this might also imply that Cummins' struggles are slightly more idiosyncratic than the market took them for after the pre-earnings warning of two weeks ago). Cutler, also a guest with Jim Cramer, mentioned that the fiscal cliff was scaring off customers in the truck segment both on the show and in the conference call.
Other nuggets from the Q&A portion of the conference call included Cutler's expectation that, "this year you're going to see Brazil be a kind of a disappointing economy versus people's expectations. And that's pretty much our view for the rest of the year." He held similar confidence in China for the long-run, citing the fact that, "it is a very big economy. There are still very large projects to be done and need to be done, particularly on the energy side of the economy," as reasons to be bullish in the long-term. The company has put off its expectation of a bounce in China and Europe business until 2013, rather than late 2012.
Eaton raised its guidance for the Electrical Americas by 2% on, "the great continued strength in the nonresidential market continuing to strengthen quarter-over-quarter and somewhat of an uptick beginning in the residential markets," said Cutler. Every other segment was guided down 1-2% from prior guidance except trucks, which had its guidance lowered 5%. Margins are expected to expand everywhere except in Electrical ROW, and Eaton's expectations on cash flow are unchanged.
On the surface, Eaton's report was underwhelming - other companies have done just about the same thing and been whacked for it. The difference is that Eaton had been down nearly 20% since the beginning of May compared to the 6-10% that many other industrial stocks lost over the same period. The drop was overdone, and so Eaton has risen about 5% in the wake of the report. Beyond the earnings itself, the big relief is that Eaton still expects to close on the Cooper deal by the end of the year, suggesting that whatever difficulties investors had been reading into the merger were overblown, and that the expected accretions should still come off.
Running the Tables: Value Apples to Performance Oranges
The valuation comparison between the two companies remains largely unchanged. Eaton's slightly stronger post-earnings move has narrowed the gap between the two companies' respective valuations, but Eaton is still the much cheaper stock:
(Sources: TDAmeritrade, WSJ, respective earnings reports)
| | | |
| --- | --- | --- |
| As of Q2 2012 | ETN | HON |
| Market Capitalization | $14.6B | $43.6B |
| Quarterly Revenue Growth (Y-over-Y) | -0.50% | 3.84% |
| Quarterly Revenue Growth (Q-over-Q) | 2.73% | 1.41% |
| Yearly Revenue Growth | 17% | 9.37% |
| EPS Growth (Annual Last 2 Years) | 78.50% | 20.13% |
| Estimated Earnings Growth (next 3 years) | 11.52% | 11.34% |
| Earnings 2011 | 3.93 | 4.05 |
| Earnings 2012 (Est.) | 4.36 | 4.51 |
| Earnings 2013 (Est.) | 4.88 | 5 |
| Free Cash Flow/Share TTM | 2.67 | 3.1 |
| 2011 P/E | 10.43 | 13.97 |
| 2012 P/E | 9.40 | 12.55 |
| 2013 P/E | 8.40 | 11.32 |
| TTM P/FCF | 15.36 | 18.25 |
| PEG Ratio | 0.91 | 1.23 |
| Price (as of 07/24 close) | 41 | 56.58 |
| Dividend | 1.52 | 1.49 |
| Dividend Yield % | 3.71 | 2.63 |
(Note: Eaton's free cash flow is for Q2 2011-Q1 2012)
Honeywell is still receiving the market's cyclical discount considering the difficult environment we're in, but is fairly valued. If the company continues to hit estimates, 70 (14x 2013 earnings) is a wholly reasonable 12-month target, and nothing Honeywell has done has given reason to doubt its ability to hit estimates. That still offers nearly 24% upside from current prices, with a dividend the company raised last Q4 for the seventh time in the last eight years that yields over 2.5%.
On the other hand, Eaton faces some headwinds, as evidenced by both the question marks over completing the acquisition of Cooper and the need to lower guidance for this year. The acquisition itself will also be a taxable event, causing anguish amongst individual investors. The post-earnings rise suggests that institutions are not as concerned about the tax issues and are just happy to see the company is still on track. And with the big possibilities from the Cooper acquisition and the gross undervaluation, Eaton remains more of a homerun play. I have a target of about 56 on the stock (11.5x 2013 earnings), which is still a conservative figure for an 18-month target and offers 37% upside. In the meantime, the dividend is still yielding a bountiful 3.71%.
In choosing between the two, the issue becomes a matter of taste for the investor. Just as the respective CEOs have different styles - Cote is voluble, open, and confident, while Cutler appears more demure, straightforward, and conservative - the companies offer different ways to own an industrial stock. Honeywell has been the more consistent company recently and has limited near-term headwinds beyond the overall macro picture. Eaton has a lot on its plate and is a little more levered to the cyclical ebb and flow of the economy, but is still performing well and could offer a bigger return down the line.
So it's a matter of choosing the steadier, slightly-better performing company or the one completing a big deal that could change the company's prospects going forward. Neither is a bad choice, really. In fact, as far as I see it, in a diversified portfolio there's probably room for both.