Verizon Communications (NYSE:VZ) continues to be able to squeeze out costs from a slow growing revenue base. Though Q212 revenues only grew 3.7%, the bottom line grew by 12.3%. This gain was largely due to a reduction in the cost of services and sales by $262M combined with a $38M reduction in interest expense.
Verizon is a global leader in delivering broadband and other wireless and wireline services to consumer, business, government and wholesale customers. Verizon Wireless has more than 94M retail customers though it is 45% owned by Vodafone (NASDAQ:VOD).
Though operating efficiency continues to improve the most concerning part has to be that wireless revenue is only increasing 7.3%. If Sprint (NYSE:S) ever becomes a more formidable competitor, Verizon might see the ability to lower costs and improve margins come to an end with little growth to spare.
Financial Results
The company reported Q212 earnings of $0.64 compared to estimates of $0.64. Revenues came in slightly light at $28.55B. The company reported a solid $9.3B in operating cash flow for the 1H and $7.8B in free cash flow for the 1H 2012. This number more than doubled the 2011 numbers as capital expenditures were held in check.
The earnings report also included several key metrics that reached levels not seen in years.
Wireline business saw the highest revenue growth in the consumer segment in several years.
Retail postpaid churn was only 0.84% making it the lowest level in four years.
Retail postpaid data ARPU grew 3.7% to a record $56.13 and the highest growth in three years.
Competitive Landscape
Some of the results from Verizon suggest that the competitive landscape is starting to ease. Both Sprint and T-Mobile USA have become weakened competitors in the wireless sector leaving AT&T (NYSE:T) and Verizon as the dominant players. Not to mention the bankruptcy of LightSquared has potentially helped reduce future competition.
A key telling statistic from the Q2 report was the ability to control capital expenditures at only $7.4B in the 1H 2012. The full year numbers are expected to be flat to down from the $16.2B of 2011. If the arms race is finally over, the big carriers such as Verizon will benefit from reduced spending.
The recent news suggests that Sprint will offer an unlimited data plan for iPhone 5 assuming Apple (NASDAQ:AAPL) ships the phone for the 4G LTE network in the fall. With both Verizon and AT&T not selling such plans, this could allow Sprint an opportunity to slip back into the wireless race. In such a scenario, Verizon might be forced to again forgo margins and profits. It might find the ability to turn 3% revenue growth into 12% earnings growth impossible.
Data Rates
Wireless data revenue was up 18.5% YoY and provided 49% segment EBITDA margins on service revenue, a record high. With revenues of $6.9B, data now accounts for 44% of all wireless service revenues.
The recent push by both Verizon Wireless and AT&T to charge more for unlimited data usage should have another profound positive for the business if it sticks. Too many times in the past competition has been around to offer more competitive pricing that eventually forces down pricing and hence margins.
Vodafone remains the better option with its 45% ownership of Verizon Wireless and a focus on other international wireless operations. The stock also has a higher dividend.
Risk
The biggest risk remains the $52B of debt and over $42B of net debt after subtracting the $10B+ cash balance. Considering this debt situation, the dividend yield has never added up. The company shouldn't spend $2.5B a quarter on dividend payments when it could and should be reducing that debt load. The company spent nearly $700M on interest payments in the quarter alone.
Sure the company is reducing interest expense by obtaining lower rates in this ultra low rate environment, but it should be using this opportunity to substantially cut debt loads.
Valuation
Trading at $44.40, the stock trades at nearly 16x forward earnings. The 4.4% dividend yield no doubt attracts investors, but after a nice run this year the stock has turned expensive.
The five year growth rate is estimated at just over 10% suggesting the stock might need to come in before buying.
As the below chart shows, the dividend yield is approaching a 5 year low after the bullish run for the stock. With limited dividend hikes over the years, it doesn't take much in the way of price gains to make this happen.
Chart - Verizon Dividend Yield Versus Dividend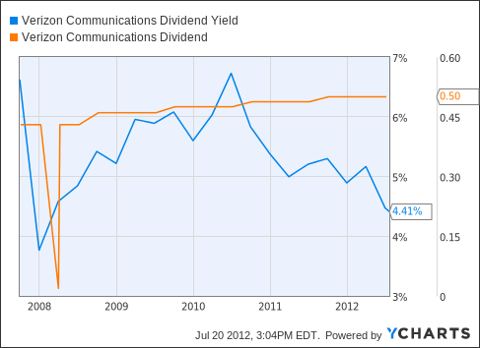 VZ Dividend Yield data by YCharts
Conclusion
All in all, the Q212 numbers were inline with expectations. Also some of the metrics appear to finally be turning in favor of the sector that has had a lot of pressure in the last decade. The company has been able to reduce head count by 5,700 and keep capital expenditures flat over the last year while obtaining slight revenue increases.
The industry has long been plagued by startup competitors willing to spend huge amounts of money while driving down costs. This led to an arms race where no companies won. Now it appears that the arms race has moved over to the pipeline sector. Ironically several communications companies used those very pipelines in the late '90s to build high speed data networks.
Unfortunately though the valuation doesn't suggest that the stock price moving from $34 back at the end of November until the $46 hit prior to earnings was warranted.
The launch of 4G LTE by Sprint could be turning down point for the industry as the data intensive iPhone 5 hits the market. Users will be attracted to the more affordable data plans at Sprint that could lead to customer retention problems or even worse the need to restart unlimited data plans. Not to mention that LightSquared is attempting to obtain financing and could still become a formidable competitor.
With the valuation too expensive for the growth rates, investors would be wise to take the last dividend and move on until the market pushes the stock back down to where the dividend yields above 5%. Waiting for a better entry point and more clarification on the Sprint competitive issues is prudent at this point.
Disclosure: I am long VOD.
Disclaimer: Please consult your financial advisor before making any investment decisions. Note: Mark Holder worked for 15 years as an analyst and project manager at Verizon and several predecessor companies prior to becoming an investment advisor in 2010.