By Carla Pasternak
The Global High Income Fund (NYSE: GHI) is one of the highest-yielding closed-end funds that doesn't use leverage to lift returns. In other words, the fund does not borrow or issue preferred shares to create extra money to invest, giving it an important element of safety in volatile markets.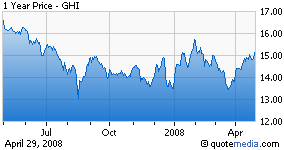 This emerging-market income fund keeps at least 80% of its assets in debt securities. The fund invests largely in the bonds of foreign governments, which make up approximately 66% of its portfolio. Its largest position, comprising nearly 6% of assets, is in Argentinean bonds maturing in August 2012 -- and in total, nearly 14% of the fund's assets are presently parked in Argentina. Other government bonds in which the fund has important positions include those issued by Turkey, Russia, Brazil, the Dominican Republic, and Serbia.
The average credit quality of GHI's bond portfolio is just below investment grade ("BB"). Nearly a quarter of the portfolio is in investment-grade bonds, including about 10% in safe "AAA" and "A"-rated bonds. The bonds have an intermediate average duration of less than six years, making them relatively stable in the face of changing interest rates.
Emerging-market debt usually trades at a premium compared to the debt of more established markets. That enables the fund to pass on the higher yields to shareholders without resorting to leverage or returns of capital.
In the past 12 months, the fund distributed $1.341 in regular monthly payouts and another $0.7269 in year-end capital gains, for a total annual payout of $2.07 per share. That gives GHI a historical yield of a tempting 13.7%.
GHI's stated policy is to make monthly distributions of 9% of the fund's net asset value on an annualized basis. In this regard, it is important to note that NAV dropped slightly year-over-year, from $15.03 at the end of January 2007 to $14.41 in the same month of 2008. Correspondingly, the monthly per share payout dropped from the mid-$0.11 range in early 2007 to about $0.108 currently.
The fund's regular monthly distributions have consisted entirely of investment income or long-term capital gains. Unlike most funds with a fixed distribution policy, GHI's payments are not supplemented by a return of capital that simply pays you back your original investment by digging into the fund's capital base. In fiscal 2007, for example, 60% of the distribution was comprised of investment income, and the balance came from capital gains. Since most of the distribution is taxed as ordinary income, the fund is best held in a tax-advantaged account.
GHI has traditionally provided investors with double-digit yearly returns. For example, over the past decade it has returned an average of +13.4% annually. These returns are slightly dampened by a management fee of 1.32%.
Investors should note that many of the countries GHI invests in are commodity exporters, so their fortunes are tied to commodity prices. While this is an important risk factor, commodity prices have so far held up well in the face of a U.S. economic slowdown.
GHI is suitable for risk-tolerant investors who seek a high current income not generated by leverage or supplemented by returns of capital.
Disclosure: none