It is very hard for the average investor to keep up with weekly fluctuations in market direction. Different opinions on whether the current bull market has ended or will continue only confuse those of us looking for high quality, cheaply valued stocks. While the last few years have provided great opportunities, many stocks remain at low valuations. However, volatility in the markets continue to spook equity investors, even as the VIX is currently at historically low levels. This is obvious when looking at negative inflows into equities despite the bull market. Today's re-emergence of the European crisis goes to show that outside macro concerns will continue to haunt the markets for at least another few years. But do not let that distract you from picking up good names in this market. Use an inverse split strike butterfly to protect yourself from volatility from Europe.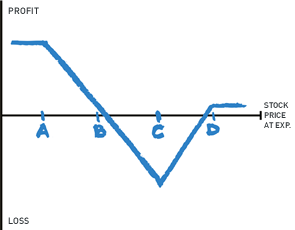 Let's break down how the strategy works, using the SPDR S&P 500 ETF (SPY).
In order to set this trade up, investors need to sell a put at Strike D (which is at the current price of the underlying stock) and purchase two puts at Strike C, all at the same expiry. Investors sell another put at Strike A to help finance the strategy. (If you are extremely bearish, you may skip this leg of the trade to enjoy unlimited upside.) It is best to try and place this trade at a small credit, but not always easy to do without giving up high potential returns. So if Europe does not explode, this strategy will not have hurt in any way. On the other hand, if Europe explodes and stocks tumble, this strategy will counter portfolio losses. The only way to lose money with this strategy is if the market only drops a little bit, and stays there until expiration. After the strategy is established, if the stock moves to strike C in the short term, this trade may actually be profitable if implied volatility (IV) increases. However, time decay will start hurting you and if the markets do not continue a bearish (or bullish) move past strike B or D, investors will lose money.
Let's look at the calendar of options expiring on January 31, 2013 for the SPY.
My recommendation would be to sell the $134 strike put, purchase 2 $127 strike puts, and sell the $115 strike put. This is what the risk/reward looks like:
Investors lose a small amount if the market goes up (around 2%), lose all of their money if the market closes at $1270 (on the S&P 500), break-even if the market reaches $1200, and make a maximum profit of 68% if the market reaches $1150 or lower. Keep in mind that during the short term, investors can enter and exit this strategy at a profit regardless of the SPY price if implied volatility increases, which will happen if bad news continues coming out of Europe. The VIX is up huge today and will continue to accelerate upwards.
Keep in mind that you must have Level 2 options and margin enabled in your brokerage account to play this strategy. There is also a small risk of early assignment on your sold put. Investors should know how to manage this type of situation.
By purchasing an inverse split strike butterfly (also called an inverse broken wing butterfly), investors are purchasing insurance on a dive in the market (think Spain bailout, Euro collapse, China slowdown) while continuing to enjoy any gains from a potential market rally. If you look at the S&P 500, the US has enjoyed an incredible rally despite the oversea concerns. Many people argue that the market is due for a correction. The argument for bulls and bears on a technical level is shown in the picture below:
Investors looking for value plays in this environment should NOT be afraid of Europe. Europe will not stop Verizon (VZ) from offering a tremendous 4.5% dividend and continue accelerating earnings. Europe will not stop Apple (AAPL) from selling record numbers of iPhones around the world. China's slowdown will not stop Lennar Corporation (LEN) from benefiting from a rebound in US land prices. Purchase Nike (NKE) and McDonalds (MCD) on the recent declines. And if you want to be a little more speculative, pick up some Banco Santander (SAN), Spain's strongest bank as a speculative play and enjoy the 10+% dividend while enjoying protection from this options strategy. With an inverse split strike butterfly, you can pick up solid names at great values without losing any sleep.
With this strategy, you can continue picking individual, high yielding stocks without worrying about Europe. I recommend putting around 5% of your total portfolio into this strategy for protection, depending on your risk appetite. More conservative investors may want to put the amount you expect to receive in dividends into this strategy every year, thus canceling out your dividend in exchange for a nice insurance policy.
Disclosure: I have no positions in any stocks mentioned, and no plans to initiate any positions within the next 72 hours. I am long August SPY Put Spreads