The coverage on Groupon (NASDAQ:GRPN) is largely negative. Many questions have been raised - from the fundamental survival, to accounting problems to prognostications of bankruptcy. Despite the dire predictions, there is another kind of evidence. As an avid Groupon user, I find businesses advertising repeatedly in Groupon. Now, I find that those places are full of Groupon-driven traffic, and I do not see it declining much. Applying the Peter Lynch principle of "investing in what you know," Groupon may still be the best daily deal.
Rather than repeat the analysis of Groupon's amazing cash-generating capability, I looked at a different way to quantify the popularity of Groupon. A recent factor weighing on the stock was the ComScore report that Groupon's traffic numbers were lower in June than a year ago though, as the CNBC article points out, June numbers were higher than its Q1 quarter when Groupon reported its best revenue. How do we reconcile declining yr/yr site traffic with growing revenues?One word-mobile.
The Groupon app is increasingly the way that users are interacting with Groupon. If the number of reviews of an app can be a proxy for its popularity, here is how Groupon stacks up in comparison to its nearest competitors:
| | | |
| --- | --- | --- |
| Application | Total Number of Reviews | Current Rating |
| Groupon | 146,600 | 4.5 |
| LivingSocial | 29,619 | 4.5 |
| Google Offers | 27 | 4.0 |
| Yelp | 0 (217 ratings) | 3.5 |
Data from Apple's App Store as of 7/17/2002.
Note that these are the big bad guys that are supposed to be killing Groupon - LivingSocial, in which Amazon (NASDAQ:AMZN) has a stake, Google Offers by Google (NASDAQ:GOOG) and Yelp (NYSE:YELP) which is also being considered competition.
These statistics are from the Apple (NASDAQ:AAPL) App Store. Statistics on Android may be somewhat different. This is not the place to analyze the Apple vs Google battle on the mobile platform. Nonetheless the Apple App Store numbers are indicative of the dominating position of Groupon and its high satisfaction rating.
It is also worth reading the reviews of the Groupon app in the App Store.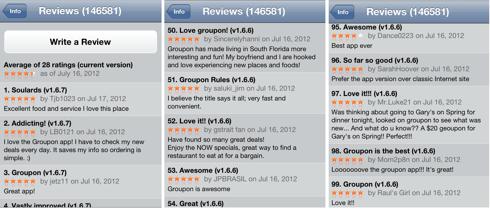 Click to enlarge.
It gives an insight into why Groupon revenue is up and comScore's report of traffic dropping on Groupon's site can be explained simply by this review - "Prefer the app version over the classic internet site" - and is not indicative of a drop in Groupon's revenue. Note over a hundred enthusiastic reviews were posted on July 16 with the new app upgrade.
In the last quarter (Q1 2012), Groupon reported revenues of $559.3 million, an increase of 89% from Q1 2011. It gave guidance of an increase of 40-50% of revenue in Q2 2012 over the previous year. Notably, mobile revenue was already 30% of overall revenue in April 2012 and continuing to increase as a percentage of revenue. In an area where companies like Google and Facebook (NASDAQ:FB) are facing questions on their ability to monetize mobile Groupon is demonstrating how to do it.
While the bears make valid points, including the issue of how Groupon accounts for its sales, all these issues are fixable as long as Groupon's top-line keeps growing and it keeps satisfying its growing customer base. Groupon's Customer Satisfaction ratings are among the highest according to Forsee. Even its much maligned merchant satisfaction ratings are higher than its peers and 91% of its merchant daily deal partners intend to do business via Groupon again.
Currently Groupon trades for less than 10x this year's FCF, for a business that is still projected to show over 50% top-line growth and where cash flow grew at over 80% yr/yr. The next few quarterly earnings will give a clearer picture of Groupon's earning power and there is a high probability of an upside surprise from today's depressed valuations.
Disclosure: I am long GRPN calls.