Net revenue of $1.45-billion and adjusted earnings per share of $0.52 per share on stronger-than-expected payments volume and global transactions from Visa Inc. (NYSE:V) marked the company's first earnings report as a public company.
However, it may not be enough to calm investor fears about the U.S. economy as shares of the world's largest credit and debit processor were down nearly $3 in pre-market trading on Tuesday.
Nonetheless, RBC Capital Markets analyst Cynthia Houlton remains bullish on Visa, hiking her price target to $84 from $80 after the results. She told clients that while Visa has identified several cost-cutting opportunities, it will also invest in growth.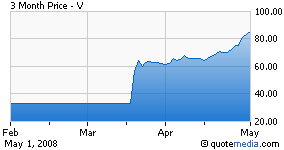 Visa has more than $5-billion in cash on its balance sheet, $40-million in long-term debt and an annual dividend of $0.42 that Ms. Houlton said could increase over time.
Visa shares have risen more than 70% since the IPO at $44 in March.
Goldman Sachs analyst Elizabeth Grausam, who has a "buy" rating and $90 price target on the stock, said Visa should continue to command a healthy premium and near-term fluctuations should be used as buying opportunities "while the Street settles into a more consistent view on earnings expectations."