The February S&P/Case-Shiller Median Home Price data was released Tuesday, and as shown in the table at right, the Composite 10-City and Composite 20-City year-over-year declines were once again extremely negative.
Las Vegas, Miami and Phoenix all registered 20% year-over-year declines, while Los Angeles, San Diego, Tampa and San Francisco weren't far behind. While Miami has fallen 22% from its highs, it still has the highest median home price at $218,740. Chicago was down 8.5% from 2/07 to 2/08, while New York was down 6.5%. Charlotte was the only city that maintained year-over-year gains at 1.48%.
And the median home price in Detroit has now fallen below $100,000 for the first time since December 1999. The average person buying a house in this decade is now down on their investment in Detroit, which has the lowest median home price of all 20 cities analyzed.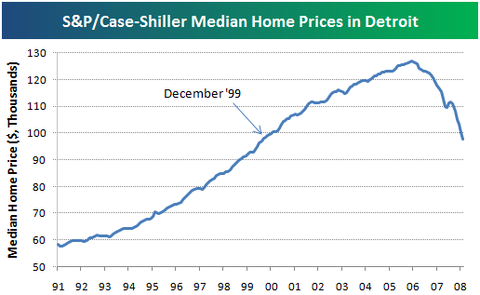 Below we highlight the monthly year-over-year percentage changes of the 20 S&P/Case-Shiller cities and the two composite indices. As shown, the fall from the cliff hasn't hit the ground yet.