Cognizant Technology (CTSH) has been one of those rare stocks over the decade that investors could just buy and hold. So when CTSH lost a nasty 19% on May 7th after reporting earnings, I naturally took notice and wondered whether the market was offering a golden opportunity to buy the stock. The company raised earnings guidance to $3.62 EPS for its 2012 fiscal year from $3.43 (excluding non-recurring items). However, the company lowered revenue guidance to "at least" $7.34B from $7.53B (a 20% year-over-year growth rate) …due to a slower than anticipated acceleration in demand as we entered the second quarter." This hardly seemed worthy of such a tremendous drop, but the stock market had just started a major sell-off in May and any excuse was the right time to sell.
With the S&P 500 and NASDAQ now in slow, grinding recoveries from June lows, I am surprised to see CTSH still struggling to stay above two-year lows. The constant churn action has been great for range-based trading, but I was expecting CTSH to make some progress by now closing May's gap. Instead, that gap has firmly capped the stock and now the 50-day moving average (DMA) is providing additional resistance. In the daily chart below the thick black line represents the two-year lows more easily visible in the weekly chart presented after the daily.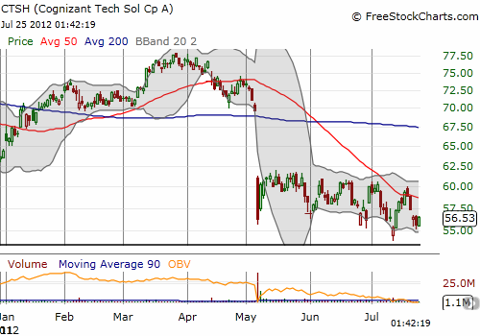 CTSH fails to make any progress closing its post-earnings gap down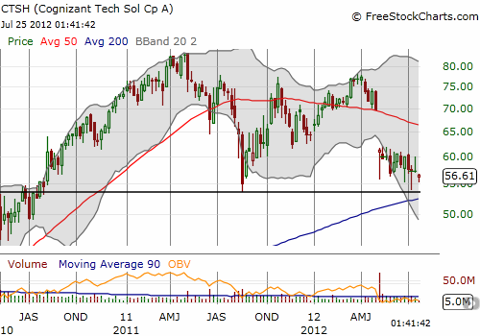 CTSH also struggles to hold two-year lows
The weight on CTSH got heavier when Goldman Sachs (GS) lowered its rating from neutral to sell on June 26th. The stock promptly dropped to new 52-week lows on the news but recovered quickly to the top of the range. Many other analysts have upgraded CTSH but to little avail. So, the tug of war continues.
In the meantime, CTSH is likely purchasing additional shares under its repurchase authorization. In the last quarter, CTSH spent $43M purchasing shares, and it expanded its program to a whopping $1B and pushed out the expiration date to the end of 2013. CTSH has purchased $423M worth of stock under this program as of May, 2012. With cash and equivalents of $1.3B, up 1.3% from the previous quarter, I am relatively confident the company can execute its entire repurchase program on further weakness in the stock. With a trailing P/E of 19, CTSH is much cheaper than it has been over the last 10 years excluding 2009. The forward P/E is 14.
This long-term monthly chart demonstrates how consistently CTSH has performed over the years. This year's extended sell-off is one of CTSH's worst. For any plan to accumulate shares here, I think it makes sense to assume the worst case scenario downside risk is capped at the worst levels in CTSH's history (70% and 76%). I highly doubt such a scenario will unfold and would consider such a collapse a true gift. For now, I am managing to an assumed downside risk to 2009′s final breakout around $42, equating to another 25% downside in my "almost" worst case scenario. Until next earnings, I expect to continue to play the existing trading range.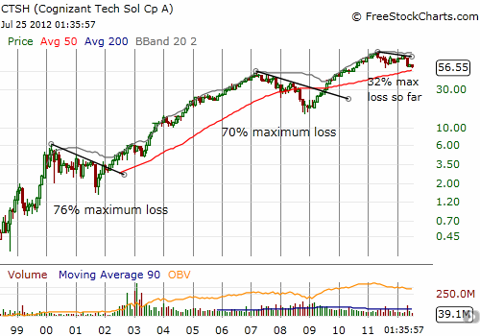 CTSH has been a relatively consistent performer over the years
Source for charts: FreeStockCharts.com
Be careful out there!
Disclosure: I am long CTSH.
Additional disclosure: I am long CTSH call options