A large part of the investing public loves dividends. It's hot cash right in your pocket (or back into your shares). However, chasing yield alone could be quite dangerous. Recently, there have also been a few articles on Seeking Alpha addressing this issue. As a follow up to this piece about the dangers of chasing high yields, this article presents the comparison numbers of 5 Telecom stocks since the beginning of 2011 till the present day of 2012.
Please note that this piece does not recommend buying any of these stocks right now, but is intended as an exercise to show that chasing yields could end up hurting investors more than benefiting them.
Why Telecom: First of all, Telecom was chosen as the sector for this experiment, because it has quite a few high yielders, as it is generally considered a "slow" growing sector which must attract investors with its payouts instead
The Players: The five players considered are AT&T (NYSE:T), Verizon (NYSE:VZ), Frontier Communications (NYSE:FTR), Windstream Corporation (NASDAQ:WIN), and CenturyLink (NYSE:CTL)
Our Quick Analysis of The Stable Players:
Positives: AT&T and Verizon are generally considered to be the stable yielders, though their dividend growth rate has slowed down over the recent years. The big two both currently yield less than 5%, and they literally enjoy a duopoly in the telecom sector.
Challenges: Both companies have paid heavy subsidies for Apple's (NASDAQ:AAPL) iPhone. Though this is expected to pay off in the long run, the more iPhones they sell, the less their profits for the time being.
Current Recommendation: Though we like both companies over the other three mentioned in the article, we do not see them as attractive buys right here. Verizon, for example, is trading at a 10 year high, at a premium to its historical valuation. These two stocks appear overextended, prompting talks of a dividend bubble (which we don't believe in, for the record).
Our Quick Analysis of The High Yielders:
Positives: FTR, WIN, and CTL currently yield 10.2%, 10% and 6.9% respectively. For most of their recent history, these 3 names have yielded more than VZ and T. CenturyLink, is the stock we like the most out of these three high yielders, because it was considered a dividend growth stock not long ago, until the dividend freeze about 2 years ago. Also, its free cash flow of about $2.5 billion comforts the investors about the ability to maintain its dividends.
Challenges: Each of these companies have their own issues, much more serious than their "big brothers". Frontier, for example, appears to be living on borrowed time with its bloating debt, making the dividend appear unsustainable. Frontier's over-reliance on land-lines is a concern in a world of ever increasing mobile phone usage. All of these three companies have common issues: doubts over their ability to maintain/increase their dividends, their business growth prospects (landlines are not the place to be) and high debt.
Current Recommendation: FTR can be considered a speculative bet at best, more so after the dividend cut . One might think that CTL is unfairly grouped here with FTR and WIN, but the presence of better alternatives like T and VZ would make one stay away from it as well. WIN has been focusing on a lot of inorganic growth through acqusitions, which is good, but with most of these buyouts/integrations, it takes a long time for the company and investors to see the returns. So, a wait and see approach might be the best with WIN right now.
The Returns: The table below shows the cumulative return (capital gain/loss + dividends) of these 5 stocks over the past 18 months.

The low-yielding but stable T and VZ have outperformed the other three names by huge margins overall, even though their yields have been much lower.
Earnings, Earnings, Earnings: The first set of charts below presents a critical reading: the earnings per share for VZ and T have both been erratic as well, but except for market crashes/pullbacks and some one time losses, these two giants have fairly steady earnings. Note the ever-declining EPS of the other three players: the dividend yield has gone up because the stock has fallen due to falling earnings per share.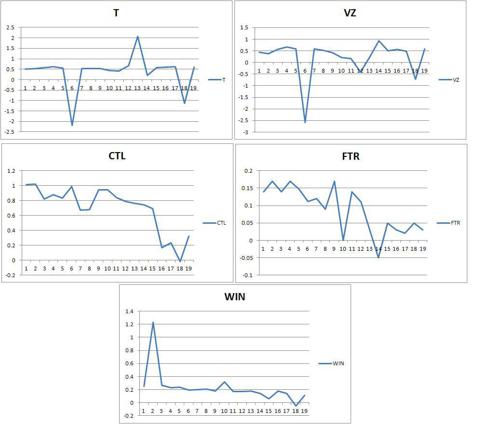 (Source: Ycharts.com)
The second set of charts below shows the yield going up and up for CTL, FTR, and WIN, but that is not matched by increasing earnings. The yield is maintained by an ever-stretching payout ratio. Even T carries a very high payout right now, but everyone knows it is because of the failed T-mobile merger, and things should return to the normal level soon.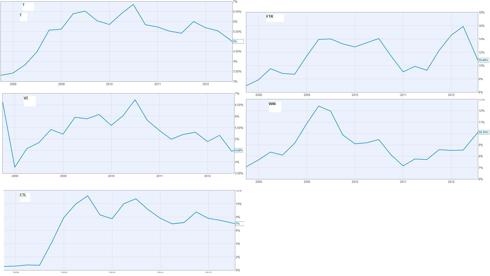 (Source: Ycharts.com)
Conclusion:
At least in the telecom players, history (not just hindsight bias) clearly shows chasing yield ends up hurting an investor more often than not. Let us see what a similar exercise provides us with for other sectors as we make progress. Sure, the performances could be attributed to many more factors like falling business and should not just be put down as the failure of high yielders. But as we drill down into more sectors in future exercises, we will see if a pattern could be observed. We could also pick a wider date range, but the odds of the T and VZ being bettered by the other 3 are very slim.
The argument, "I do not care about a falling stock price" does not work in this case, because the dividends have not been growing either with these 3 high yielders. FTR, in fact, cut its dividend by about 50% for the March 2012 payout, and many expect(ed) CTL and WIN to follow suit. The troubles seem far from over.