After five straight years of 39% or better annual gains, iShares S&P Latin America 40 (NYSEARCA:ILF) cooled off in the first three months of 2008, along with most emerging market funds and the region's stocks.
But a 9.7% NAV return in the 30 days ended April 25 made ILF one of only four international ETFs with a 10% or better year-to-date gain (10.04%), according to Morningstar, with iShares MSCI Taiwan (NYSEARCA:EWT) being another.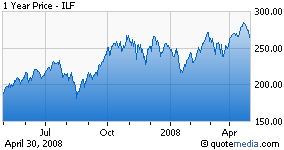 ILF hit another in a long series of all-time highs in mid-April, a sign that it's holding up better than most emerging markets funds since the U.S. slowdown took hold. iShares Emerging Markets (NYSEARCA:EEM) peaked on Oct. 31, fell 24.4% from then until March 19 and remains down 12.3% from its high. ILF, meanwhile, dipped 10.6% in the October-to-March period and now stands 2.6% higher than it did on Halloween. The reason? The continued commodities boom— particularly high prices for metal and oil, keys to the fund's top holdings.
ILF invests, largely through American Depository Receipts held by U.S. banks, in a mix of the region's most liquid stocks. That means a heavy emphasis on big companies (with a market cap of nearly $51.4 billion and 68.2% of holdings classified as giant-cap by Morningstar) and on Brazil, metals, energy and big banks—all heavyweights in Latin America.
Shares of Brazilian-based companies account for 63.4% of assets, while stocks in the basic materials and energy sectors make up more than half the portfolio.
With oil at or near record highs and steel demand still rising worldwide, two of the biggest beneficiaries of the commodities boom are Petroleo Brasileiro, or Petrobras (NYSE:PBR), and Companhia Vale do Rio Doce (NYSE:RIO), or Vale, which make up more than 36% of the ILF portfolio.
With a series of potentially massive oil and gas discoveries that continued in April with unconfirmed reports of a new reservoir that would top all proven reserves in the U.S., state-controlled Petrobras has raised hopes that the country will soon compete with Venezuela and Nigeria on the world stage. Shares are up 144.4% in the last year.
Vale, the word's largest producer of iron ore, a key ingredient in steel, quintupled shipments to China from 2002 to 2007, reaching 100 million tons. The firm's rumored takeover of Swiss miner Xstrata, now on hold, helped lift stock prices in 2007. More recently, Vale pushed through a 65% price increase worldwide in early 2008. Share prices are up 87.8% in the last year.
ILF's emphasis on commodities could, at some point, bring the long run-up to a painful end. More and more analysts today are talking about frothy, speculation-driven commodities prices, with some bears convinced that a violent shift is coming soon. Aside from speculation, a key factor of the boom is that most commodity producers sharply cut investment in exploration and production in recent decades, adding to the supply-demand imbalance of this decade.
It's worth noting that Petrobras and Vale are about to spend a lot of money to increase their reserves. Chief executive Jose Sergio Gabrielli says Petrobras will likely boost its planned spending of $112 billion between 2008 and 2012, while Vale plans to spend $15 billion over five years in the Amazon jungle, where, BusinessWeek writer Joshua Schneyer noted last month, "expansions into mining, rubber, and agriculture have often gone abruptly from boom to bust."
The same could be said, prior to this decade, about investments in Latin America. ILF is a risky fund, with a standard deviation of 21.83, which is 2.5 times that of the S&P 500. As noted with Petrobras and Vale, the fund invests heavily in single stocks, which can be costly if a major holding stumbles.
Last Friday, shares of the fund's third-largest holding, America Movil (NYSE:AMX) (NASDAQ:AMOV), the region's biggest mobile phone company, fell more than 13% on news of weaker-than-expected earnings and downgrades from Deutsche Bank AG and Goldman Sachs. Movil shares gained 19.3% in the year prior to Friday's drop, and more than 900% in the last five years.
Further, ILF invests in two countries from a historically volatile region and tends to suffer when investors pull away from risk. After the long run-up, some analysts see even more danger in the region. A recent Barron's story said share prices could drop 30% in the region if China experiences a slowdown, the U.S. slowdown deepens and/or the dollar gains strength—all things that could slow the commodities boom fueling growth in Latin America.
Société Générale analyst Albert Edwards told Barron's that the "commodity bubble is nonsense on stilts" and predicted an "unraveling" of prices by the end of 2008. That's a bold statement, but nonetheless it shines a light on issues that ILF investors should consider.