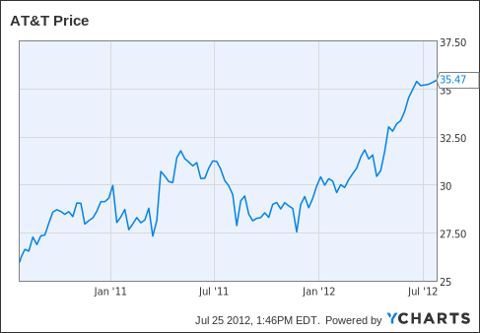 Jim Cramer has spent much of the last week pounding the table on behalf of AT&T (T). He hasn't been alone. Lots of people are bullish on AT&T these days.
Take a look at their chart pattern and you can see why. The shares are up 18.5% over the last year. The dividend offers a yield of nearly 5%. The company seems entrenched as a dominant wireless player, and its wireline operations are big cash flow generators.
But take a look at its balance sheet. No movement in assets, no movement in debt-to-assets. Then move to the income statement and look at the fourth quarter of 2011. Yes, blame the collapse of the T-Mobile deal. Then think, well why did AT&T want to do that deal in the first place?
It's because the only way a telecomm company can make a profit is through monopoly rents. Equipment costs fall so fast, and capabilities increase so quickly, that investments can't be written-off before they become obsolete.
It hasn't made much sense to invest in network capacity for over a decade now. Change the equipment at either end of a fiber line and it immediately becomes more capable. Spend billions going from 3G to 4G and coffee shops still have faster speeds with their WiFi.
So you play monopoly. AT&T and Verizon (VZ) aren't just among the biggest lobbyists in Washington. They're usually the biggest lobbyists in your state capitol as well. This means they can get billions in tax dollars for "upgrades" that somehow never happen. While the level of "competition" in the space steadily declines.
Tech companies have learned to adapt. All the moves by Google (GOOG) and Netflix (NFLX) and others to bring content closer to customers is aimed at minimizing use of the network. All the efforts of smartphone companies to do more with software rather than the network has the same goal.
The monopolists have responded, not by investing, but by raising the rent. Their "all-in" calling plans are just a way to get more money from each bit they sell, just as their previous efforts to define bits as services were. Their actual efforts within the competitive economy have generally come to nothing, because capitalism is not something they really know how to do.
And if you look at the comments when I mention this, here or elsewhere, you'll see my point. You can't bypass the network. You have to use the network. The network is a necessity. It's just an argument for unregulated monopoly. The coffee shops have to get their bits from AT&T or cable wires. So do homeowners. Wireless customers have no choice but AT&T or Verizon. The difference between the duopoly and a monopoly is a fig leaf - monopoly rents are monopoly rents.
So, no, I'll say thanks but no thanks to that fat 5% dividend yield, and to the monopoly profits AT&T lobbyists keep coming home with.
I may vote Democratic, but I'm no communist. Come the capitalist revolution the telecomm state will just wither away.
Disclosure: I have no positions in any stocks mentioned, and no plans to initiate any positions within the next 72 hours.