Ctrip (CTRP) reported Q2 results on June 24th.
Highlights are:
Net revenue: $153 million, +17% y/y
Hotel revenue: $65 million, +12% y/y
Air ticking revenue: $64 million, +16% y/y
Packaged tour: $21 millin, +24% y/y
Corporate travel revenue: $8 million, +25% y/y
EPS: $0.13, compared with $0.27 in 2Q11
What I liked:
Solid Revenue Growth
Despite the single-digit domestic air traffic growth in China, Ctrip delivered another quarter of double digit topline growth of 17% y/y. Hotel revenue growth of 20% and air ticketing revenue growth of 16% y/y were all driven by volume, which offset the weakness in commission rates in both segments.
Share Buyback
Management indicated three tranches of share buyback for 2008, 20011, and 2012. In the recently announced share buyback, management targets to buy back $300 million worth of shares. As of July 24th, $100 million has been used so investors could see additional $200 million worth of share buyback for the remainder of the year.
What concerned me:
Continued Margin Deterioration Due To Intensifying Competition
Ctrip's revenue growth is not keeping up with rising operating expense. Over the past six quarters, revenue growth has significantly lagged behind operating expense growth due to intense competition from the smaller players.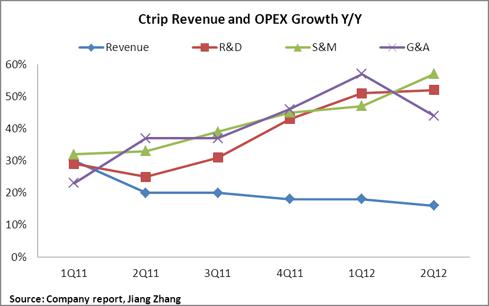 As a result, Ctrip's Non-GAAP operating margin, which excludes share-based compensation, has declined to 28% from 43% over the same period.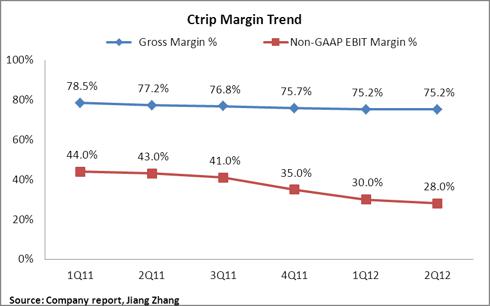 Despite guiding 25 - 30% operating margin for the remainder of the year, margin deterioration will likely to continue given:
The intensifying competition from eLong (LONG) and Baidu's (BIDU) Qunar, which will force Ctrip to continue aggressively investing in product development, headcount and sales and marketing.
Ctrip's high operating cost structure will unlikely allow Ctrip to successfully compete in the low-end segment, where OTAs compete on price. In my view, it is difficult for Ctrip to offer comparable price points to those offered by low-end OTAs because Ctrip's has a higher cost structure with its large networks of call centers. Offering comparable price points to those of the low-end OTAs will further shrink the company's margin. While management has indicated that Ctrip's brand will give the company an advantage over the other OTAs, I believe that at a time of economic softness, consumers will likely focus less on the brand and more on getting the best price.
Traditionally, Ctrip has positioned itself as a high-end OTA that provides services to corporate users and less price-sensitive travelers, and this strategy worked well during strong economic growth cycle. However, since China's GDP is forecasted to grow between 7-8% in the near-term, travelers are beginning to become price-sensitive and starting to look for the best deals. With the proliferation of travel search, such as Qunar, travelers are more informed and will likely to be attracted to the low-end players that can compete on price.
Online Booking Continues To Lag Behind eLong
In Q2, Ctrip's hotel online transaction exceeded 50% of the total booking compared with the average 45%. While this is an encouraging sign that Ctrip is transitioning from offline to online, the figure still lags far behind eLong, whose online transaction surpassed 60% last quarter.
Disclosure: I have no positions in any stocks mentioned, and no plans to initiate any positions within the next 72 hours.