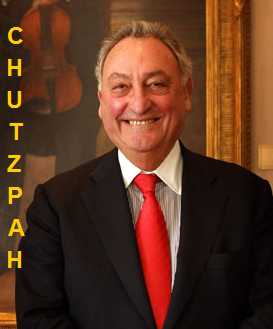 Now that the architect behind the repeal of Glass-Steagall has made off with his hundreds of millions he comes clean and says the entire episode was a mistake. The banks should be broken-up he states in his CNBC interview. You may have read Weill is the one who sold his Manhattan penthouse for nearly $90 million and has other expensive assets on the market. As the man behind the curtain who lobbied Clinton, Rubin, Greenspan, Gramm, Dodd and others to okay his merging Travelers/Smith-Barney with Citigroup (NYSE:C), he now says it was a mistake. He liked it when his group could trade publicly insured deposits. What nerve!
"Anybody who says that is off their mind. I think the model really works."
What Sandy Weill stated to Maria Bartiromo on "the end of bigger is better" in 2007. (The model worked for him, eh?)
New Home Sales disappointed and fell 8.9% (350K vs 370K expected & prior 369K) which was the only U.S. economic news underscoring that the housing market hasn't bottomed. The prices for new homes were down 3.2% from a year ago.
In overseas news the euro rallied as the ECB's Nowotny suggested they could leverage the bailout funds. Greek leader Samaras met with the troika finally although he doesn't have the backing of his coalition yet. Euro shorts were squeezed even as most dismissed this idea as unlikely. German shares rose higher on better earnings from Daimler (DAI) although German Business Climate Survey fell to 103.3 vs 105.4. More significantly, UK GDP data came in unexpectedly weaker dropping to -.7% as their recession deepens.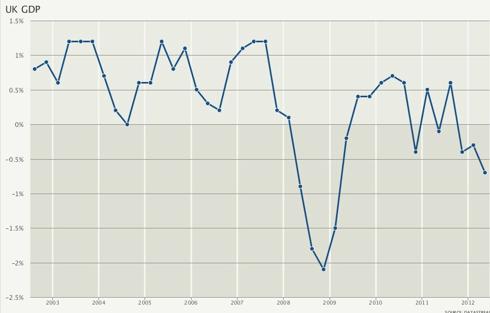 The DJIA was higher early led by strong gains in index heavyweight Caterpillar (NYSE:CAT) on higher earnings ($2.54 vs $2.28 expected) and a more positive outlook for the company's construction equipment and overseas mining. Boeing (NYSE:BA) also delivered positive results but most of its activities were reasonably well known. With CAT's heavy weighting the DJIA was able to rally modestly Wednesday. Meanwhile Apple's (NASDAQ:AAPL) surprising miss held back technology while gains in the semiconductor sector allowed tech to rally modestly.
Meanwhile the dollar fell as an ECB official (Nowotny) suggested that bailouts could be leveraged which caused a short squeeze in the euro. But, most pundits didn't think leveraging would be possible given current political views within the EU. Besides, the German court hasn't even ruled whether bailouts were constitutional. Gold rallied once again resuming its uncorrelated relationship with the dollar. Other commodities rallied with the weaker dollar as well. Bonds were modestly weaker.
Volume was quite light as stocks rallied tentatively and breadth per the WSJ was positive reducing some oversold conditions.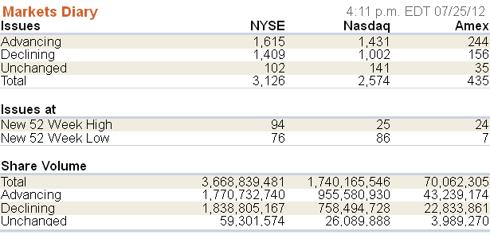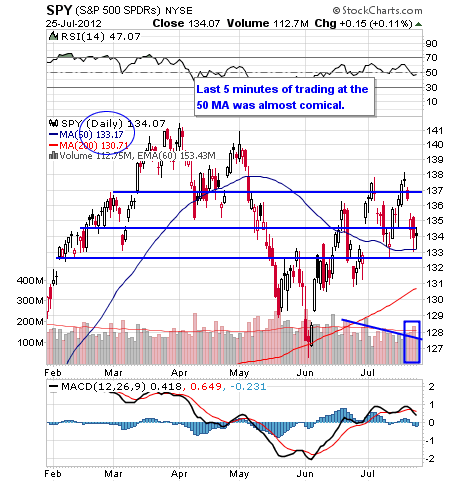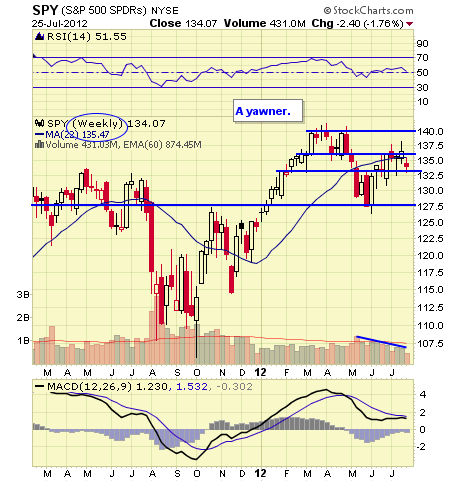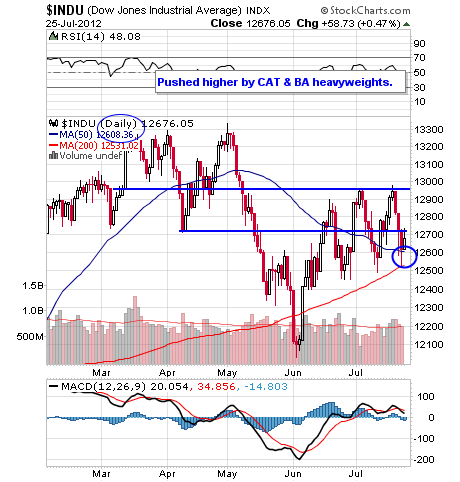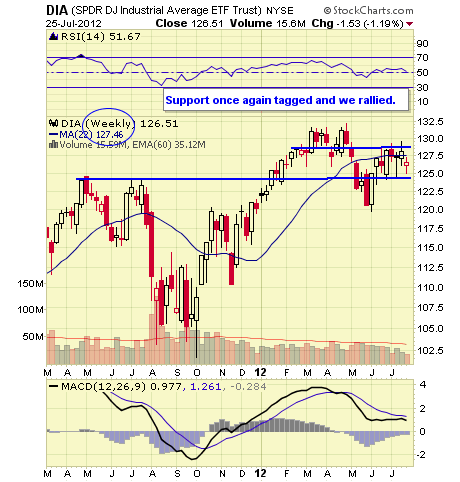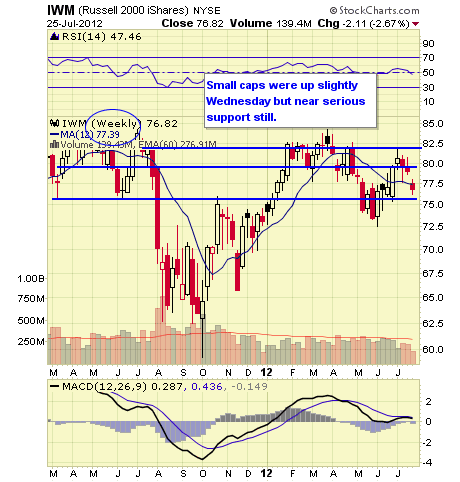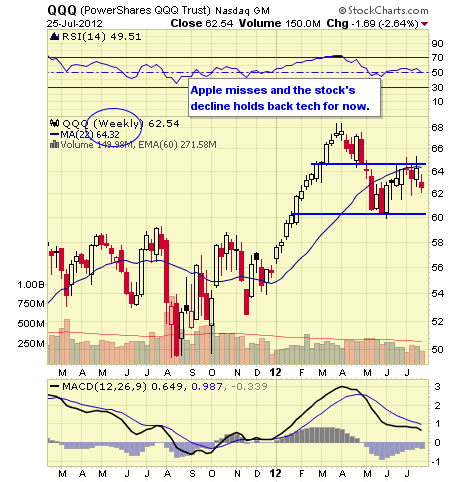 Continue to U.S. Sector, Stocks & Bond ETFs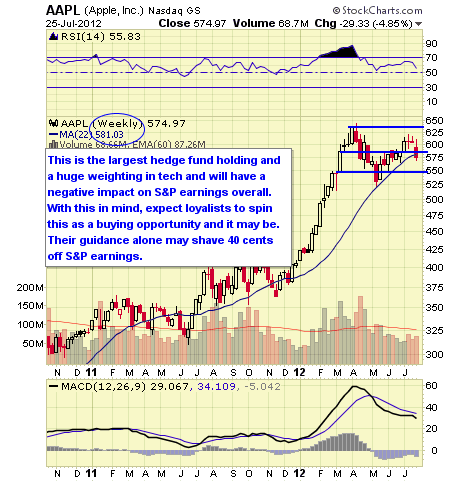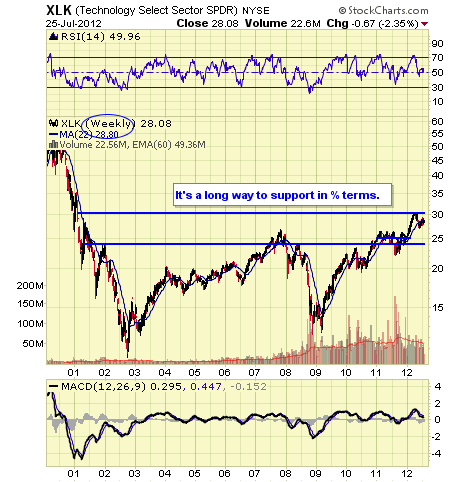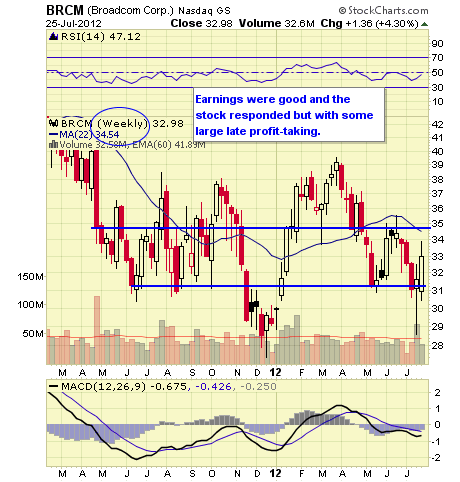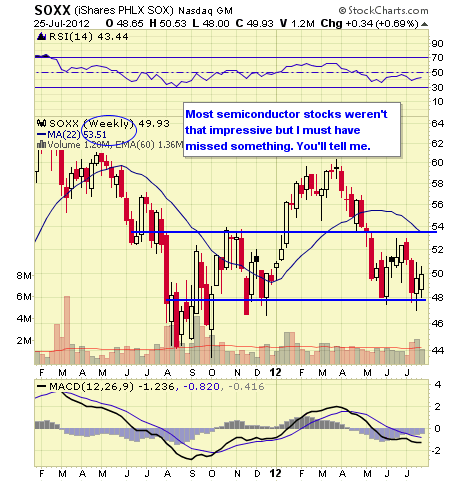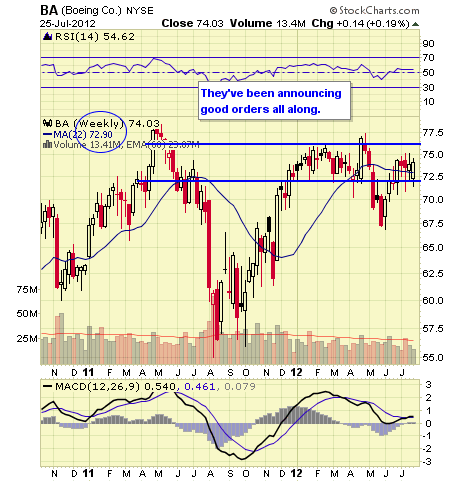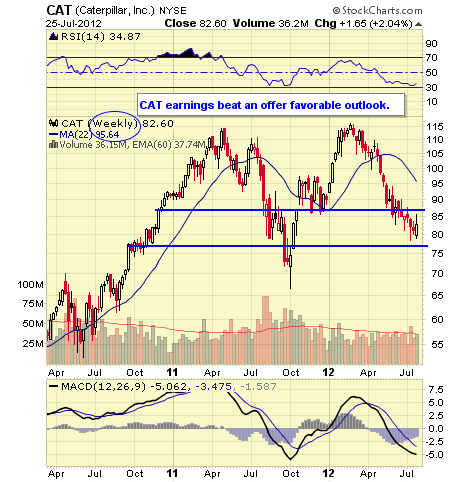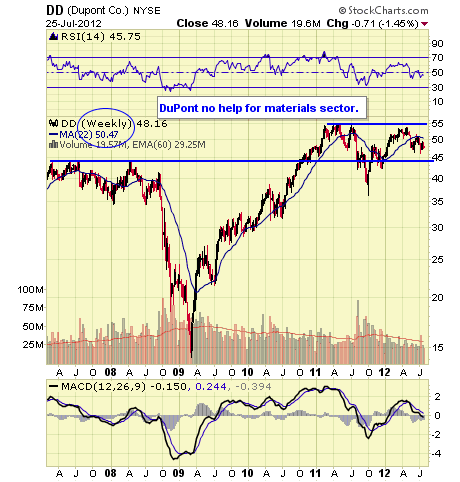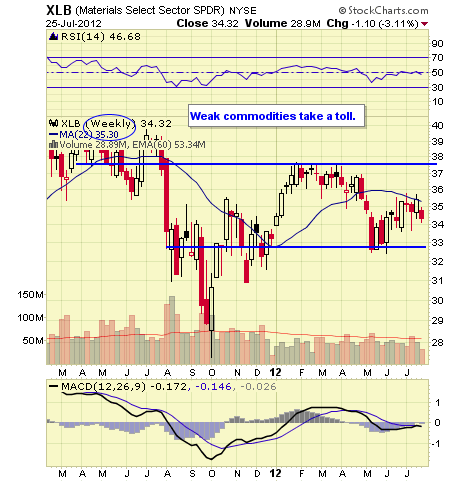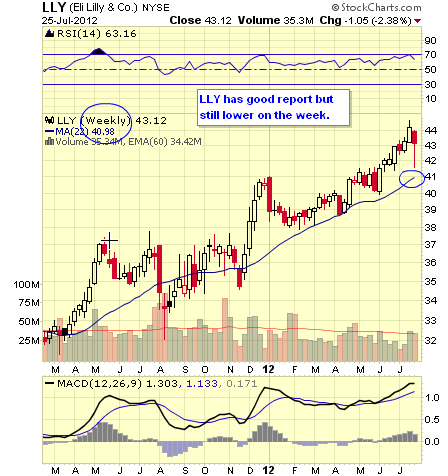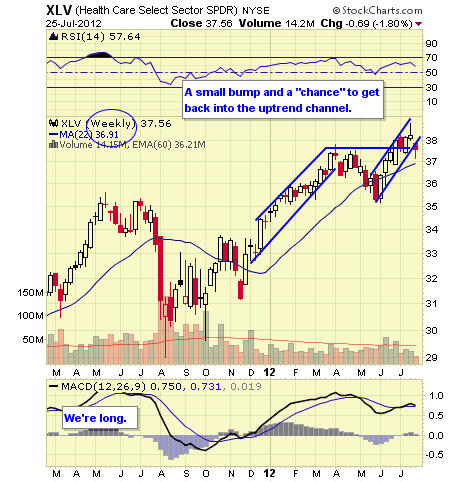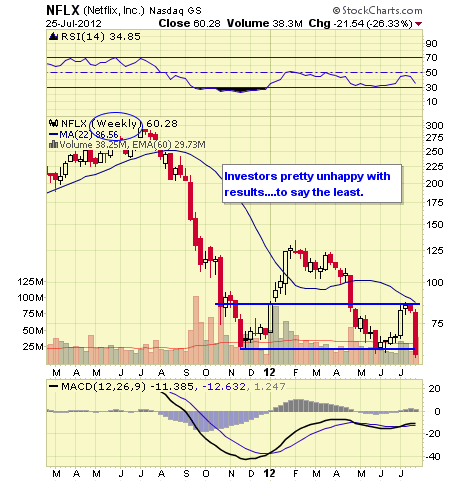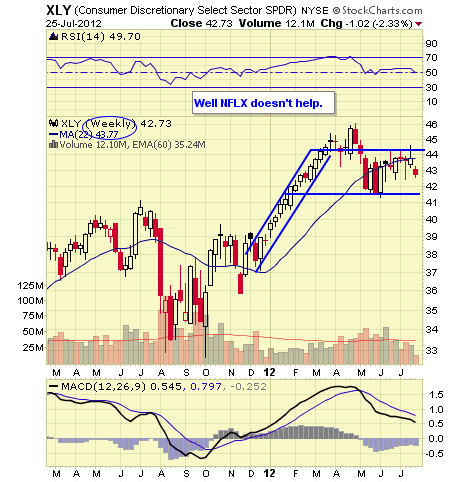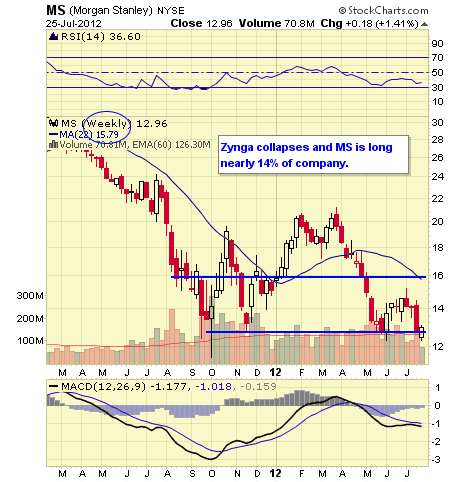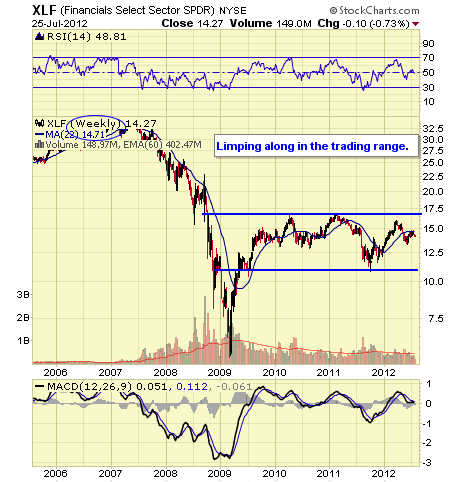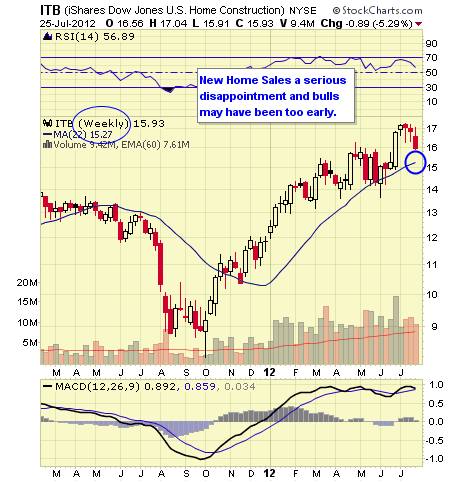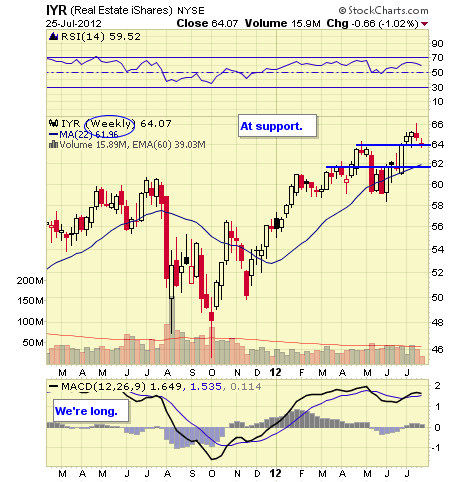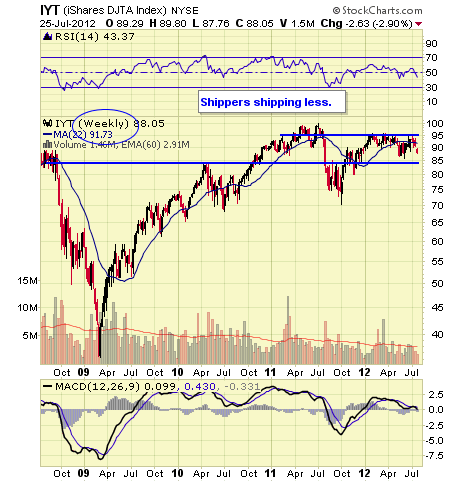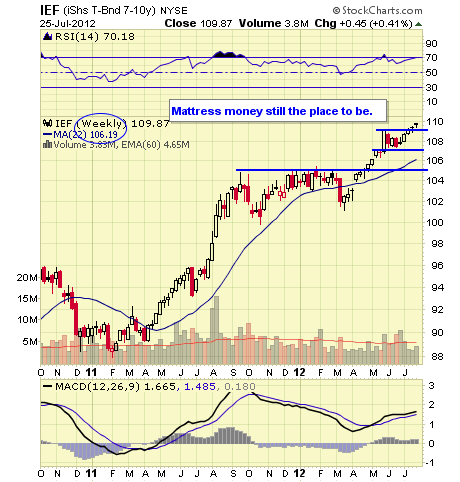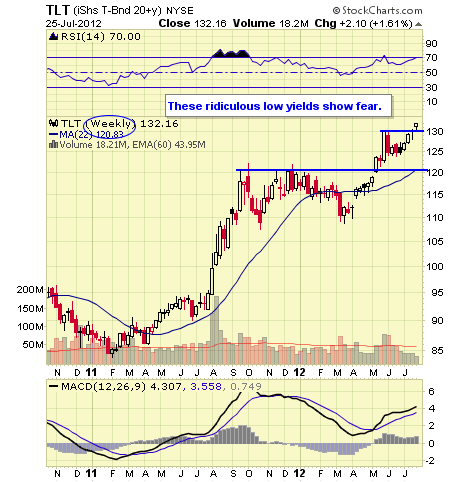 Continue to Currency & Commodity Market ETFs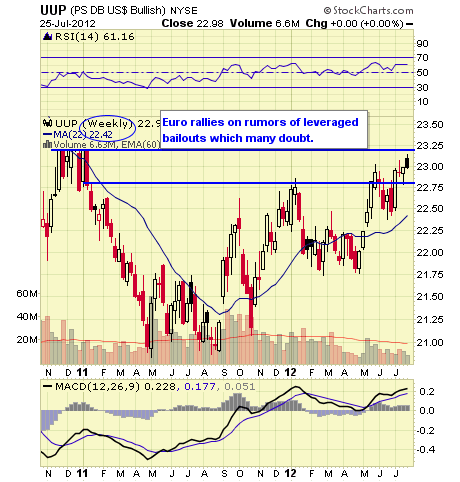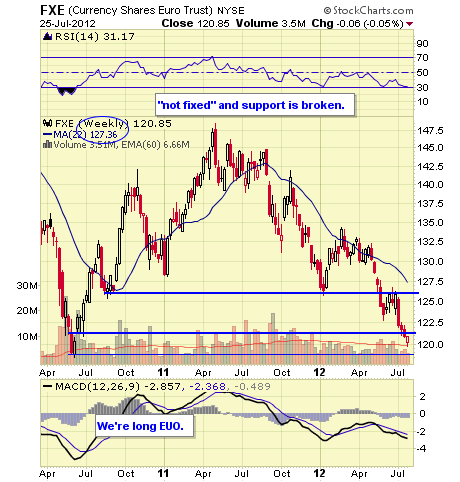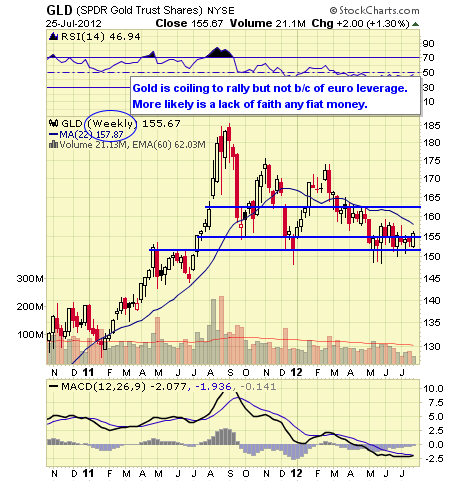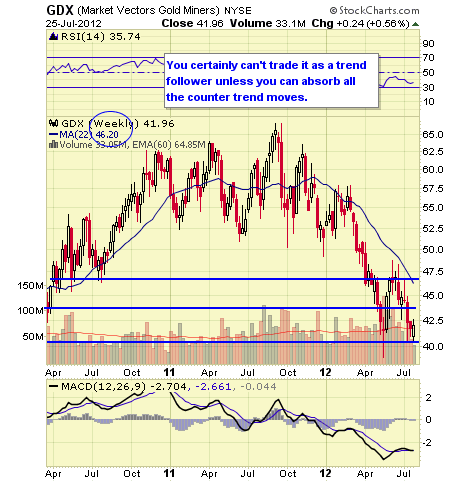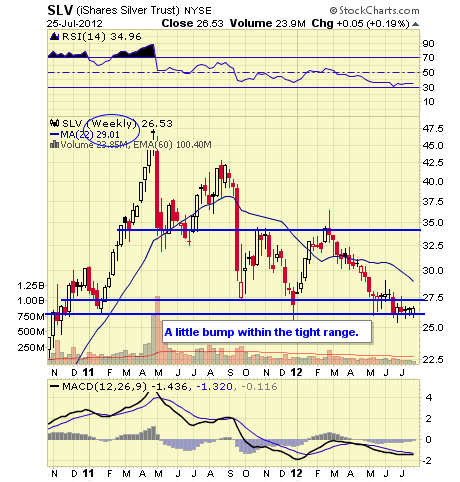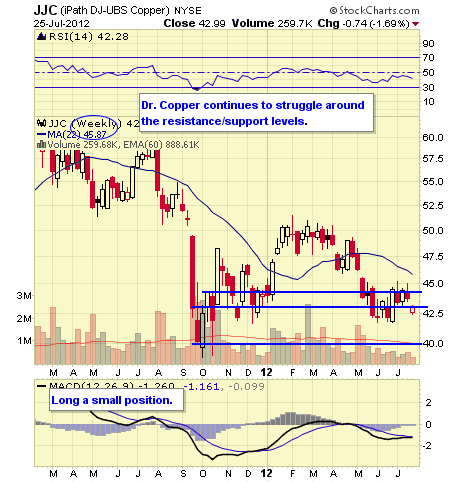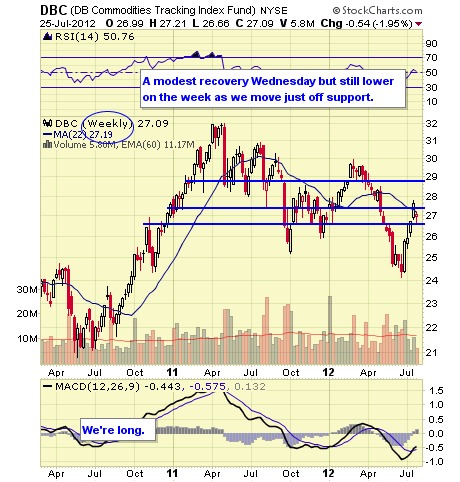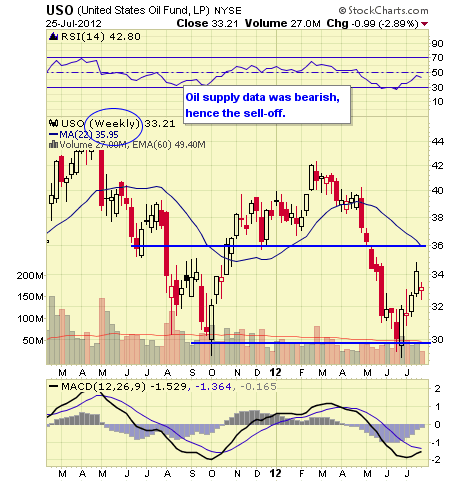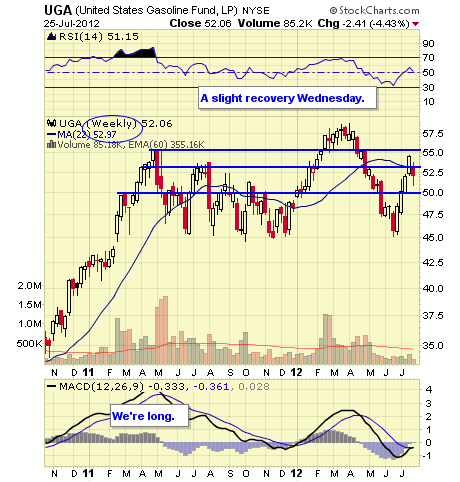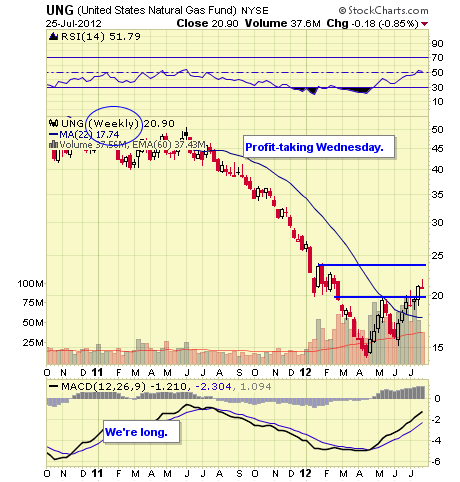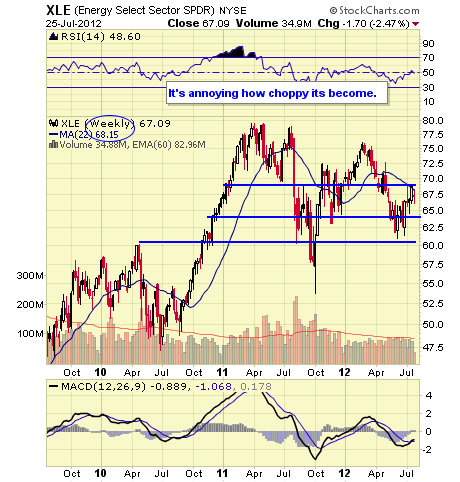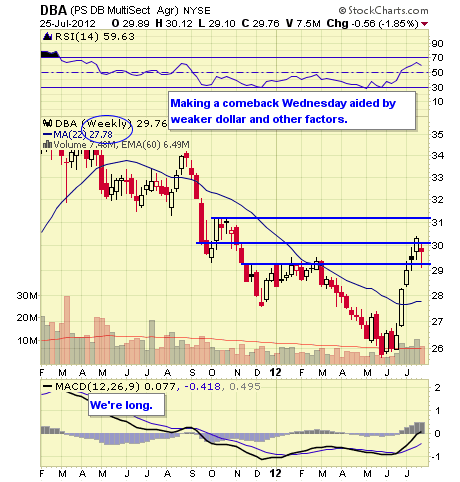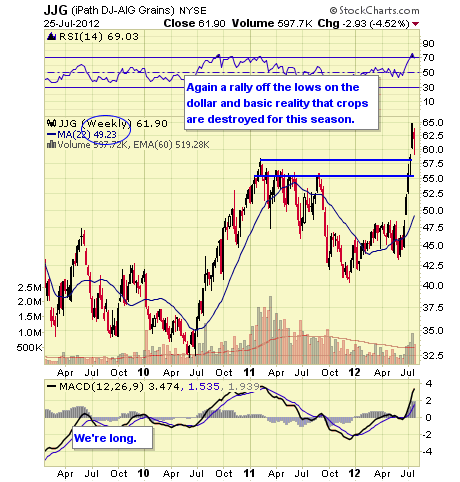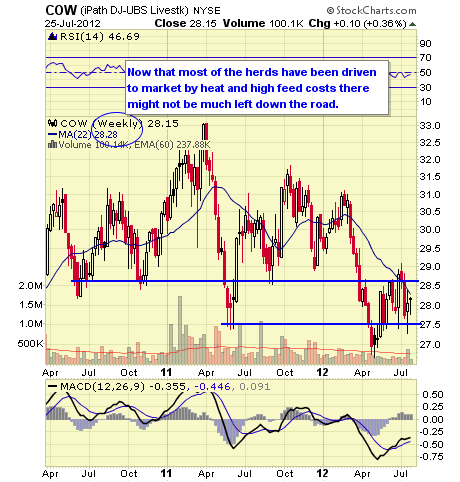 Continue to Overseas Sectors & ETFs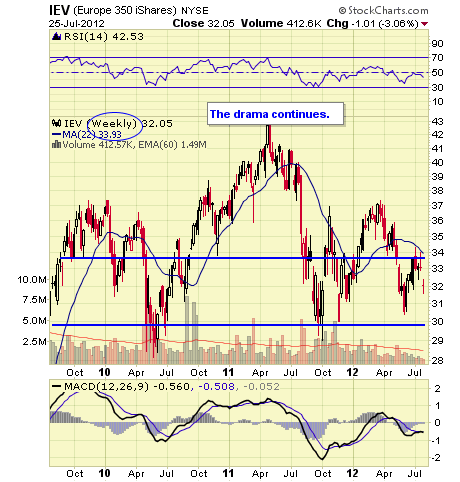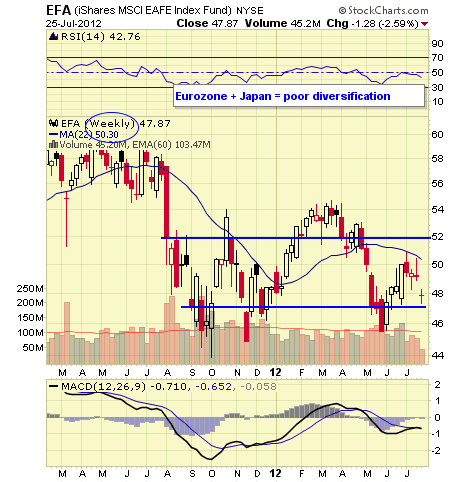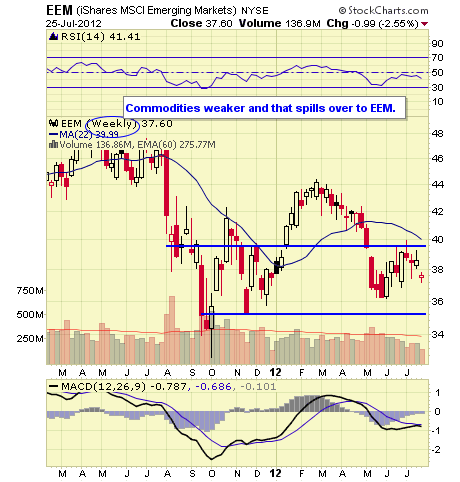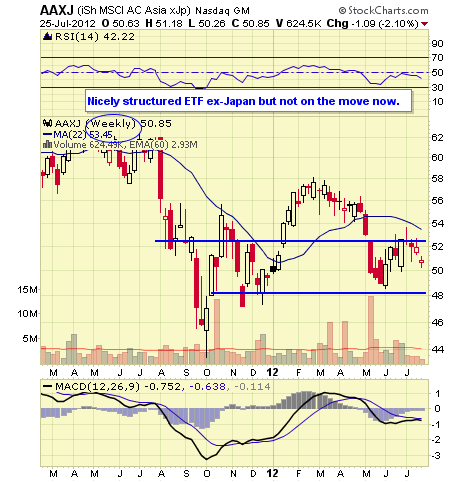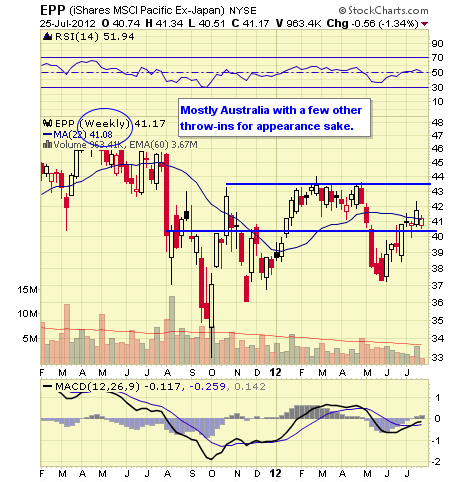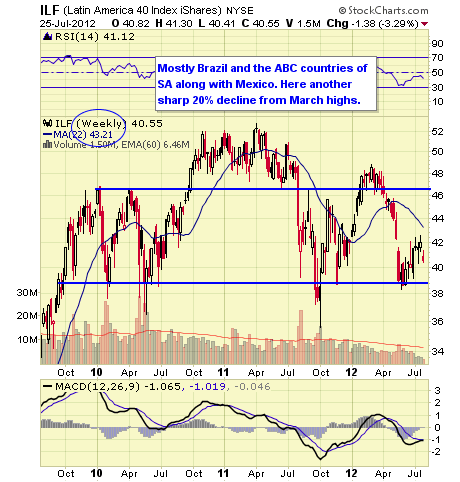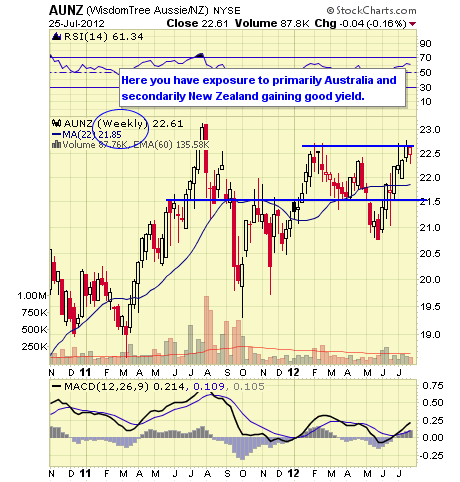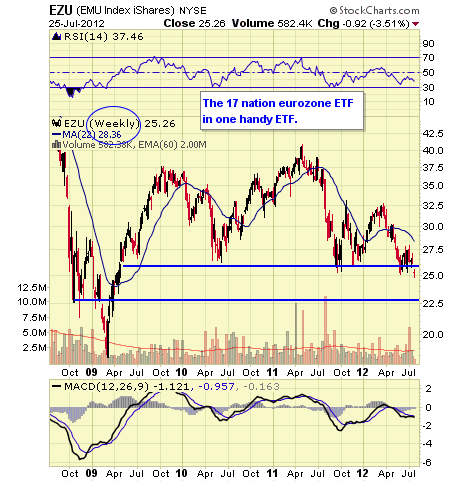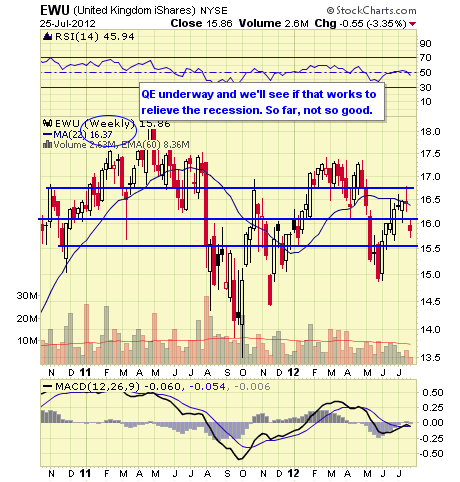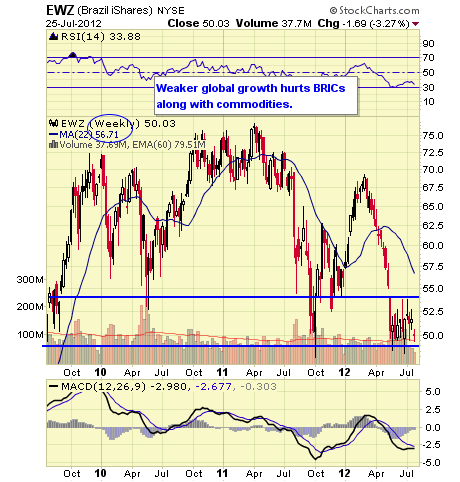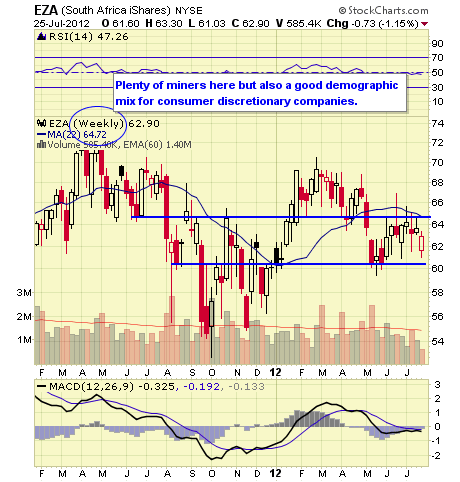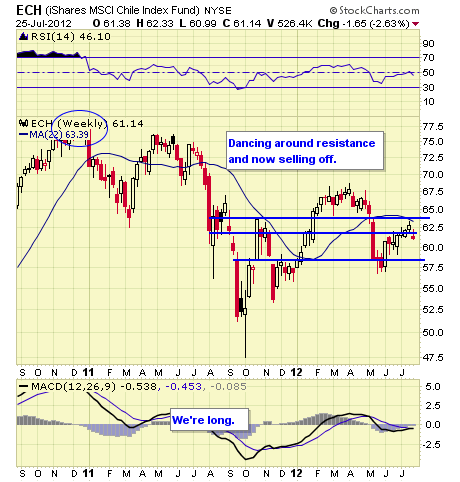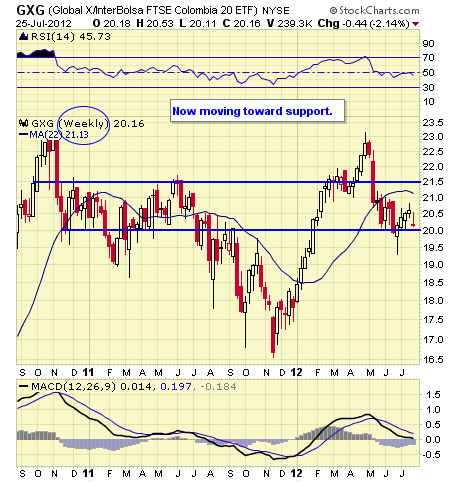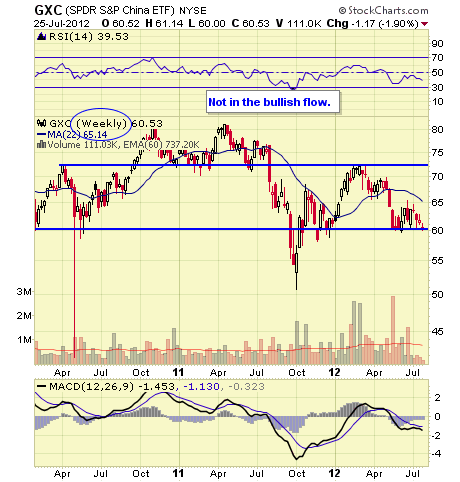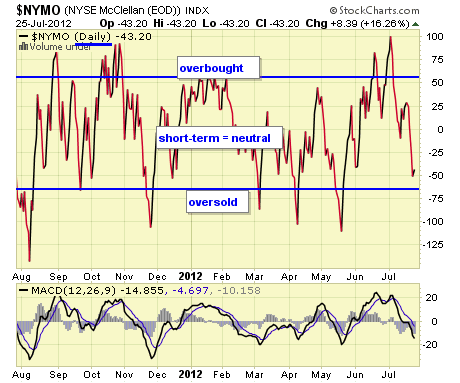 The NYMO is a market breadth indicator that is based on the difference between the number of advancing and declining issues on the NYSE. When readings are +60/-60 markets are extended short-term.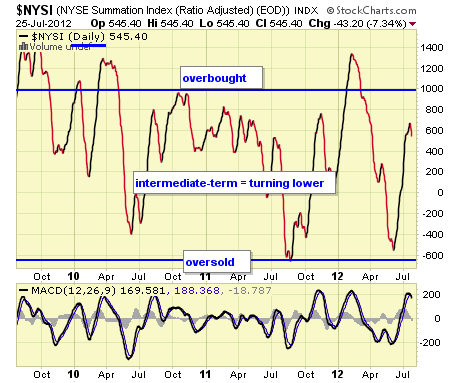 The McClellan Summation Index is a long-term version of the McClellan Oscillator. It is a market breadth indicator, and interpretation is similar to that of the McClellan Oscillator, except that it is more suited to major trends. I believe readings of +1000/-1000 reveal markets as much extended.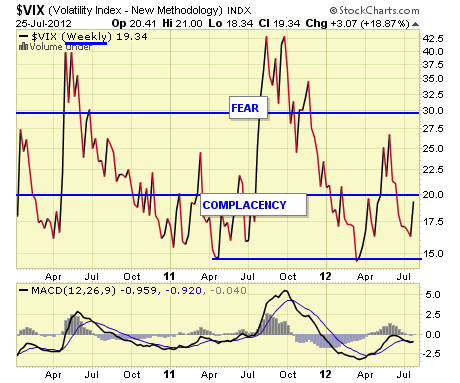 The VIX is a widely used measure of market risk and is often referred to as the "investor fear gauge". Our own interpretation is highlighted in the chart above. The VIX measures the level of put option activity over a 30-day period. Greater buying of put options (protection) causes the index to rise.
More data for us to chew on comes from Durable Goods Orders (.6% consensus), Pending Home Sales (.9% consensus) and Jobless Claims (380K consensus, or in this case "pick a number"). Earnings will feature Amazon (NASDAQ:AMZN), Amgen (NASDAQ:AMGN), Coinstar (NASDAQ:CSTR), Colgate-Palmolive (NYSE:CL), Dana Corp (NYSE:DAN), Dow Chemical (DOW), Expedia (NASDAQ:EXPE), International Paper (NYSE:IP), KKR, United Technologies (NYSE:UTX) and so forth. Since Zynga (NASDAQ:ZNGA) reported dreadful earnings, let's see how Facebook (NASDAQ:FB) does with its first report with estimates around 9 cents.
It's "possible" that for the first time since ZIRP was put upon markets there may be some attractive long/short opportunities as perhaps high correlations will dissipate.
Disclaimer: The ETF Digest maintains active ETF trading portfolio and a wide selection of ETFs away from portfolios in an independent listing. Current "trading" positions in active portfolios if any are embedded within charts: Lazy & Hedged Lazy Portfolios maintain the follow positions: VT, MGV, BND, BSV, VGT, VWO, VNO, IAU, DJCI, DJP, VMBS, VIG, ILF, EWA, IEV, EWC, EWJ, EWG, & EWU.
The charts and comments are only the author's view of market activity and aren't recommendations to buy or sell any security. Market sectors and related ETFs are selected based on his opinion as to their importance in providing the viewer a comprehensive summary of market conditions for the featured period. Chart annotations aren't predictive of any future market action rather they only demonstrate the author's opinion as to a range of possibilities going forward. More detailed information, including actionable alerts, are available to subscribers at www.etfdigest.com.
Disclosure: I have no positions in any stocks mentioned, and no plans to initiate any positions within the next 72 hours.