Time Warner (NYSE:TWX) seems to be unraveling. Profits this quarter are down 36%. It is spinning off one of its most solid businesses, Time Warner Cable (TWC) -- which grew 8% in the first quarter. AOL remains an internet laggard -- its sales of display ads fell 18% in the quarter.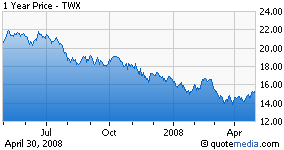 Bets are that cable is only the first to go. Time Warner will have to split itself into more pieces -- its current sprawling structure clearly isn't working. Funny that many expect the AOL + Time + Warner combination to eventually revert to a rough equivalent of separate AOL, Time and Warner companies. Talk about a failed empire.
Oh, speaking of empires that don't work, Barry Diller's IAC saw its profits fall 13% in the first quarter. This is why IAC is splitting into pieces.