The latest step in Dell's (NASDAQ:DELL) attempted business transformation will occur later today. That's when Dell will host an online briefing for its partners -- including technology integrators, consultants and so-called managed service providers (MSPs).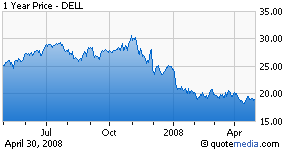 Dell needs all of those partners in order to maximize sales into small and midsize businesses. But plenty of would-be partners remain skeptical of Dell, because of the company's direct sales heritage. Dell is certainly making progress with partners, but the company still stumbles with some of its efforts. I beat up Dell on April 25 for issuing a press release about its Software as a Service (SaaS) strategy. Alas, the release made no mention of Dell's MSP and SaaS partners.
During the webcast today, I expect Dell to communicate much more clearly. Greg Davis, VP and general manager, Americas Channel Group, and Mike Menegay, director, Dell Business
Davis spent about an hour on the phone with me last month, and I came away pretty impressed. He conceded that Dell's partner strategy will be a long road, and he pointed out several areas where Dell continues to make improvements.
Also since that time, Dell has announced plans to launch a partner-centric blog, which will allow partners to interact more closely with Dell.
To Dell's credit, the company has used Web 2.0 technologies (example: IdeaStorm) to build community and solidify business strategies with its partners and customers.
Balancing Act
During the webcast, Davis and Menegay will need to walk a tightrope. On the one hand, Dell needs partners to service and support small and midsize business customers running Dell hardware. But on the other hand, Dell plans to beta test direct managed services engagements with some SMB customers.
Dell has been open about these direct MSP customer engagements, informing partners through a written letter. And Davis has been a stand-up guy when partners push for answers. (I don't know Menegay as well, so I can't comment about his interactions so far with partners.) Ultimately, the webcast could be a defining moment for Dell's partner strategy. Hopefully, Davis and Menegay will seize the moment -- for the sake of Dell, its partners, and the company's shareholders.
Disclosure: none